Cannabis, also known as marijuana, is a plant grown for recreational and medicinal purposes. The use of cannabis is legal in some countries, while others have laws that prohibit its use.
Cannabis has influenced the entertainment, food, and medicine industry, and that's the reason for arising so many cannabis influencers on Instagram.
Cannabis Instagram influencers try to educate people and normalize the use of marijuana. In this article, we have listed some of these influencers. If you're cautious about canna or think that these influencers can help you grow your brand, keep reading.
How to find cannabis influencers on Instagram?
You may wonder how to find influencers that are related to your brand. Here are some tips:
1. Search on Google.
2. Search for related hashtags on Instagram.
3. Check your competitors' social media accounts.
4. Use an influencer marketplace.
You must have already known that finding Instagram influencers is hard and time-consuming. By using a top influencer marketplace, such as Ainfluencer, you can ease and expedite the process.
Ainfluencer is a free, safe, and secure marketplace that lets both brands and influencers strike mutually beneficial deals.
With its AI-powered search engine, brands can search for their targeted influencers through a variety of filters, such as location, gender, language, number of followers, etc.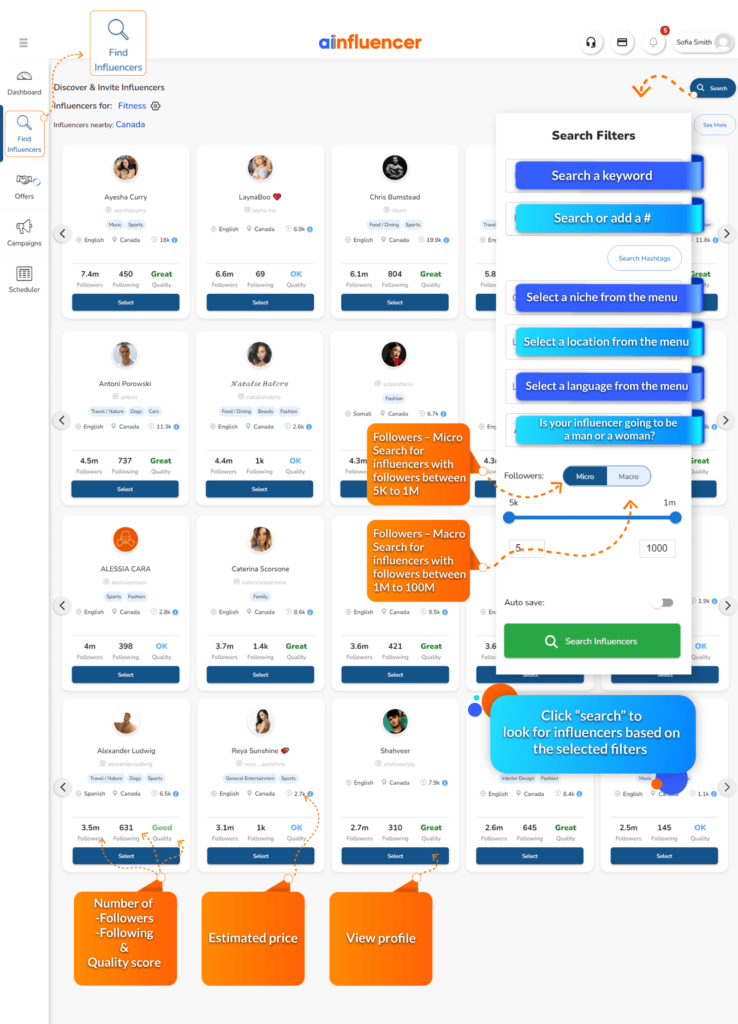 Top 25 cannabis influencers on Instagram
For your ease, we've provided a list of top cannabis influencers Instagram accounts that can help you grow your business.
1. Syd (_shadesofsyd)
Syd is one of the weed influencers and models on Instagram. This micro influencer has about 35K followers and shares her daily life and entertainment on her account. She is also the founder of the brand "Medicated Melanin."
2. Dr. Rachel M Knox (@racheldocknox)
One of the great cannabis Instagram accounts is for Dr. Rachel Knox. She is a cannabis MD and a cannabinoid medicine specialist. Rachel uses her voice to educate people and tell them about the medical use of cannabis. She also ran the "Cannabis Health Equity Movement." Do not hesitate to contact her if you need any consultation.
3. Golnesa Gharachedaghi (@gg_golnesa)
Golnesa Gharachedaghi is a model and cannabis influencer with 893K followers on Instagram. She is also the owner of the "wusah official" account, where she sells vape products. Golnesa believes that hemp is of first necessity to the wealth and protection of a country.
4. (@tweedledoob)
One of the cannabis accounts on Instagram is "tweedledoob." The account is for a girl who is a cannabis photographer and marketing consultant. More than 43K people follow her account to get more cannabis-related posts on their feeds.
5. Michael Oliveri (@michaeloliveri)
Michael Oliveri is among the top cannabis influencers from Michigan. She is also a fashion and fitness influencer with 234K Instagram followers. Michael is a cannabis operator at "torchriver.farm."
6. Ronnie Rey (@babybash)
One of the other top weed influencers on Instagram is Ronnie Rey. He has won the "HighTimes Cannabis Cup Winner" six times. Ronnie is also a music influencer and could amass 490K followers.
7. Kitty Bang (@bangkittybang)
Kitty Bang is another cannabis Instagram influencer, model, hostess, actress, and singer. She became famous for her pinup style and gained about 30K followers, which is rising day by day.
8. Allie Beckett (@canna.obscura)
Allie is a cannabis influencer and photographer with over 28K Instagram fans. She is a co-founder of "TKO.oregon" and "TKO.cbd" and shares hemp products there.
Allie is among the pregnant influencers at the moment.
9. Haleyann (@thehighwoman)
One of the other American cannabis influencers is Haleyann. She is a high girl in Southern CA. She is also among the lifestyle influencers with 14K followers. This influencer can be a good choice for promoting your brand.
10. Coreen Carroll (@frauleinchef)
Coreen Carroll is among the cannabis influencers on Instagram. Although this nano influencer has only 9K followers, she is very popular and known as a cannabis chef and winner of "Cooking With Cannabis" on Netflix. Carroll has been a brand ambassador for big brands, such as Satori Chocolates, Pax Vapor Products, and Humboldt Apothecary.
11. Lizzy Jeff (@Lizzyjeff)
Rapper and CEO of lifestyle brand "ZenandKush," LizzyJeff is another influencer who talks about cannabis and its healing, sensual, and spiritual effects. She calls herself the medical woman and has gained over 84K followers by the time of writing this blog.
12. Steve DeAngelo (@steve.deangelo)
Steve is one of the top weed influencers on Instagram and the father of the legal cannabis industry. He is the founder of the "Last Prisoner Project" and is reaching 60K followers. DeAngelo is also an activist, author, and investor, and has partnered with brands, such as Hash Marihuana and Hemp Museum.
13. Alice & Clark (@thathighcouple)
Alice and Clark are cannabis influencers on both Instagram and YouTube. They also share their stories and fun content, which have brought them 46K Instagram followers and 140K YouTube subscribers. They have collaborated with brands, such as G Pen, Pax Vapor, and Discrete, and can be a great option for yours too.
14. Bess Byers (@imcannabess) 88k
Bess Byers, based in PNW, is an Instagram photographer and cannabis influencer with more than 84K followers. She is the founder of "BlaiseCreative" and shares her daily life on her account.
15. Jorge Cervantes (@jorgecervantesmj)
Jorge Cervantes is one of the top cannabis influencers, as well as an American writer, horticulturist, and publisher. He wrote the book "Cannabis Encyclopedia," and also won the award for cannabis cultivation author and advocate.
16. Alicia Goku (@aliciagoku_)
Alicia Goku, also known as "The Weed Princess," is among the top weed influencers on Instagram. She is also a musician who loves Mary-Jane. This weed Instagram account has 179K fans.
17. Chrissy (@cannachrissy)
Chrissy, known as CannaChrissy, is a cannabis and makeup influencer on Instagram.
She loves plants, and her account is full of posts and videos of creative tips, lifestyle content, plant education, and so on.
18. Madison T. Ortiz (@happytokes)
Cannabis influencer Madison Ortiz, is the creative director for "limitless guided visualizations." She is also a writer for High Times and has gained nearly 70K fans. Give her a follow and read her informative captions.
19. Jennie (@sheflieshigh)
Jennie is a model, cannabis, and fitness enthusiast who has 68K followers on her Instagram account. She is also among the bikini models and shares eye-catching photos on her account.
20. Mia Beyer (@itsmiabeyer)
Mia Beyer is a cannabis and weed lover and model based in LA. She is active on different social media platforms, such as Instagram, Twitter, and TikTok. This hot Instagram influencer also plays musical instruments and shares different photos and videos of herself on her accounts.
21. Anjela Aka (@koala.puffss)
Anjela Aka, known as Koala puffs, is an influencer, video creator, and entrepreneur who runs her own lifestyle company that sells different things, such as accessories and smoking equipment. Her account's engagement rate is high, and her 694K followers seem to love her account.
22. Jamie Evans (@theherbsomm)
Author, certified sommelier, and cannabis blogger Jamie Evans is the next influencer on our list. She is the founder of "The Herb Somm," and was named the "Most Important Women in Weed" by Green Market Report in 2022. Her account is about all things food, beverage, and travel.
23. Emily McCarter (@mccartergetshigh)
Emily McCarter is a cannabis and mental health influencer with over 22K Instagram followers. She is also the Co-founder of "Ok Ok Creative," a consulting company. Moreover, Emily runs a podcast and talks about the cannabis and plant-based medicine industry. She can be an excellent choice for increasing brand awareness of cannabis-related brands.
24. Seth Rogen (@sethrogen)
The popular comedian, Seth Rogan, is among the top cannabis influencers on our list. He has launched his houseplant, which is a Canada-based marijuana company, and tries to educate people.
He has amassed 9M followers on his Instagram account.
25. Wiz Khalifa (@Wiz Khalifa)
Wiz Khalifa, with over 39M followers, is the most-followed cannabis Instagram influencer. He is also a musician and openly shows his love for the plant. He even expresses his love for cannabis in his music often.
He has some weed-related songs, such as "Stoned," "Bake Sale," and "Weed Farm."
Conclusion
In conclusion, if you want to learn more about the cannabis industry or find some new and interesting products, be sure to follow one of these top Instagram cannabis influencers. They will provide you with informative content, stylish aesthetics, and plenty of laughs along the way. And for finding more influencers, the Ainfluencer marketplace will help you.
1- Who are the biggest cannabis influencers?
Wiz Khalifa, with over 39M followers, and Seth Rogan, with 9M followers, are two of the biggest cannabis influencers on Instagram.
2- Can influencers promote cannabis?
Yes, influencers can promote cannabis. However, there are some things to keep in mind when doing so.
First and foremost, influencers should be aware of the laws surrounding cannabis promotion. In some states, it is still illegal to consume or possess cannabis. As such, any content promoting cannabis use should be marked accordingly.
Secondly, it is important for influencers to be mindful of their audience when promoting cannabis. Some audiences may not be receptive to seeing content about cannabis use, regardless of its legal status. As such, it is essential to consider whether or not promoting cannabis is suitable for a particular audience before moving forward.
Ultimately, influencers have the ability to help normalize cannabis use through their promotion. By being thoughtful and strategic about their content, they can help destigmatize an often-misunderstood plant.