Using Instagram for a small business: 15 sexy tips
Before, using Instagram for a small business may have sounded relatively vague. Popular brands mostly filled the platform with their presence and activity. But today, many businesses have a good grip on how the platform's marketing features work. No matter your business's size, you'll make it more profitable by having an active presence on the platform.
Instagram became 4th among the 10 most downloaded apps in 2020 with a total of 503 million downloads. Reports from Statista show the app reached roughly 1 billion active users in June 2018. It is projected that in the US alone, the total number of Instagram active users will peak to about 120 million.
This was to clear your mind of any doubts about any business activity on Instagram. Using it for your small business must be on your priorities list.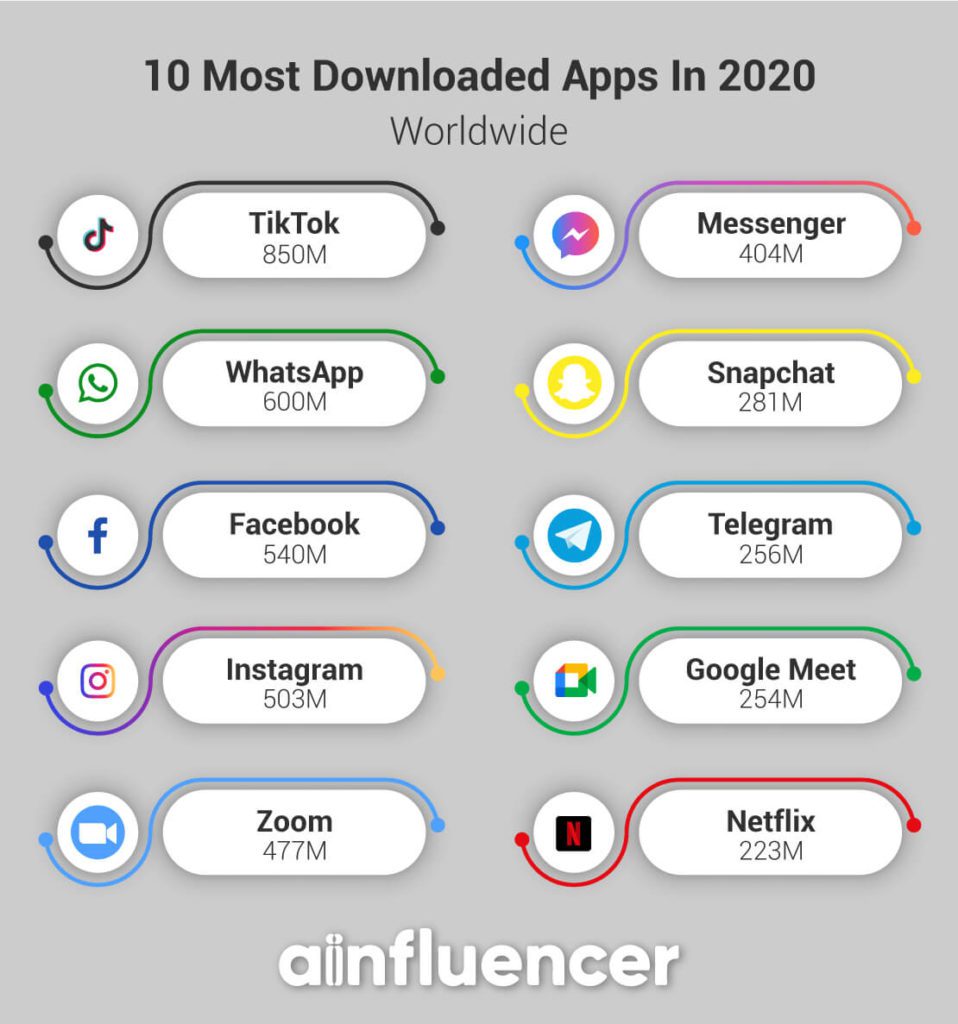 In this article, we'll introduce 15 practical tips for you to either get a good kick-start for your business on Instagram or boost your current efforts and take your business profile to the next level.
Make sure you're using a business profile
First and foremost, you must switch to an Instagram business account. The primary benefit of operating with a business account is getting to see your profile's real-time metrics. You'll also have access to insights into your followers and the way they interact with your posts and stories.
Develop an Instagram strategy
As someone who's using Instagram for a small business, you need a well-developed strategy. If your objectives are clear, Instagram marketing will work for you. The strategy you devise should include multiple goals such as your business's direction, defining the target audience, establishing an aesthetic feed, etc.
Create a content calendar
Posting random stuff without prior planning will negatively affect your performance. You need to have your account's content organized. Outlining an Instagram content calendar will force you to plan all the steps ahead. It gives your profile's content a clear direction, and you'll never run out of posts to share.
Establish a visual identity
We're living in the age of visual culture, and Instagram incorporates the same logic. Focus on creating a visual identity that appropriately reflects the nature of your business. Followers are more likely to purchase your products or services if they find your account's aesthetics appealing.
Curate eye-catching content
Back in 1996, Microsoft founder Bill Gates said, "Content is king." Today that statement holds true more than ever. Curating engaging content that adds value to your audience should one of your primary goals.
If you're successful at adding value to your followers, you" earn their trust. Once you've formed a trusting relationship with each follower, they'll be more likely to purchase your products or services. Focus on creating content that's valuable and appealing.
Focus more on creating videos
We can agree that watching a video is much easier than reading a post caption. With the introduction of Reels, Instagram is inviting its users to create more and more videos.
A video will work best for you if you try to educate, entertain, or add value to your followers with it. Even if the video is 30 seconds long, it can have an impact if produced right. So don't think lengthier videos are necessarily better. Produce what contains a value and captures attention.
Put a link to your website in bio
Instagram bio is the best spot to include a link to your website. It is even better to add a CTA (call to action) right beside the link. Make sure you use short link generator tools like Rebrandly to make links appear neat.
You can only include a single link in your bio. If you wish to add multiple links, you have to use a paid service such as Link In Profile. The tool creates a single link that can direct users to a whole new list of links.
Collaborate with influencers for marketing
This is one of the best ways to use Instagram for small businesses. Instagram influencers have a large, loyal audience. Because of this, they're the best option for promoting your products on their page. In 2019, Rakuten Marketing reported that among 3600 consumers, 87% of them were inspired to make a purchase because of an influencer. You'll definitely have a higher chance of selling your products if they're recommended by an influencer.
Here at Ainfluencer, we have built a platform dedicated to brands and businesses of all sizes to connect them with the right influencers. No initial payment is required. All you have to do is to sign up on our website and let us know what your small business needs. Find out more about how it works here.
Sell with Instagram Shopping
Think of this feature as having your business' storefront right there in everyone's pocket. Based on Facebook data, Instagram attracts 70% of shopaholics who use it to discover products. It's a great way to showcase anything you wish to sell.
It allows your followers to shop directly from your page without needing to click on some link or visiting your website. You can't ignore utilizing it if you're using Instagram for your small business.
Interact with other small businesses
Make a shortlist of some niche-relevant small businesses and look for some ways to collaborate with them. Reach out to each and establish grounds for partnering up. Offer a shout-out and, in return, request one for your account.
Doing so will tempt some of their followers to check out your account, and these are more likely to follow you. You can also take a step forward and pay for a sponsored post.
Engage with your followers in comments
Although you're using Instagram for your small business, you have to pay attention to the platform's purposes. One of which is connecting people. Understand this function right, and you'll have a greater chance of success.
Never try to react to comments with short, meaningless replies. Only using emojis is to be avoided as well. Reply to comments with valid, logical sentences and make each follower feel they're being acknowledged.
Monitor your profile's stats
If you're using a professional account (business or creator), once you hit 100 followers, you'll have access to Instagram Insights. The feature allows you to gain an understanding of your content's performance.
It also provides you with valuable metrics of how your stories, posts, and IGTV videos perform. It is only accessible on the Instagram app. The Insights will tell you a lot about what to do and what not to do, so be sure to check it out all the time.
Make use of the right hashtags
Think of hashtags as content categories. It is recommended to use between 11 to 30 hashtags for each post. Any hashtag you pick must be relevant to your products and services.
The easiest way to find relevant ones is to type them into the search bar. Tap on each to see the number of posts using it. The first comment below each post is an excellent spot to put all the hashtags.
Offer special discounts
This tip on the list isn't exactly an advanced one. But anyway, it's still worthy of mentioning. Consider offering periodical discounts and notify your followers by either sharing a story or post.
Not only is a discount enticing for your current audience, but also they can share it with other friends and family members. Once this happens, you'll notice more people giving you a follow.
Craft engaging stories
One of the most effective ways to use Instagram for small a business is to master the art of storytelling. Avoid using technical words and corporate terminology. Concentrate on telling stories that your audience finds captivating.
If you craft charming stories exclusively about you and the nature of your business, then be sure you'll gain their trust. Once you have that, they'll turn into loyal customers. Each of these customers may then go ahead and refer your products to other people.
Recap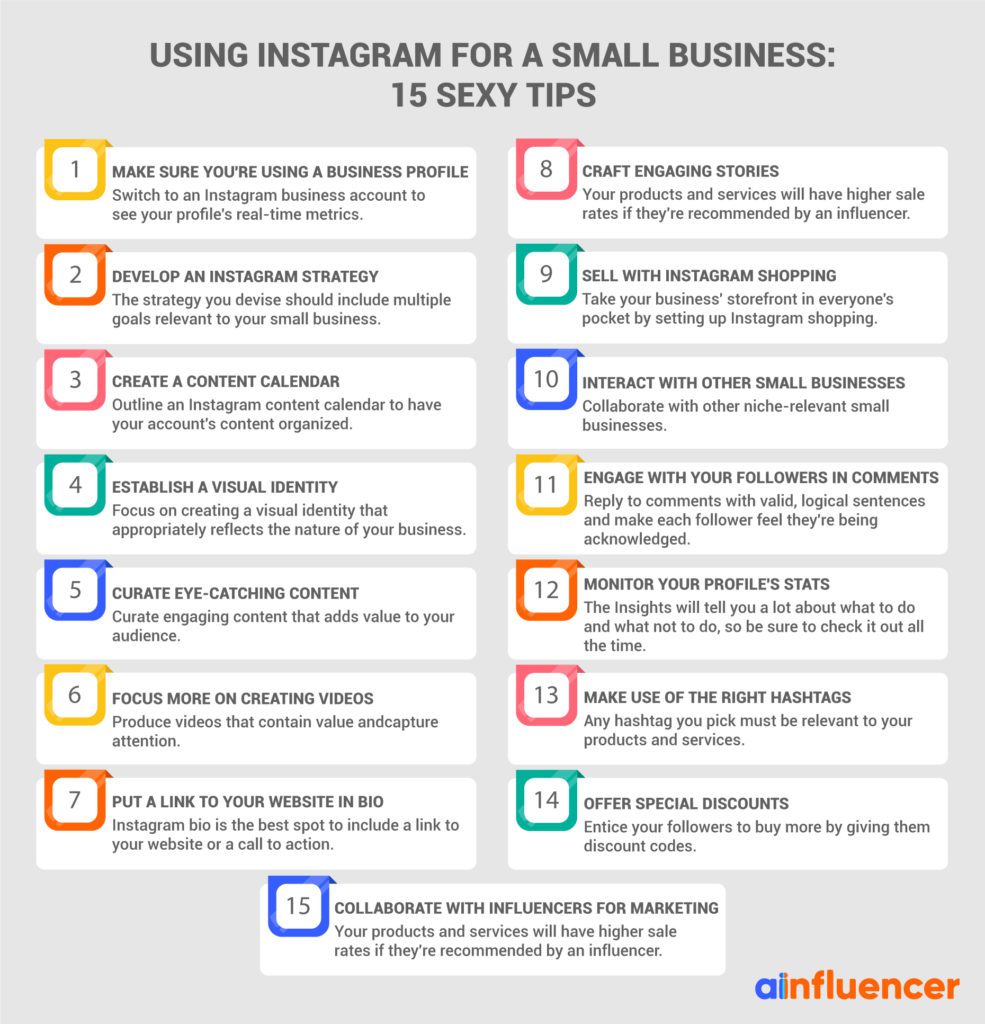 There's no doubt that Instagram has grown immensely to become one of the key social platforms for many companies, brands, and businesses. You're missing out on an incredible opportunity to grow your small business and amass more profits. Aside from switching to a business profile which is a must for all businesses, you can experiment with other ways we discussed and find out which ones work best for you.
We also have an article on Instagram tips for small businesses. There we've delved deeper into some of the most helpful information for small business owners using Instagram. Reading it will take your knowledge of how Instagram works to an advanced level.