In a highly competitive fashion industry, where trends change rapidly, knowing how to start a clothing brand is not something that everyone can achieve. Starting a successful clothing brand requires a knowledge of the current market and its gaps.
If you want to establish your fashion brand company and don't know where to start, don't worry. In this article, we will show you how to start a clothing business step by step and grow it in 2023.
How To Start A Clothing Brand In 6 Steps?
Want to start your fashion brand line and increase brand awareness? Here is a step-by-step guide on how to start a brand of clothing with different examples to help you get inspired.
1. Find Your Niche
The first step of how to start your own clothing line is choosing a niche and target market. Your clothing niche stands for a specific category or type of clothing that your brand is going to focus on. For example, it can be eco-friendly fashion, vintage-inspired outfits, sportswear, or high-end luxury wear. Let's check some popular brands as examples:
Luxury Wear: Burberry, Chanel, Prada, Louis Vuitton, Hermes, etc.
Sustainable Fashion: Reformation, Everlane, Tentree, Pact, etc.
Street Style and Urban Fashion: Nike, Stussy, Supreme, Palace, etc.
Sportswear Brands: Adidas, Gymshark, Lululemon, Under Amor, etc.
Classic Fashion: Ralph Lauren, Saint Laurent, Balenciaga, Dolce & Gabbana, etc.
Focusing on a specific niche helps you find need gaps in the market and design products that can fill them. This step of how to start a clothing brand can help you stand out in the crowded market and increase your chance of success.
2. Understand Your Market
After choosing your niche, it's time to design your products based on your target market. This means finding your target audience's needs, preferences, and purchasing habits. So, the next step of how to start a successful clothing brand is understanding your market by following these simple tasks:
Identify Your Target Audience: Firstly, define the audience you want to produce clothes and outfits for by gender, age, location, and interests.
Analyze Your Competitors: Don't know where to start and are looking for inspiration? Find the popular brands in your niche and check their designs to get inspired.
Check Fashion Trends: It's also important to keep an eye on current fashion trends by following top fashion influencers. While it's important to stick to your brand's identity, aligning with new trends can help boost your brand's relevance.
3. Create A Business Plan
Similar to any other industry, having a business plan is essential for your clothing brand's success. This document serves as a roadmap that guides your decisions and actions. Do you want to know how to start a clothing business? Here are some key factors to consider to consider in your plan:
Set clear, achievable goals and establish timelines for reaching them.
Consider short-term objectives, like launching your first collection, as well as long-term goals, such as expanding into international markets.
Calculate startup costs, including design, manufacturing, marketing, and e-commerce setup.
4. Find A Clothing Manufacturer
If you are serious about your clothing line, you need to find a manufacturing partner (Unless you want to do it all by yourself). To ensure that your products are produced to the highest standards and on time, it's important to conduct thorough research on potential manufacturers.
So, another important step in how to start a brand of clothing is finding your perfect manufacturer match. Consider factors such as their reputation, production capabilities, and commitment to ethical and sustainable practices. Also, you can request samples to check the quality of their work.
But you need to set how much it costs to start a clothing brand with your partner as well.  Once you've found a manufacturer that meets your criteria, make sure to set terms that align with your business goals, such as pricing, minimum order quantities, and production timelines.
5. Test Your Product
If you are looking for a way to start a luxury clothing brand, you need expensive materials of course. But what if your target market doesn't like the result products? You want to ensure that your target market will actually like the end result and that you won't be wasting time and money on a product that won't sell.
So before launching a new product line you can test it with a group of people and if the feedback is positive, you can market it. This method can help you find out how to start a clothing brand that becomes successful without risks.
6. Choose A Platform
Up to now, we've talked about the main steps of how to start a clothing brand business. Now, it's time to decide where you want to start your fashion brands and sell your items. It can be a retail store, home studio, online shop, or different social media channels. 
Whatever option you decide, we recommend you have a well-designed website where customers can directly view items and purchase them. On the other hand, platforms such as Instagram, TikTok, and Pinterest with their visual nature and millions of users are perfect for showcasing your products and attracting users.
7. Start Marketing
Up to here, we've discussed every step of how to start a clothing brand from scratch. Now, it's time to market your clothing brand, be discovered by your target audience, and gain customers.
Based on your target audience, there are different marketing channels to try to attract customers. Here are some of the popular strategies you can try to find out how to start a successful clothing brand:
Social Media Marketing: Instagram, TikTok, Facebook, etc.,
Paid Advertising: Google ads, Instagram ads. TikTok ads, etc,
Search Engine Optimization (SEO),
Influencer Marketing,
Sponsorships,
Forums: Reddi, Quora, etc.,
Content Marketing,
Banner Ads.
How To Boost Your Online Presence?
According to a study done by Docsend in 20188, nearly half of consumers shop more on mobile than in-store. So, it's important to establish a powerful online presence to increase your customers and sales. There are different methods to try such as social media management, content marketing, paid advertising, etc.
But one powerful and proven method and online business idea is collaborating with your niche influencers. Fashion influencers with their massive followings and ability to influence consumer behavior can help you reach a potential audience and grow your business.
When choosing a female or male fashion influencer to partner with, it's essential to consider their values, aesthetics, and audience. Look for influencers whose style aligns with your brand niche and whose followers are likely to be interested in your products. So, after knowing how to start a clothing brand, you can increase your brand awareness through influencer collaborations.
How To Find Fashion Influencers To Work With?
Now that you know how to start a clothing brand, let's help you with growing it. So we've talked about how influencer marketing can help you grow your business online and gain more customers. But how to find fashion and style influencers? Ainfluencer is your answer!
Ainfluencer is a 100% free end-to-end influencer marketing platform powered by AI to match your product and service with thousands of influencers on Instagram and TikTok forever. This platform is certainly the very first DIY (Do-it-Yourself) influencer marketplace, allowing small- to medium-sized brands to collaborate with nano-, micro-, and macro-influencers.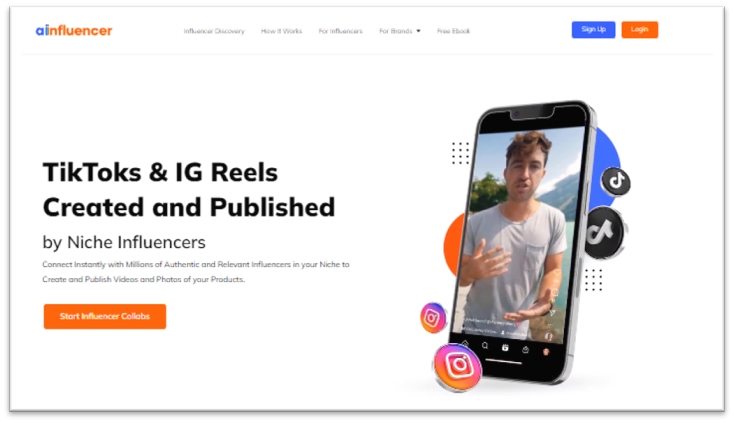 Brands can send invitations to all influencers for free. You have no limit in terms of discovering and evaluating the influencers in your niche and sending invites. You can also narrow down their search for influencers using a great set of filters such as the size of influencers, their platform, gender, and country, and more than 20 criteria.
So, what are you waiting for? Sign up on Ainfluencer for free now and connect with fashion influencers for free!
Conclusion
Starting a clothing brand can be a challenging process, but by following the steps outlined in this article, you can increase your chances of success. In this article, we've shown you everything you need to know about how much to start a clothing brand and make it popular.
By collaborating with fashion influencers, you can increase your brand awareness and reach a wider audience. If you need help finding fashion influencers, you can sign up for Ainfluencer, a free AI-powered influencer marketing platform and boost your brand awareness.
FAQs
1. How Can I Find Reliable Manufacturers For My Clothing Line?
Research and networking are key to finding your best manufacturer match. Attend trade shows, connect with industry professionals, and consider working with manufacturing partners who have a proven track record in producing the type of clothing you plan to create.
2. What Are The Best Social Media Platforms For Fashion Marketing?
Want to know how to start a clothing brand online? Well, the main part is choosing your online channel! Instagram, Facebook, and Pinterest are popular platforms for fashion marketing due to their visual nature. However, the choice should align with your target audience. Research where your potential customers spend their time online between these apps and focus on one.
3. How Can I Stay Updated With Fashion Trends?
Subscribe to fashion magazines, follow fashion influencers on social media, attend fashion events, and regularly browse online fashion forums and websites to stay in the know about the latest trends.
4. How Long Does It Take To Establish A Successful Clothing Brand?
The timeline varies widely. Some brands gain recognition within a year, while others take several years to establish themselves. Consistency, dedication, and adapting to market changes are key to success in the fashion industry.
5. How Hard Is It To Start A Clothing Brand?
There are many factors to consider for starting a fashion brand such as finding a unique niche in the market, creating a strong brand identity, sourcing high-quality materials, and establishing a reliable supply chain. However, with dedication, hard work, and careful planning, it is possible to successfully launch a clothing brand and achieve long-term success.