In August, Instagram rolled out a new feature that allowed users to share photos and short videos with a 24-hour lifetime called Stories. Today, more than 500 million users check their stories, even if they don't check their feed page. That makes stories a perfect place to get a lot of viewers and engagement. But are you out of Instagram story ideas?
No matter if you are a business owner who is looking for Instagram marketing tips or an influencer who wants to grow their engagement, focusing on your stories is a good idea. In this article, we will show you some of the best Instagram story layout ideas to try.
1. Cool and Creative Instagram Story Ideas
Are you looking for creative and cool Instagram story ideas to increase your views? Here are some simple but effective examples to start with.
1. Share Your Recent Post on A Story
In recent updates and Instagram algorithm changes feed page sorts and suggests posts based on user interaction. So, many of your followers might not view your post. As a result, you can reshare your post on stories to receive a higher engagement and reach. It is one of the best Instagram story ideas and you can design it with a 'New Post' sticker to attract users' attention.
2. Hide Your Reel Post With A Sticker
Instagram reels have proven to be an effective way to reach the Explore page and go viral. Just like you do with new posts, consider resharing your reel videos on your stories. This can help boost views on both your posts and stories. All you need to do is use a fun sticker to cover the reel video and engage users to view the original post. 
3. Countdown A Live Video
Instagram Lives is the perfect opportunity to talk with your followers and answer their questions in real time. You can set the time for your live event and use the Countdown Instagram Story sticker to send a notification to your followers. 
4. Use The Q&A Box
The sticker section on Instagram provides different features to encourage user interactions which will lead to engagement growth. One of these cool features is the question box sticker that allows you to collect questions and reviews from your viewers.
Using this feature is one of the best Instagram story ideas that helps you build relationships with your audience by answering their questions as well as increasing Instagram engagement.
5. Collect Followers' Thoughts
Want to know if your content strategy is working and if your audience likes your posts? You can use the quiz sticker to ask questions and interact with your followers. Ask what type of posts they like more, what they think about your products, etc.
You can add up to four answers for each question. Also, you can test your audience's knowledge about your products and give discounts to the ones who answer the question correctly.
6. Share an Aesthetic Collage
It's not necessary to only share one picture per story. Instagram provides a grid feature where you can add up to 8 photos in a single story. Make sure the images have the same color palette to curate a visually appealing collage of related images that reflect your brand's style
7. Share Your Giveaway or Contest
Social media giveaways and contests are effective ways to drive a lot of brand engagement to your page in a short time. To increase the number of your Instagram giveaway entries, you can invite followers to participate in your stories.
8. Re-Share Old Stories
It's always fun to show where you started your page and kept growing over time. Instagram keeps a record of your stories in the archive section. So, check there and give your old content a fresh spin by re-sharing it with a new theme or perspective.
2. Instagram Story Ideas For Businesses
Do you run your business online and want to increase your customers? Here are some Instagram story ideas and aesthetics that you can try.
1. Share a Buying Guide
Is your website your main source for product sales? Well in that case one of the creative Instagram story ideas is showing your audience how they can use your website. Create a step-by-step guide showing different parts of your website, how to check products and add them to a cart, and the payment method.
You can use some of the Instagram story layout ideas and create a series with the same template. Then you can highlight them on your profile so that new followers can always find them.
2.CountDown a Product Launch
If you are using Instagram to sell products and increase your customers, one of the cool Instagram story ideas can be announcing your latest launch on the stories. In the sticker section, there is a countdown sticker that will notify the viewers who enable it.
So, you can ask your followers to check the latest launch at a specific time on your website. They can tap on the reminder and get a notification at that time.
3. Share Buying Inspirations
Another perfect tip on the list of Instagram story ideas for business is sharing buying inspiration. By sharing creative ideas about your products and how to style them in a real-world setting, you can encourage your followers to buy them.
You can also use the link sticker on each product so you can redirect your audience to the shopping page.
4. Share a Positive Review
Without any doubt, the best brand advertising method is sharing real customers' reviews to indicate you are trustworthy. If you receive a positive review in comments or even on DMs, you can share it as a story to build trust for your brand. If the review is for a product, you can also link to the product page on your website.
Sometimes your customers share a post or story with your products on their account, called user-generated content. By asking them and resharing their content on your account, you can build trust for your page.
5. Offer a Discount Using Stickers
For brands and businesses, offering temporary discount codes is an effective way to engage your customers. So, one of the Instagram story ideas for photos is showing the items that are on sale or announcing a discount on all items. Stickers like 'Sale,' 'Discount,' or 'Limited Time Offer' can catch attention effectively. Also, use colorful and playful stickers to convey the message.
How To Earn Money On Instagram?
Up to here, we've talked about different interactive Instagram story ideas to grow your account. Once you established a dedicated audience (more than 5k followers), you have the opportunity to turn your content into money by collaborating with brands. The more followers you have, the higher the chance of working with larger companies.
Influencer marketing has proved its efficiency over the past decade and brands in different niches are regularly looking for influencers to work with. But how can you find brands in your niche as an Instagram influencer? That's where Ainfluencer can help you!
Ainfluencer is a leading influencer marketing platform that connects brands and influencers of all sizes across different niches. With powerful search filters (based on hashtags, location, niche, language, budget, engagement metrics, etc.) you can find your best match in a couple of minutes.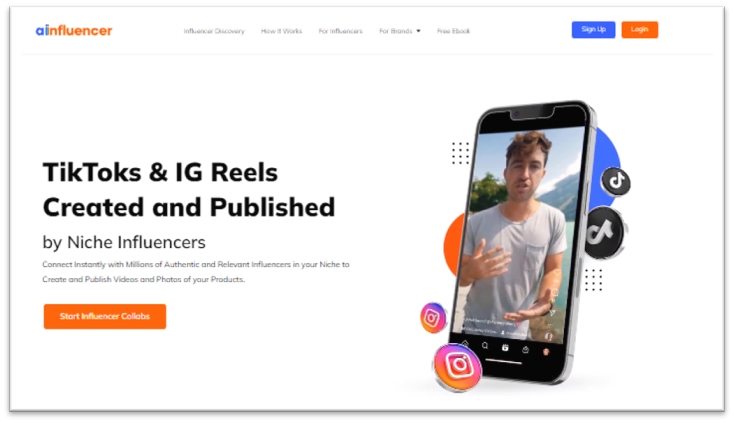 So, what are you waiting for? Join the Ainfluencer community of more than 500,000 creators across Instagram and TikTok and start earning money now. The best part is it's totally free to use Ainfluencer for both brand and creator sides.
Conclusion
Instagram Stories help you show your creativity, connect with your audience through engaging and diverse content, and grow your account. In this article, we've provided different Instagram story ideas for photos and videos that you can try to increase your views.
FAQs
1. How Do You Make a Creative Story on Instagram? 
To create a creative story on Instagram, start with a clear theme or message. Use features like stickers, GIFs, polls, and interactive elements to engage your audience. Incorporate visually appealing content, such as high-quality images, videos, and text overlays. Maintain a consistent visual style and use storytelling techniques to captivate your viewers.
2. How To Get 1,000 Active Story Views on Instagram? 
To get 1,000 active story views on Instagram, focus on producing engaging content that resonates with your audience. Use relevant hashtags and location tags to expand your reach. Post consistently and at times when your followers are most active. Collaborate with influencers or partners for cross-promotion. Utilize interactive stickers and features to encourage engagement, and consider promoting your stories through Instagram's paid promotions.

3. What Is a Good Story Idea?
A good story idea for Instagram can be showcasing a behind-the-scenes look at your creative process, sharing user-generated content, providing quick tutorials or how-to guides, giving a sneak peek of new products or services, hosting a Q&A session, sharing customer testimonials, or sharing a personal anecdote related to your brand's journey. The key is to provide value, engage your audience, and align the story with your brand's message and identity.

4. How Do I Make Effective Use of Poll Stickers in Instagram Stories?
Poll stickers are a simple yet interactive way to engage your audience. Ask questions relevant to your brand or industry and encourage users to participate by voting. It's a great way to gather opinions and insights.