In the fast-paced world of Amazon selling, staying ahead of the competition is crucial. As a business owner, you should be able to make data-driven decisions to improve your business. To make this happen, you need a powerful tool. That's where Helium 10 comes in to help you strengthen your business and increase your sales on Amazon. But that's not all that Helium 10 can do.
Apart from this type of tool that can help you analyze your market on Amazon, you can benefit from promoting your Amazon market on social media. It will be helpful if you connect with Amazon Influencers on Instagram and increase your sales.
Read this article to learn about all the tools and features that can leverage your market on Amazon and Walmart.
How to Promote Your Amazon Market?
If you are new to this market, you may find it difficult to compete with all the companies that have been working on this platform for a long time. You may need different tools and platforms to showcase your products to your target customers. Although Helium 10 can be a great tool to improve your performance on Amazon, you may still need another plan to speed up the process of gaining customers.
We recommend you find influencers related to your market on Instagram and TikTok to promote your business on Amazon. You can ask them to share your link to their stories or promotion videos. Furthermore, you can add your Amazon market to e-commerce tools like LinkTree and share it on your social media bio.
Sign up on Ainfluencer for free to access the comprehensive list of influencers. Our marketplace is a 100% free DIY that can easily connect businesses and influencers. With only a few clicks, find the right influencer based on gender, location, category, or hashtags they use to broadcast your business.
What Is Helium 10?
As a SAAS product, Helium 10 is designed to optimize and empower Amazon sellers' journey and increase their profitability in this market. This product includes a wide range of tools and features; each can give sellers specific data, such as product research, keyword research, listing optimization, competitor analysis, and inventory management.
With the help of this powerful Amazon tool, business owners can make informed decisions, increase visibility, boost sales on the Amazon platform, and maximize their success in the competitive online marketplace.
What Are the Benefits of Helium 10 For Businesses?
Before getting into the details of each tool on this platform, let's check the benefits of Helium 10 for businesses. Is it worth trying?
Some of the benefits of using Helium 10 are:
Discovering highly profitable products in every category and niche.
Instantly accessing a database of over 450 million ASINs to help identify your next successful product.
Leveraging the world's largest supplier database to help simplify sourcing.
Enhancing product rankings and driving traffic through the use of strategic research tools.
Generating top-ranking listings and optimizing existing ones using tools that analyze product reviews and keywords.
Monitoring the performance of your products and business with analytics tools.
Building and growing the marketing and PPC strategy for your products through the utilization of time and cost-saving tools.
Getting accurate monthly sales estimates and profitability calculations, based on multiple reliable data.
Helium 10 is designed to help you grow your business faster and more efficiently with better data, better tools and better sales.
Now that your business can benefit from this wonderful tool, let's start using it.
How to Use Helium 10?
Like other platforms, you can easily sign up on Helium 10 using your email address. The process is easy and doesn't require any specific information. While creating an account, you can use its free version or select either of its plans. You should note that, like any other platform, the free version will lack some tools and features or may have limitations. However, it is worth trying the free version first to find out what exactly this tool can do.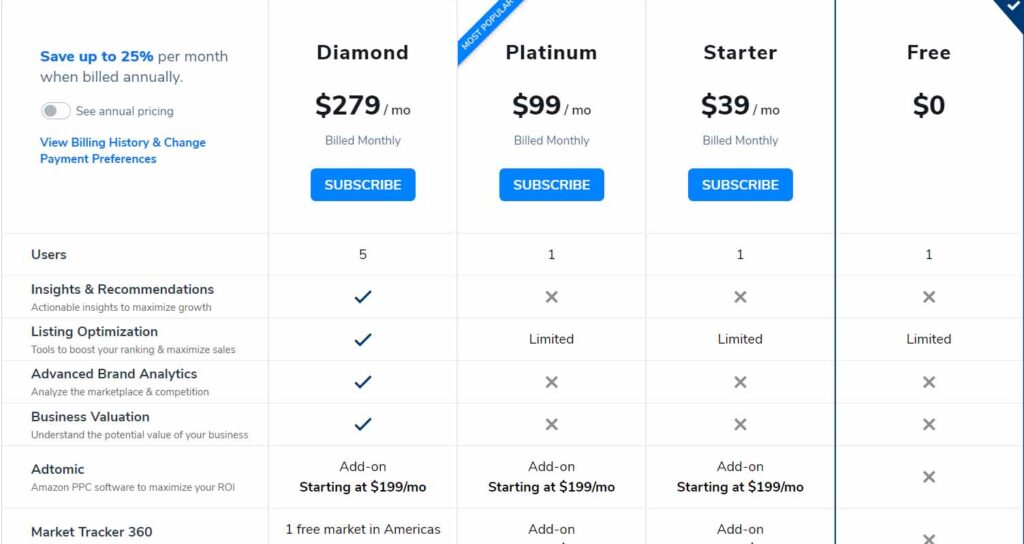 After creating your account, you can easily connect your Amazon or Walmart market to your account, monitor your performance, manage your inventory, and track your competition. Furthermore, you can add other users to manage this account. You should also note that you can upgrade to another plan anytime you want. So, take your time and check out every tool and feature it has.
Helium 10 has multiple tools. Let's dig into each of them to find out how helpful they are.
Helium 10 Tools
Whether you are using the free version of Helium 10 or a paid plan, you can access all its tools from the Tools menu.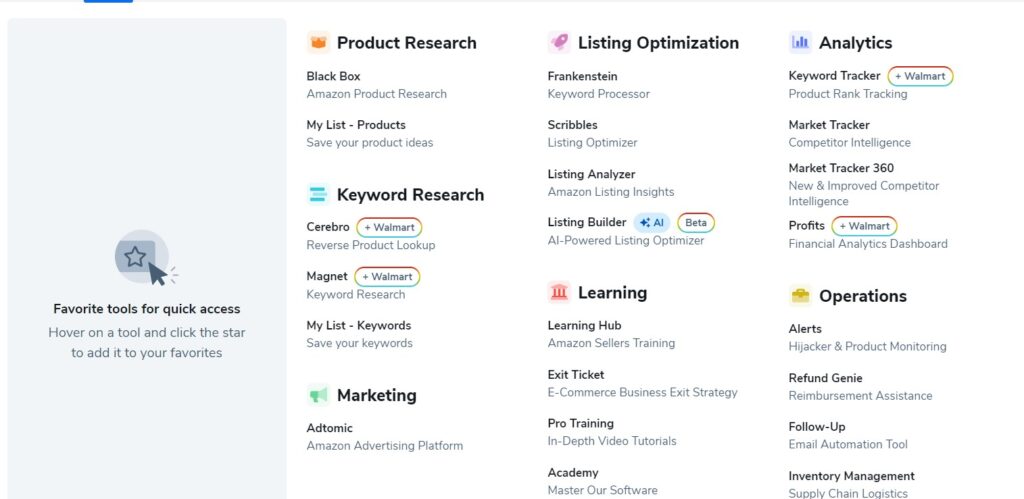 Product Research
As an Amazon seller, you need to be able to find the right product to sell on Amazon based on your criteria. That's how Product research tools can help you become a successful seller.
Blackbox
The main tool of this group is Blackbox, which allows you to search products based on keywords, product category, competitors, and niche. On each section, you can use filters to define what you are exactly looking for. These filters can narrow down your results to the most relevant ones.

You can then save any product that seems interesting to you. Your saved products are accessible in the My List section.

Keyword Research
The other top tool on Helium 10 is keyword research. There might be different words defining your product, but you should target the right keywords to make it easier for customers to find your product online. The keyword research tool can help you find which keywords have more searches and how you can rank on top. This section has two main tools:
Cerebro
Your competitors can tell a lot about your customers. If both of you are selling the same products, discovering the keywords they rank for will give you instant access to something that is already working. Use the Cerebro tool to see a massive list of keywords working well for your competitors.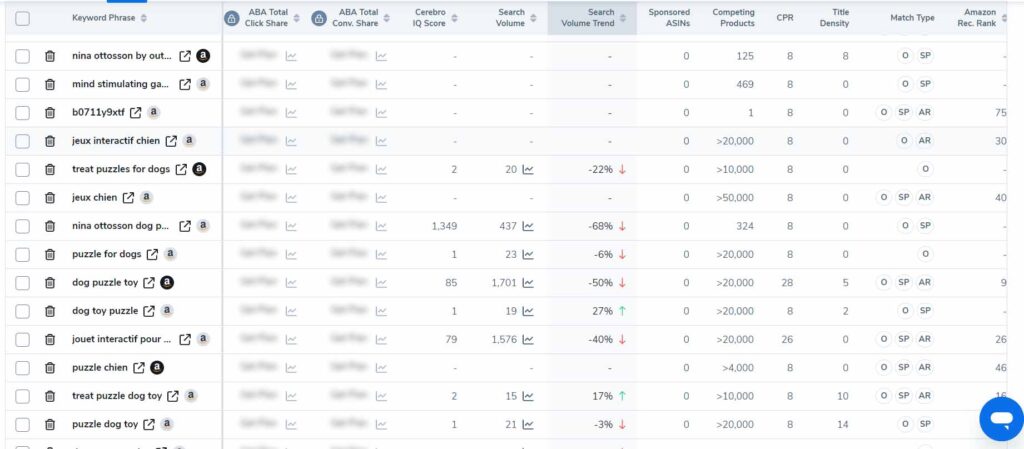 Magnet
Let's forget about what your competitors do and start fresh. Type a word into Magnet, and it will instantly return all related keywords, competitor products, and word frequency. Accordingly, you can improve your traffic and sales on Amazing using keywords with higher searches and better ranks.
Listing Optimization
You can optimize your keywords and listings with the help of the tools in this section.
Frankenstein
Add as many words as you want to the Frankenstein keyword processor. Then, this tool will combine them and give you new keywords. After that, you can sort keywords by popularity.
Scribbles
Enhance your listing with the words that Scribble offers. You can give a list of words to this tool and find valuable keywords to use on product titles, descriptions, and search terms. Helium 10 also offers a comparable tool called Listing Builder, which surpasses Scribble's capabilities. While Listing Builder is currently in its beta version, it will soon be replaced by Scribble.
Listing Analyzer
You can improve your performance by analyzing your own products. You should note that you have lots of competitors trying their best to rank better than you. Therefore, you need to check the performance of each product and identify the actions you can take to improve its performance. Additionally, you can compare your product with your competitors to find its weaknesses.
Analytics
What can give you information about the performance of your products and how your customers are reacting to your business? That's why the Analytics tool on Helium 10 is one of the essential and useful tools for your business. Check its tools as follows:
Keyword Tracker
The main tool of this section is the Keyword Tracker. If you have linked your Amazon page to your account, your best-selling product will be revealed in this section automatically. You can also add a URL and track the performance of a specific product. The keyword tracker tool gives you data about the performance of each keyword. You can then find out which keywords have a better revenue for your business.
Market Tracker
Are you looking to monitor your performance on Amazon? Market Tracker offers a comprehensive analysis of the market you're operating in, providing valuable data on trends, metrics, and new competitors. With daily updates, you'll have access to the latest information about your market, empowering you to make informed decisions.

Profits
The main reason you use tools like Helium 10 is to increase your sales and gain profit. Therefore, there should be a way to indicate you are in progress or need improvement. That's why the Profit tool can help Amazon sellers discover if their market is growing.
If you connect your Amazon market to Helium 10, you can have an overview of your daily sales. This tool also compares the sales and lets you know which product has more demand, on which days you have more sales, and which products may need improvement.

Marketing
You can find only one tool in the Marketing group, called Adtomic, which is the Amazon advertising platform, a powerful solution to create and manage campaigns and PPCs. According to Helium 10 claims, this tool intends to maximize your advertising ROI by helping you improve your marketing strategy.
Remember, you can only use this tool if you upgrade your free account to any paid plan. As a result, you should not forget to consider this amount in your advertising budget too.
Helium 10 Dashboard Insight
The dashboard is where you can see a brief insight into all that's happening in your market. You can see your daily sales performance, your top products, and the status of the ads you are running. Therefore, you have all the most critical data and information whenever you log in to Helium 10. Then, you can check each part in detail under its dedicated section.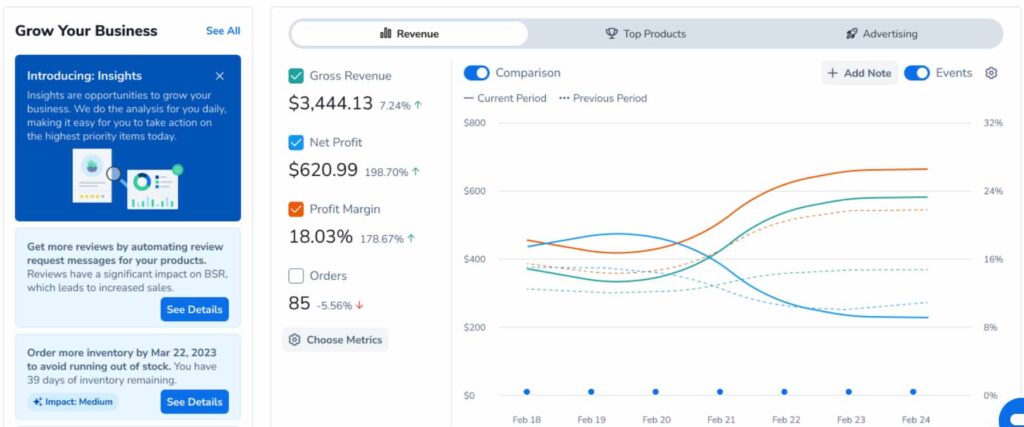 Pros and Cons of Helium 10
You can't find any tool that only has advantages. But, the pros of some e-commerce tools are so much that people don't care about their downsides. Let's see what pros and cons Helium 10 has.
Pros
All-in-one platform- you can access a wide range of tools; each giving you specific data about how well you are working on the Amazon market.
All data comes from Amazon. Therefore, you can better decide on the keywords and improvements.
It allows you to compare your products with competitors to find your weaknesses.
The starter plan is free. So, you can check several options to decide which plan suits you.
Built-in SEO and marketing tools can help you improve your product presentation by suggesting you better titles and descriptions using top-ranked keywords.
Responsive support
Cons
You can't access most features on the free version. Therefore, it might be hard to find if you really need that tool.
Expensive for full access
It is somehow difficult to become an expert on its tools. However, every tool has a learning video.
Helium 10 Alternatives
If you find Helium 10 expensive or hard to use, you can check its alternatives. However, they might not be as powerful as Helium 10.
1. Viral Launch
Like Helium 10, Viral Launch also offers various tools and solutions for product research, keyword research, listing optimization, PPC management, analytics, and more. But it has a more affordable pricing plan. However, compared to Helium 10, it lacks tools to analyze sales.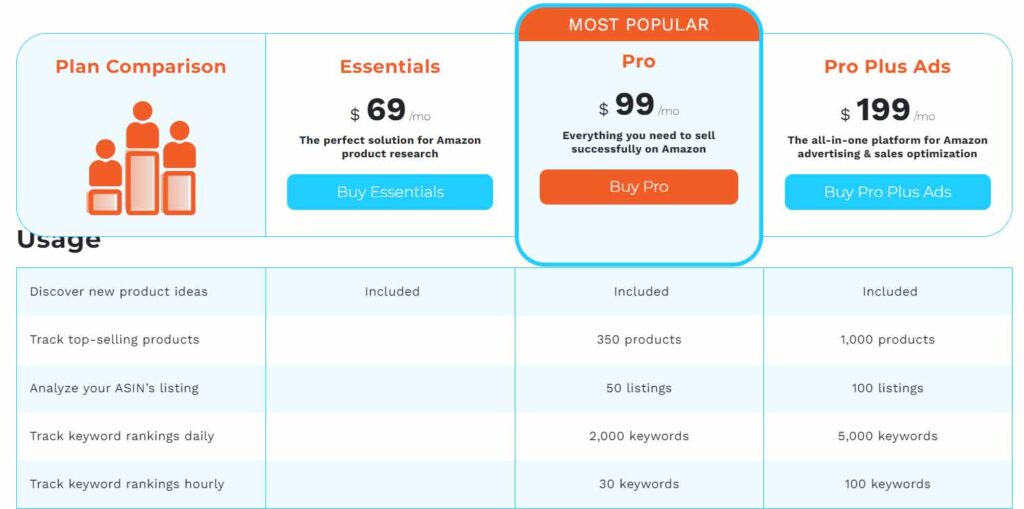 2. Jungle Scout
This all-in-one platform equips e-commerce entrepreneurs with the necessary data and tools to find profitable product opportunities and accelerate their business growth. Some useful tools it offers are product research, keyword research, listing optimization, inventory management, sales analytics, PPC campaigns, and more. However, it doesn't have any free version to check these tools.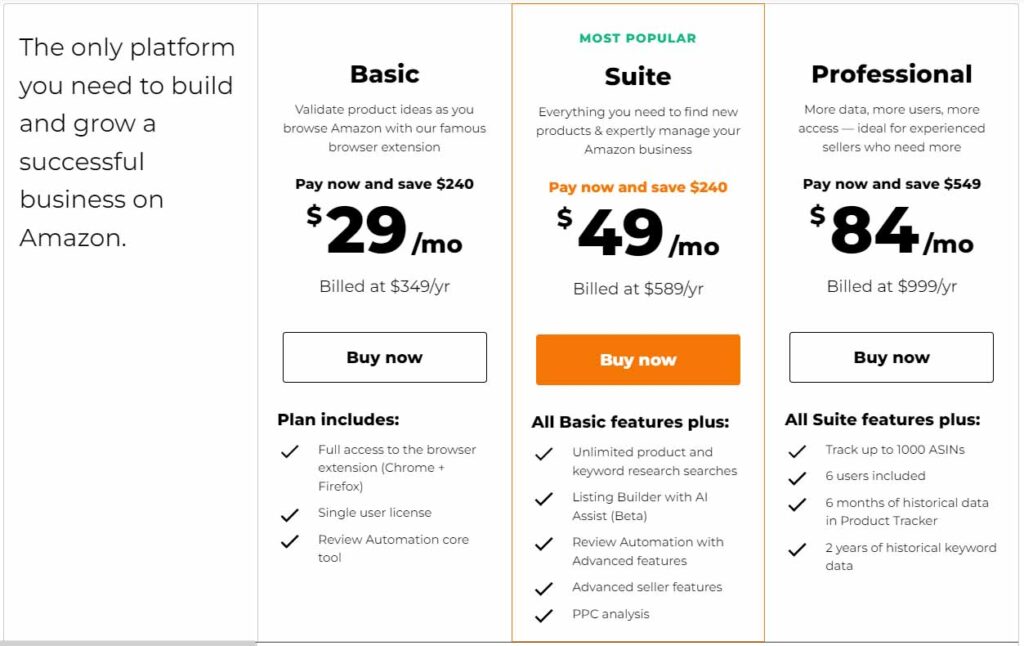 3. AMZ Scout
This versatile toolkit is designed to assist Amazon sellers in making informed business decisions through accurate data analysis and comprehensive market research. But it doesn't give you a complete and detailed report on your analysis. Furthermore, AMZ Scout lacks inventory management.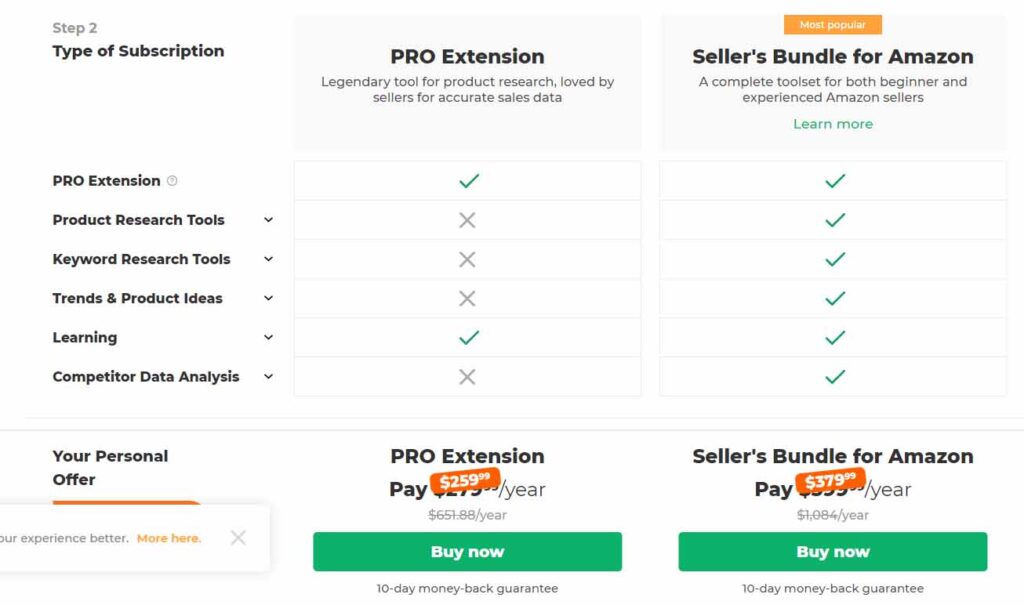 Bottom Line
As the world looked back on the incredible journey of Helium 10, it became clear that this revolutionary platform had not only transformed the e-commerce landscape but had also made it easier for its users to decide on their marketing strategy. Helium 10's powerful tools, insightful data analysis, and innovative strategies have made competing in the Amazon marketplace easier and more effective.
Did you know even if you have an Amazon market, you can still benefit from influencer marketing? How is it possible?
Collaborate with influencers on Instagram and TikTok and ask them to promote your Amazon market on their account. With only a few clicks, sign up on Ainfluencer, create your influencer marketing campaign, and invite influencers. You can increase your sales and brand awareness by this method.
Since it's all free of charge, why not try it now?
FAQ
Is Helium 10 Free?
The Helium 10 offers different plans to its users. Generally, they can use the free version, which has limitations in using its tools. You can also upgrade the free plan to any other paid plan and access all its tools to analyze your market.
Does Helium 10 Have an Extension?
You can add the Helium 10 extension to your Chrome. But, at the moment, there is no extension for Firefox.
What Is Helium 10 Used for?
It is an e-commerce tool to improve your sales and grow your business on the Amazon market. Using its tools, you can decide which keywords to use and which products to offer.
How Many Users Can Access One Helium 10 Account?
You can add another user to manage your Helium 10 account. But you should note that each Helium 10 account can only be logged in on two devices at the same time.