These days, starting an online business is easier than ever before and everyone can do it with any budget. Regardless of the niche and subject you are good at, using these online business ideas can cover what you can do with your talent.
If you are looking to earn online income, we have your answer! In this article, we've provided a list of the top online business ideas that can help you achieve your financial goals.
Top 10 Online Business Ideas
For those looking to use social media and other platforms to earn money, there are different options to try. From earning money as a micro-influencer to starting your online blog, you can monetize your online presence. Here are the top 9 online business ideas from home that you can try.
1. E-commerce Store
Starting your e-commerce store can be one of the low-cost business ideas with high profit that everyone can try with any budget. By choosing the right niche and a well-designed website, you can tap into a global market to sell products. In this strategy, you can try free website builder tools (such as Wix or GoDaddy) to create a website for free. Then, you can market your store on social media platforms and online marketplaces.
2. Dropshipping Business
One of the coolest online business ideas for beginners who don't have space to hold inventory is dropshipping. In this type of online marketing, you partner with suppliers who handle product storage, packaging, and shipping. Your role is to create a user-friendly e-commerce website, select the products you want to sell, and market them effectively.
3. Social Media Marketing
If you are good at major social media platforms (Instagram, TikTok, Twitter, etc.) and know how to get likes and followers, you can become a marketer there. It can be one of the best online-selling business ideas for social media experts and includes managing and optimizing social media accounts, running targeted ad campaigns, and creating engaging content.
You can also partner with other companies and manage their social media profiles, share their content across the internet, maintain their brand image, and increase their sales.
4. Freelance Graphic Design
Do you have graphic design skills and know how to work with tools such as Photoshop or Canva? If so, then freelance designing might be good small online business ideas for you. Many brands and businesses require visually appealing graphics for their branding and are looking for professional designers like you.
Freelance graphic design provides the freedom to work on different projects while establishing a reliable income.
5. Online Blogger
Becoming a freelance writer is one of the easiest online business ideas for beginners that doesn't require advanced writing skills. You can decide whether you want to write on your own website or write for other brands. To achieve success, you need to consistently produce high-quality content that adds value to your readers' lives. Focusing on content that educates, informs, or entertains your audience will attract and keep your followers engaged.
Once you've established a following, there are many ways to monetize your blog. You can sell digital products like online courses or ebooks, offer digital coaching or webinars, or even sell ad space or sponsored posts.
6. SEO Consulting
For those who are good at writing, another perfect opportunity to use your skills is to become an SEO writer. In this type of online selling business idea, you use your experience to help websites rank on Google. But search engine optimization is not that easy; you need to know everything about using keywords and turning searchers into customers.
7. Teach An Online Course
One of the simplest online business ideas, especially if you're knowledgeable in a specific subject, is to teach it online. While you can sell digital courses, using a video-based platform such as YouTube opens up new monetizing opportunities. If you have expertise in a subject and are great at explaining things, you could consider starting a YouTube channel and earning money through your views. 
8. Affiliate Marketing
Have you ever heard anything about the Amazon affiliate program? If so, it's a simple example of affiliate marketing where you can earn money by promoting products on your blog, Instagram, Twitter, YouTube, or other channels. If you're curious to know how it works, you need to know that you can earn a commission fee based on the sales generated through your affiliate link
9. Become A Social Media Manager
Every professional social media account needs managing to share content at the right time, create engaging posts, and interact with their audience. But not all business owners have time to do it themselves.
So, you can become a social media manager or a consultant for brands if you have experience in this area. Your job will be to manage a company's social presence online, develop its social marketing strategy, manage campaigns, and other related tasks.
10. Become An Influencer
With the rise of social media platforms, one of the best online business ideas that everyone with a smartphone can try is becoming an influencer. But how to become an influencer and start earning money?
Choose a niche that you are interested in and have something to say (whether it's makeup, fitness, lifestyle, or daily vlogs), and start creating high-quality content. 
Share content consistently to stay in the platform's algorithm.
Interact with your audience.
A/B different content types.
You can find additional steps to consider in each niche influencer guide we provide for you..
Read:
How To Earn Money As An Influencer?
Once you grow your social media account and build a dedicated audience, you have different options to monetize your account. One effective way and one of the best online business ideas is collaborating with brands in your niche and earning money through sponsored posts.
Brands are actively looking for influencers of all sizes to tap into their targeted audience and grow their customers. If you are an influencer, you can look for these brands and start earning money. But how to find them? Don't worry, Ainfluencer is here to help you!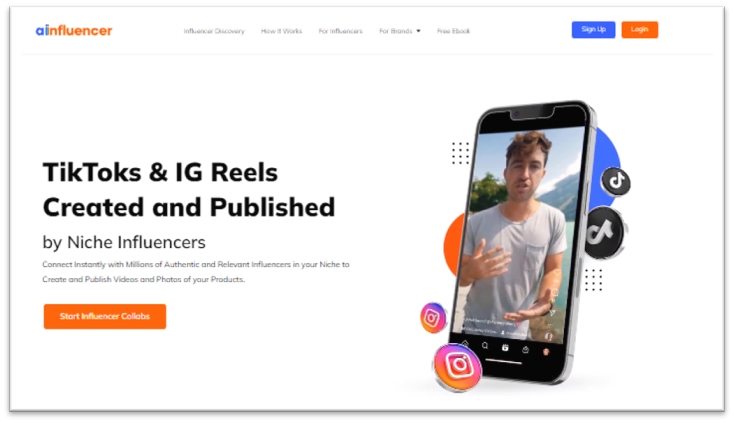 Ainfluencer is an end-to-end influencer marketing platform that connects brands and influencers of all sizes across different niches. This marketplace has been built with smaller brands and businesses as well as nano-, and micro-influencers ( 5000 to 1 million followers) in mind.
It doesn't matter if you're a Micro-influencer, Macro, or Mega influencer using the service; you are capable of reaching out to an extensive database of campaigns to collaborate and earn money. Ainfluencer is the only End-to-End platform in the market allowing you to make unlimited offers and negotiate deal delivery and prices with brands and businesses.
FAQs
1. Do I Need A Large Budget To Start An Online Business?
The budget required to start an online business varies widely depending on the business type. Some businesses, like dropshipping or affiliate marketing, can be started with a relatively small budget, while others, like app development or e-commerce with inventory, may require more substantial initial investments. It's essential to create a detailed business plan to determine your startup costs accurately.
2. How Can I Drive Traffic To My Online Business Website?
Driving traffic to your website is crucial for success. Strategies include search engine optimization (SEO), content marketing, pay-per-click (PPC) advertising, social media marketing, email marketing, and influencer partnerships. The right approach depends on your target audience and business niche.
3. Is It Possible To Run Multiple Online Businesses Simultaneously? 
Running multiple online businesses is possible but requires careful planning and time management. It's essential to ensure that your businesses don't overlap or compete with each other. Many successful entrepreneurs start with one business and expand once they have systems in place to manage the workload effectively.
4. What Should I Do If My Online Business Isn't Performing As Expected?
If your online business isn't meeting your expectations, it's essential to evaluate your strategies and make necessary adjustments. Consider analyzing your target audience, marketing efforts, website usability, and product or service offerings. Seek feedback from customers and consider seeking advice or mentoring from experienced entrepreneurs to identify areas for improvement and refine your business approach.