It's a lot harder to stand out as a brand than ever before.
There are so many things to consider too. Brands have to do their best to find customers, retain them, provide exceptional service, and gain trust all while being better than their competitors.
So how do you stand out from the crowd?
Well, one way is to create a solid brand engagement strategy and to set yourself up for success.
But What is a Brand Engagement Strategy?
A brand engagement strategy is all the ways you interact with customers, both online and offline, to increase your outreach and engagement. Brand engagement typically begins with the initial interaction and continues past the moment of purchase.
It can happen through any medium, from in-person to online, including social media, email, websites, community forums, or even over the phone.
Value creation, not revenue extraction, is the main purpose of a brand engagement strategy. Meaning that you should focus less so on the money you make but how desirable you make your brand.
A great brand engagement strategy provides customers with more than just a sales pitch. They build a fantastic end-to-end customer experience and take customer engagement from reactive to proactive. To do this, marketers use an approach known as "customer engagement marketing".
What is Customer Engagement Marketing (CEM)?
When a company creates personalized messaging to move products through the sales funnel, this is known as customer engagement marketing. In other words, if you've ever seen an influencer promote a product that led to somebody buying that product, then you know how this works.
Personalizing the material helps to distinguish it from other marketing strategies.
Pro tip: Are you looking for the fastest and easiest way to take your customer engagement marketing strategy to the next level? Use an influencer marketing hub like Ainfluencer to help find your ideal influencer.
The Benefits of Implementing a Customer Engagement Strategy
Implementing a complete customer engagement strategy has become a benchmark for all businesses, regardless of their size. The value of well-engaged customers cannot be underestimated – 41% of customers have quit using a product or service because of too many problems with customer experience.
A solid brand engagement strategy helps do things like: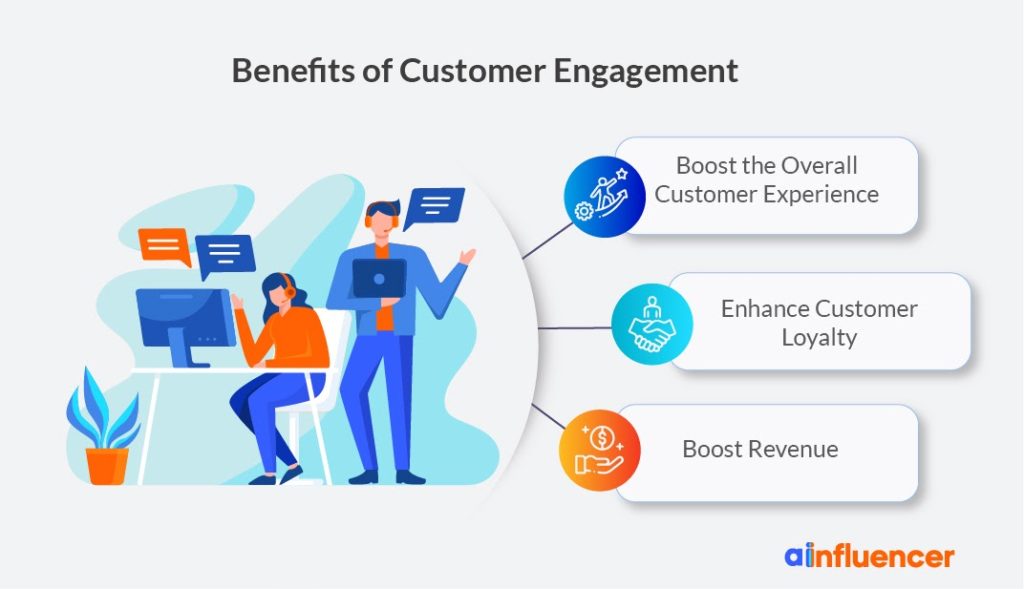 1. Boosting the Overall Customer Experience
The customer experience (CX) refers to how customers perceive your brand, or how it is regarded and received from their point of view, whether positively or negatively. It's become a big emphasis for marketers, salespeople, and businesses in recent years. Customers are more likely to purchase if they have a positive experience, although not necessarily right away.
2. Enhancing Customer Loyalty
Similar products are often sold by different companies. In this case, customers will often choose the business that provides them with an emotional connection. If customers can't relate to your company, you'll be just one of many possibilities rather than their top choice.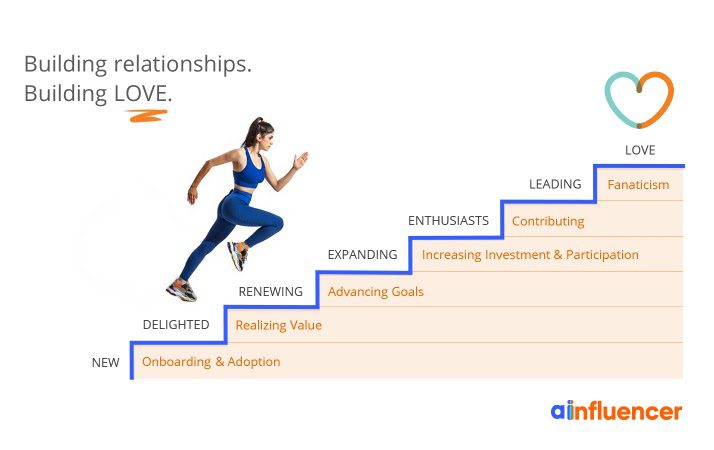 3. Boosting Revenue
When companies invest in improving a brand engagement strategy, it eventually shows in their revenue. Customers who are engaged with your brand are more likely to buy from you and even refer you to their friends and followers on social media. If you do this right, they'll function as free marketers for you and your business. Although it is the nature of the business to generate and convert new leads, retargeting current customers costs fewer resources and has a faster conversion time – this is referred to as cross-selling. Studies show that cross-sell revenue can grow by 22% with an effective engagement strategy.
10 Solid Brand Engagement Strategies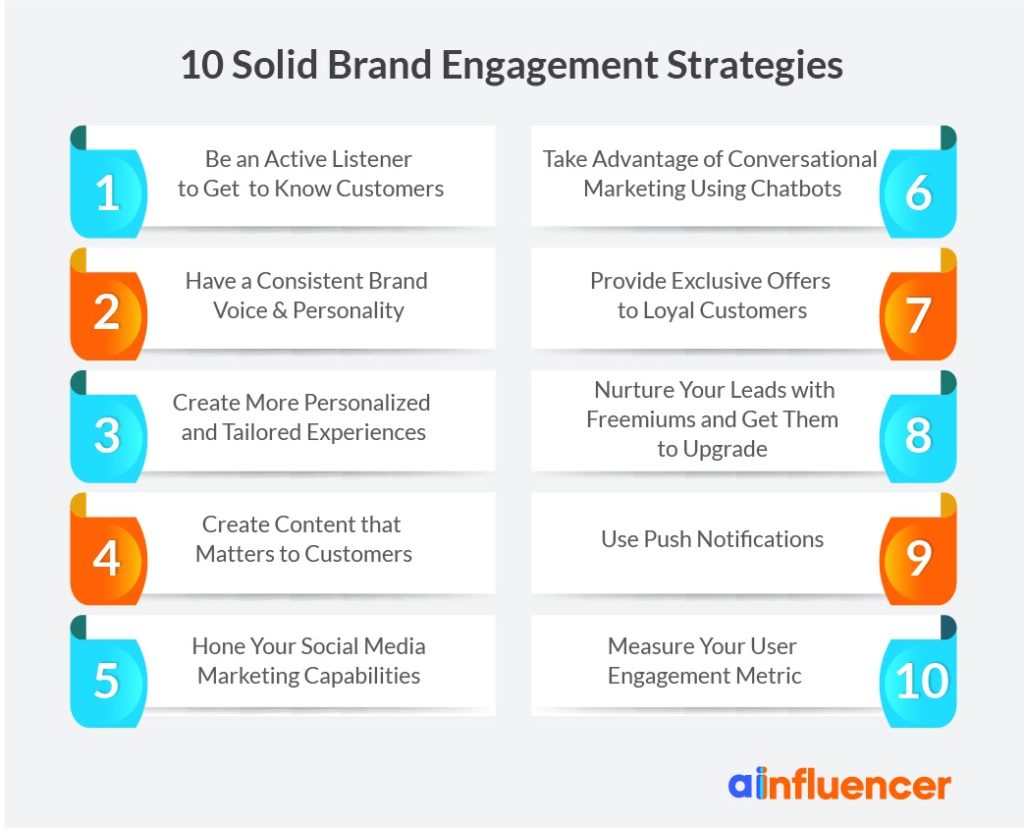 Every interaction a company has with its customers is critical. There's little room for error when it comes to a brand engagement strategy. Customer-centric engagement strategies should be aligned with your consumers' interests. You should add value to your customers and encourage them to interact with you. While companies' goals may differ based on their industry and consumer base, several tried-and-true brand engagement strategies are considered very effective.
1. Hone Your Social Media Marketing Capabilities
Keeping a presence on popular social media platforms like Instagram is a no-brainer for businesses today. Catch your consumer's eyes as they scroll through their feed with awesome content. It helps to strategize your social media engagement campaigns in such a way that they contribute to both short-term and long-term engagement.
There are a bunch of different opportunities for increasing customer engagement. Consider these:
· Running contests and giveaways
· Resharing user-generated content
· Starting a dialogue with interactive content like polls, contests, and quizzes
· Creating story-telling videos
One of the most efficient social media marketing strategies is endorsing your products and services, piggybacking on the popularity of influential bloggers. This marketing technique is called influencer marketing. Nearly 15% of 18-to-24-year-olds and 11% of US millennials purchased or utilized a product or service in the last six months after hearing about it from an influencer – not bad, right?
With all the advantages an influencer marketing campaign brings, spotting relevant influencers and reaching out to them may be challenging. Platforms like Ainfluencer make the process of partnering with influencers easier by helping brands identify the most relevant influencers who fit their brand's size and niche. 
Ainfluencer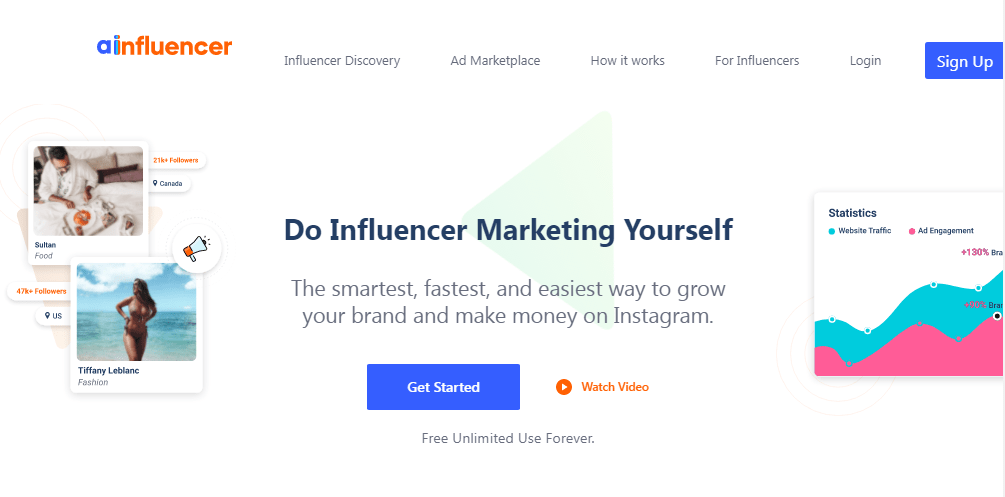 Ainfluencer is an influencer marketplace dedicated to Instagram influencer marketing. This DIY platform lets brands and influencers meet and make deals. With Ainfluencer, brands can create a marketplace ad that is posted where thousands of verified influencers can see it and make offers. Brands can also use filters to find and invite influencers.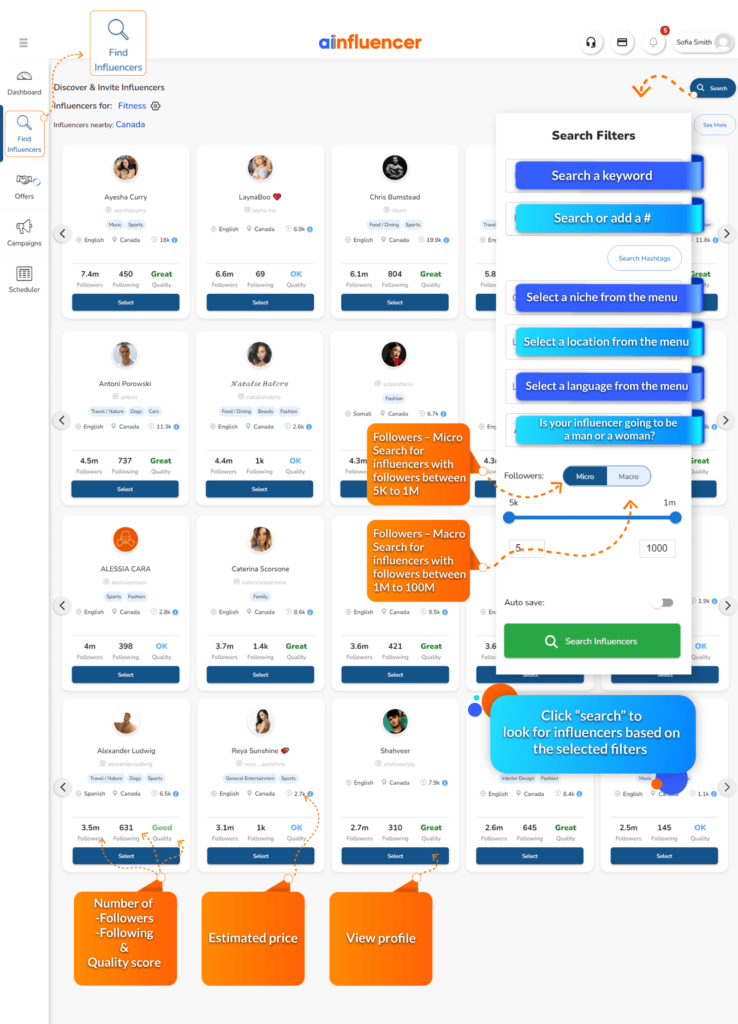 What makes Ainfluencer stands out among other platforms is that all its features are 100% free to use and you can get real-time analytics.
Note: Influencers can install Ainfluencer's app to collaborate with their brands of choice.
2. Have a Consistent Brand Voice & Personality
Brand personality is an important and often overlooked element of brand engagement strategies – 32% of US Gen Zs and 19% of other consumers tend to spend more on personalized brands. So, many brands have distinguished themselves by employing a voice and tone – giving their brand a human face, making it more relatable and memorable.
Customers monitor the moves you make, be it a Tweet, an Instagram post, or a blog. So it helps to keep a consistent voice. Allowing your brand's voice to be guided by your customers is the safest strategy. Glossier, the famous e-commerce beauty and skincare brand, always comes up with pioneered brand engagement examples. Glossier's motto is "skincare first, makeup second." They emphasize the skincare aspect of their brand, as well as highlighting that they're not attempting to turn women into someone else. This makes their product seem more relatable.
3. Create Personalized Experiences
Making customers feel valued and not just one of many is what keeps them coming back to you. It doesn't cost brands much to do that either. 63% of US customers stated they are willing to share their data for a product or service which is also valuable information that lets you further personalize your experience.
Personalization interactions can range from something as simple as displaying a location-based ad to a customer to more complex interactions such as providing suggestions based on previous purchases or search history using AI and machine learning.
4. Create Content that Matters to Customers
In order to sell products, you also have to sell solutions. As a result, showing up in your target audience's search results when they're looking for answers to common questions or challenges is a great way to get on their radar. Providing helpful, authentic content which revolves around educating people can help a brand engage its visitors, gain new leads, and convert them to buyers.
Engaging content should be interactive, creative, and unique, in addition to being educational. Feedback surveys can also help in the creation and distribution of content based on the items and services that customers have expressed an interest in.
5. Be an Active Listener to Get to Know Customers
Many people try to get sales as quickly as possible with their engagement strategy but that isn't necessarily the best method. Take the time to figure out what your audience wants. Even though businesses should understand their consumers, according to PwC, only 38% of customers believe that businesses understand their needs.
But why is this the case?
Customers are expressive about their needs. They want their questions to be answered as soon as possible. Take a step back and listen. Always be present when there's a dialogue going on between you and your consumers. If there isn't any, try to trigger one by conducting surveys, polls and asking customers what they think about your brand. Take both negative and positive comments as opportunities to grow, and when faced with negative feedback, consider it and try to overcome it.
6. Take Advantage of Conversational Marketing Using Chatbots
Conversational marketing is an asynchronous relationship that can take your brand engagement strategy to the next level. It means that customers can communicate with brands and businesses whenever they want — whether that's in real-time, after a meeting, or later that night when they have free time.
Chatbots can be super beneficial for addressing issues when you're unable to answer them in person – meaning that more problems can be solved for customers. Bots, as the name suggests, are not people – they are robots. They can be deployed across all channels, including Facebook Messenger, websites, and other instant messaging applications to provide 24/7 help. They're powered by AI and answer common questions based on previously collected data. As of 2021, 80% of businesses will be using chatbots.
7. Provide Exclusive Offers to Loyal Customers
Giving customers prizes can make them feel like a part of the brand and cultivate a sense of community and participation. If you're on a tight budget, reward those who have previously proven their loyalty and devotion. It can help users anticipate and engage with the brand.
Given that 71% of customers claim brand loyalty programs have helped them develop a stronger relationship with the company, you should consider implementing one.
But how?
Customers can be rewarded with tokens and points for every interaction they have with your brand, from resharing a post to purchasing a product. They can then be awarded prizes such as free store credit or merchandise, coupons, discount codes, or gift cards once they've earned a set number of points. Customers who are rewarded in a meaningful way are more likely to become loyal and make repeat purchases.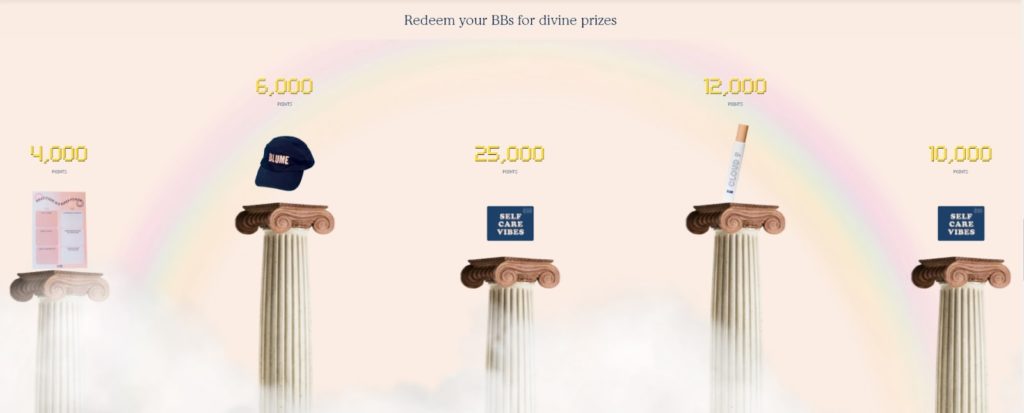 8. Nurture Your Leads with Freemiums and Get Them to Upgrade
While user adoption strategy aims at integrating and onboarding your product into new customers' live, the freemium is a popular brand engagement strategy that allows users to try out features of a product like software or web-based apps. Both are engaging strategies for attracting and retaining many potential consumers. This pricing model fits the best for those undecided about whether or not to pay for your product.
As for the freemium, the free trial period is critical because it gives the users complete access to all of your company's features. Once they try it, they may realize that they don't want to live without it.
9. Use Push Notifications
When it comes to effectively engaging with customers, it's occasionally necessary to remind them what you have to offer.
Push notifications are an excellent means of achieving this.
Push notifications are messages that appear in a user's web browser on their mobile phone or desktop device. With push notifications, you can notify your consumers about special offers, events, or news.
Keep in mind that push notifications can work as a double-edged sword. Although they can entice customers to click on their ads by creating compelling messages and scheduling them well, other users may feel swamped with junk ads and become easily irritated.
For example, 32% of US users become frustrated and disable push notifications if they receive more than 5 notifications per week.
10. Measure Your User Engagement Metrics
An effective engagement strategy needs data. Use it to tell you whether your brand engagement strategy is effective or needs to be tweaked.
10.1- Bouncing Rate
The bounce rate is an effective metric when reviewing your website since it shows you the level of engagement you provide while users browse your web page.
The term represents the percentage of visitors that enter a site and then exit rather than scrolling down to view the page further on the same site.
Although a bounce rate of 26-70 percent shows that you're on the right track, even businesses with a high bounce rate should improve the user experience on-site or make modifications to the customer journey to ensure optimal relevance.
10.2- Retention Rate
If your brand has an app, the retention rate is the percentage of users who continue to use the app after a particular number of days after installing it.
The retention rate can assist you with figuring out how well your app is doing and how satisfied your users are with it.
10.3- Core User Actions
It determines whether or not your users can comprehend the action at the heart of your product. Your product can't start if people aren't completing the core action, just like an engine won't start if there isn't a little gas in the fuel line. And if a growing number of consumers fail to execute the core action, your product's popularity will swiftly fade.
Conclusion
Hopefully, you stuck through this and learned a thing or two about how to create an awesome engagement strategy.
If you take all of this information to heart, then you're on the right path to skyrocketing your business' engagement.
1- What is a brand engagement strategy?
A brand engagement strategy is a plan to boost your customer satisfaction and engagement by creating positive interactions with them.

2- What are the 4 types of customer engagement?
1- Contextual Engagement
2- Engagement of Convenience
3- Emotional Engagement
4- Social Engagement

3- How do you promote brand engagement?
1-Personalize communications with clients on different popular social channels, especially, Instagram.
2 – Hold giveaways, contests, and polls.
3 – Be an Active Listener.
4 – Offer freemiums.
5 -Create Personalized Experiences