With so many competitors, small businesses can face multiple challenges to standing out and establishing their presence. That's where small business marketing companies can be helpful for a winning marketing strategy. But how to choose the best ones? Are they trusted?
In this article, we will provide a list of online marketing companies for small businesses that you can check. These companies will help you with your brand marketing strategy, online presence, customers, and everything you need to grow your brand. No matter what your business objectives are and what challenges you are facing, these tools provide you with solutions. 
Benefits Of Using Business Marketing Companies
Before introducing you to the best companies that are trusted by users around the world, you need to know how they can help your small business. Here are some of the most important reasons and benefits of these tools:
Build And Increase Brand Awareness,
Cost and Time Efficient,
Access to better resources and contacts,
Increase Your Sales,
Work with experts,
Boost Customer Engagement.
Top 5 Small Business Marketing Companies
Many small businesses are looking for advertisement ideas to grow their customers and sales. In the following, we will introduce you to some of the best small business marketing companies you can try.
1. WebFX
Known as a Data-driven revenue marketing platform, WebFX is one of the famous marketing companies for small businesses. This marketing agency provides everything from basic (such as SEO and PPC management tools) to professional tools (such as programmatic advertising, employment and recruitment marketing, and competitor geofencing) for small businesses.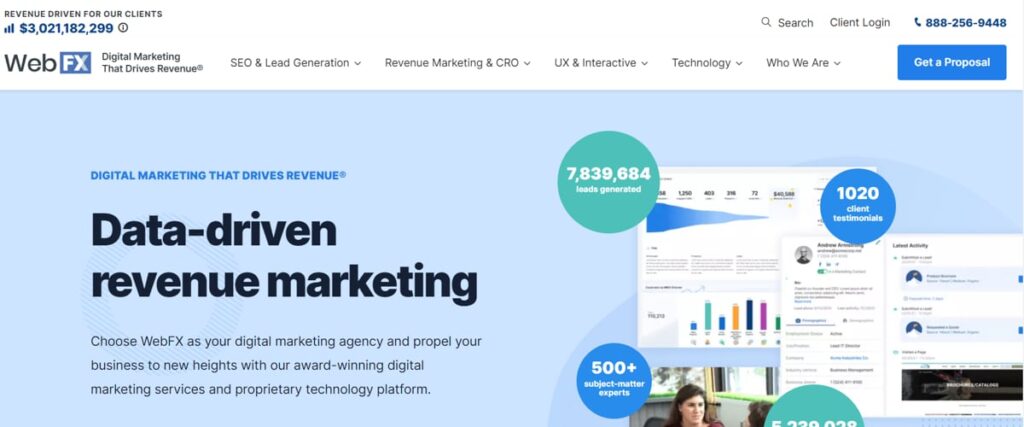 WebFX is also one of the oldest small business marketing companies that has been in the industry for almost 25 years. With more than 500 digital experts, businesses can contact dedicated managers to plan strategies based on their current performance and feature goals.
Also if you want to run ad campaigns to grow your visibility, WebFX is one of the best marketing companies for small businesses that provides everything you need for brand advertising. 
WebFX Features
If you are ready to grow your business online, WebFX is one of the digital marketing companies for small businesses that provides multiple tools. Here are its features. 
Drive Website Traffic: SEO Services, E-commerce SEO Services, Local SEO Services, and Content Marketing Services.
Create & Manage Powerful Ad Campaigns: PPC Management Services, Social Advertising Services, Programmatic Advertising Services, and Geofencing Advertising Services.
Collect, Analyze, And Deploy Marketing Data: MarketingCloudFX, Nutshell, Website Call Tracking, and Lead Management.
Improve Brand Messaging And Conversion: Website Design Services, CRO Services, Landing Page Design Services, and Social Media Management Services.
Note: If you want to use this service and be aware of their pricing, you can contact their support team. They will ask everything about your business and offer you the best plan.
2. SmartSites
Founded by brothers Alex and Michael Melen, SmartSites is one of the available online marketing companies for small businesses that gained customers' trust. This agency provides marketing solutions for businesses of all sizes and different types such as local businesses, B2B, medical and healthcare, entertainment and media, and industrial and commercial.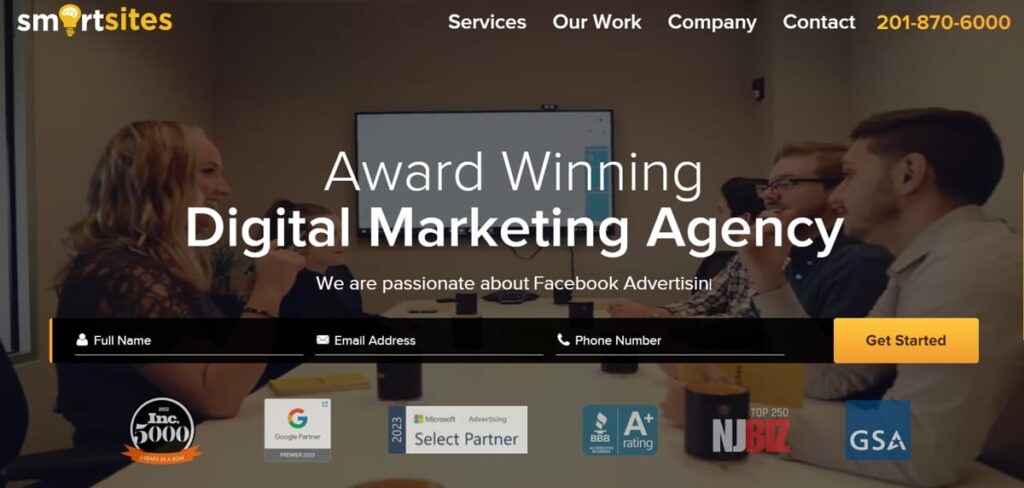 SmartSites was launched in 2011 and till now launched more than 900 successful websites by their team. As it's clear from their name, it's one of the best marketing companies for small businesses that help you develop a website, improve your ROI, and run ads using their paid media agency to drive more traffic. 
One thing that we don't see in many small business marketing companies is paying attention to social media platforms. But SmartSite can help you with branded content and interactions for social media accounts on Instagram, Facebook, Twitter, TikTok, YouTube, etc. 
SmartSites Features
Are you looking for the best marketing companies for small businesses to grow your website? SmartSites is one of the good choices. 
Web Design: WordPress, Magento, Shopify, Custom Development, and Site Maintenance.
Pay Per Click Advertising: Google Ads, Facebook Ads, E-commerce, Remarketing, and Landing Pages.
Search Engine Optimization: Local SEO, E-commerce SEO, National SEO, Blogging, and Technical SEO Audit.
Email & SMS Marketing: Marketing Automation, Email Newsletters, Klaviyo Experts, Mailchimp Experts, and SMS Marketing.
Social Media Marketing: Social Media Strategy, Facebook & IG, Twitter Management, LinkedIn Management, and Video & TikTok.
Note: To use the platform and its features, you can contact their team of experts and ask for a customized plan.
3. Hibu
If you are looking for a custom digital solution for growing your small business, Hibu is one of the best online marketing companies for small businesses. Hibu has over 70,000 satisfied customers around the world and provides everything you need for enhancing your website.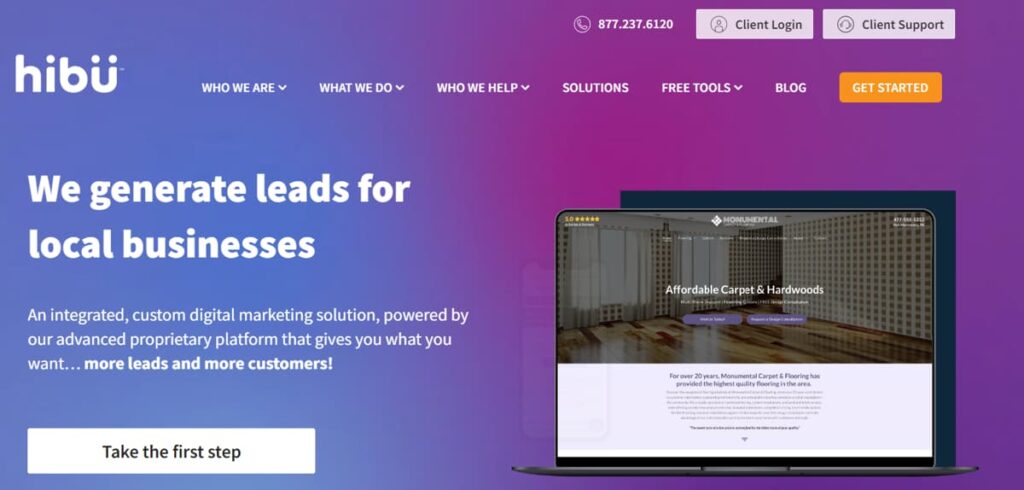 At Hibu, you can increase your online presence by designing, building, and managing websites with the help of dedicated managers as well as reviewing and repairing online information. Also, for better results, you can run social and display ads over the internet to boost your leads.
Another option for small businesses in Hibu is in-depth weekly or monthly reports to monitor your performance. If a strategy didn't work out and you couldn't see any improvements, you can plan a new one with your manager. 
Hibu Features
For those looking for small business marketing companies to send automated marketing emails and texts, request reviews and send reminders, Hibu is a perfect solution. Here is what it offers:
Automated Emails & Texts,
Customer Data Capture,
Lead Scoring,
Hands-Free Customer Engagement,
Search Marketing,
SEO Tools.
Note: If you decide to use this platform, you can add your business information to a request. Their support team will reach out to you and offer you the best packages you need. 
4. NinjaPromo
Introducing themselves as experts in all things marketing, NinjaPromo is another trusted solution for small businesses looking for growth. When businesses want to use NinjaPromo, they need to follow a four-step process, so the platforms can find the best solutions for them. The main step is the discovery session with a team of experts to analyze your brand and strategy.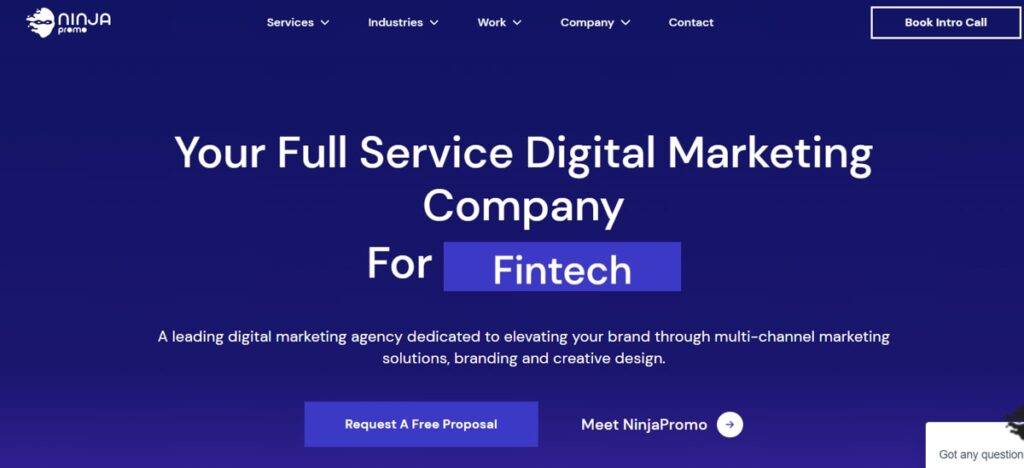 If you are looking for social media marketing companies for small businesses, NinjaPromo seems to be helpful for SEO, PPC, content marketing, social media, and branding. So, not only you can increase your website and receive more leads, you can increase your presence on social media platforms.
NinjaPromo also provides an influencer marketing platform, where you can find and contact top creators in your industry.
NinjaPromo Features
In the list of social media marketing companies for small businesses, NinjaPromo is a known name. Here is what this platform offers. 
Social Media Engagement Tools,
SEO Tools,
Paid Media And Social,
Influencer Marketing,
Email Marketing,
PR,
Web Design And Website Development.
Note: Want to use Ninja Promo? You can request a demo on their website and ask for their packages.
5. Cleverly
The last platform on our list of small business marketing companies is a bit different from the previous ones. Cleverly is a marketing agency that focuses on LinkedIn for helping small businesses grow. This platform uses data from thousands of outbound B2B campaigns to send proven, personalized messages to your dream clients on LinkedIn.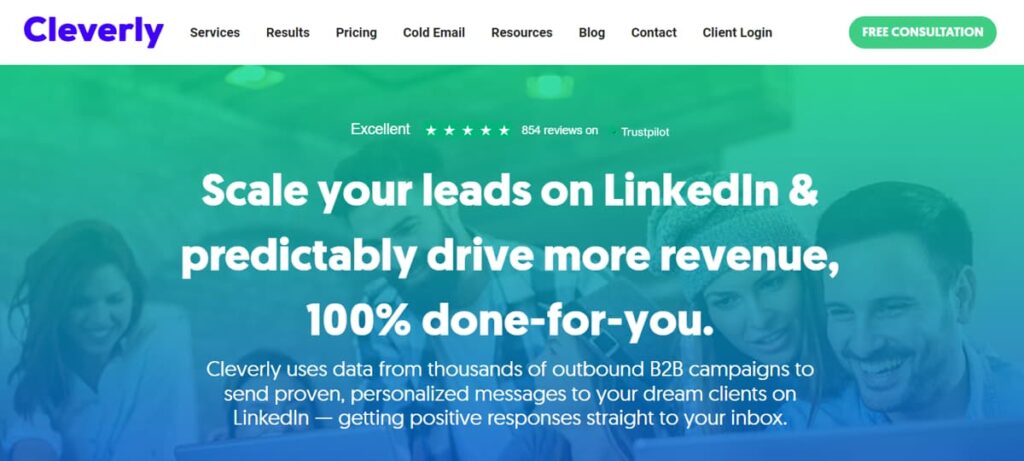 Cleverly provides everything you need for LinkedIn such as content creation, Cold Email and Message Outreach, and LinkedIn Recruiting. This platform has around 5000 clients with over $37 million in revenues for clients across 151,000 leads.
Other than professional LinkedIn tools, with Cleverly, businesses can create and grow their website, write blogs that rank on Google, and increase their traffic.
Cleverly Features
If you want to build your audience on LinkedIn, Cleverly is one of the small business marketing companies that can help you. Here is what this platform offers.
LinkedIn Lead Generation,
Cold Email Lead Generation,
LinkedIn Paid Advertising,
LinkedIn Content Service,
SEO Content & Blog Writing,
Google Ads Management.
Note: You can book a free consultation with Cleverly experts and be aware of their packages and their pricing.
Influencer Marketing: A New Opportunity For Small Businesses
Influencers have become the digital celebrities of our time who have established a dedicated audience who trust them. Their authenticity, relatability, and expertise in their niche make them a perfect resource for small businesses looking to connect with their target audience and grow their customers.
So, with the rise of social media influencers, businesses can use this opportunity to attract customers. But how to find creators in your niche?
Ainfluencer is a top and free influencer marketing platform with a network of more than 500,000 creators across Instagram and TikTok. With Ainfluencer, small businesses gain access to a user-friendly platform that streamlines the influencer marketing process.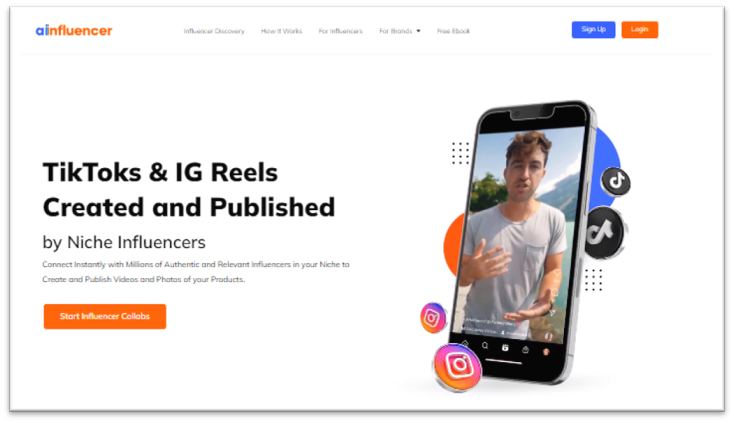 The platform offers advanced search and filtering options based on budget, follower count, niche, location, and many other options to find your best match. With the help of AI, Ainfluencer sorts influencers based on the quality of their followers and their previous interactions. Also, Ainfluencer is totally free to use for both influencers and brands.
Conclusion
Small business marketing companies offer different features, support, and expertise to help small businesses grow in today's competitive landscape. By choosing the right company, businesses can organically grow their traffic and customers.
In this article, we've shown you some of the best companies that can help your small business grow and generate more leads.
FAQs
1. Why Do Small Businesses Need Marketing Companies?
Small businesses often lack the resources and expertise to develop and execute effective marketing strategies. Marketing companies offer specialized knowledge and tailored approaches to help small businesses reach their target audience and achieve their goals.

2. How Do I Choose The Best Marketing Company For My Small Business?
When selecting a marketing company, consider their experience, client reviews, industry expertise, and alignment with your business values. Define your marketing goals and ensure the company can deliver on them.

3. What Are The Essential Marketing Strategies For Small Businesses?
Key marketing strategies for small businesses include content marketing, social media marketing, SEO, email marketing, and local marketing. A combination of these strategies can lead to a well-rounded marketing approach.

4. How Can Small Businesses Measure Marketing Success?
Small businesses can measure marketing success by tracking KPIs, analyzing ROI, gathering customer feedback, and making data-driven decisions. These metrics provide insights into the effectiveness of marketing campaigns.