In the past decade, social media has become a powerful tool for political activists and organizers. With the rise of platforms like Instagram, we've seen a new wave of "Instagram influencers" using the platform to raise awareness about political issues and mobilize their followers around campaigns and causes.
In this article, we have listed 30 political influencers on Instagram in addition to a useful way to find top political bloggers.
How to find top political Instagram influencers?
Finding the greatest and most dependable influencers has been harder and more time-consuming as a result of the rise in the number of influencers. You can speed up this procedure in a few simple ways.
Google is an option. You can conduct a search for influencers in your selected niche and find a ton of articles to read.
Another quick technique to find influencers on Instagram is to search for related hashtags to your niche.
Using influencer marketplaces is one of the simplest and quickest methods. You may find a list of different types of influencers in various niches on marketplaces, like Ainfluencer.
Ainfluencer
Ainfluencer is the simplest way to contact influencers because it is a free DIY influencer marketplace with a lot of helpful features. In fact, businesses and influencers can collaborate with each other with ease through this DIY marketplace.
Learn how Ainfluencer may aid Instagram influencer marketing by watching the YouTube video below.
Ainfluencer enables you to either invite specific influencers yourself or create ads on the marketplace to attract influencers to get in touch with you. You may afterward negotiate the terms of your ad with the influencer in the built-in chatbox, so you don't need to worry about the details while generating your ad.
Thanks to the sophisticated search feature for location, hashtag, gender, language, number of followers, etc., finding and inviting influencers is really simple.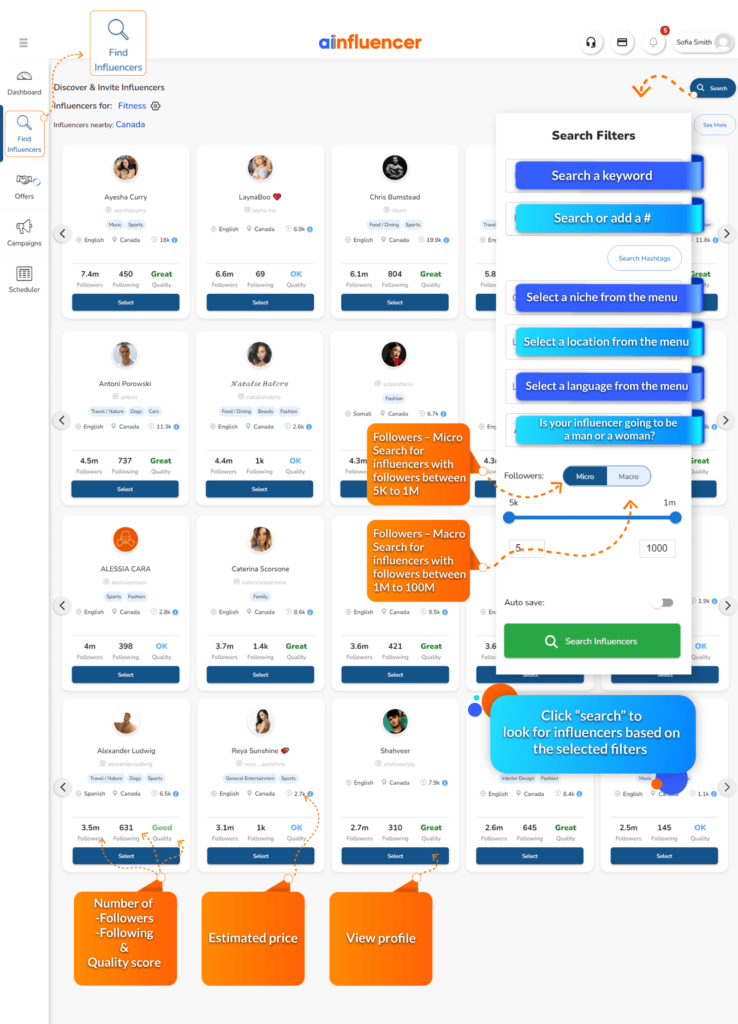 30 top political Instagram influencers
1- Maxime Bernier (@hon.maximebernier)
Maxime Bernier PC, a politician from Canada, was born on January 18, 1963. He is the founder and leader of the People's Party of Canada (PPC). Former Conservative Party caucus member Bernier founded the PPC in 2018 after leaving the party. From 2006 until 2019, he served as the Beauce MP and was a Cabinet minister in the Harper government.
He is also one of the top political bloggers on Instagram, with 107K followers.
2- Maria Teresa Kumar (@mariateresakumar)
The president and CEO of the Latino political organization, Voto Latino is Mara Teresa Kumar. She is a political rights activist for Colombian Americans. Kumar was listed as one of the top ten women in Washington, D.C., by Elle Magazine in 2013 and among the top 100 Latinos in America, by Hispanic Business, in 2017. She is considered one of the well-known political influencers.
3- Anthony Brian Logan (@anthonyblogan)
Anthony Brian Logan is a black conservative political commentator and writer from Virginia Beach, Virginia, by way of Charleston, West Virginia, who now resides in East Tennessee.
Anthony was raised in a socially conservative household. Anthony's views were very politically liberal, and he was one of the liberal influencers until well into adulthood when his "red pill moment" happened. He then changed his perspective and became more conservative.
As one of the conservative Instagram influencers, he has gained 88.1K followers and is one of the top political influencers on Instagram and other social media platforms.
4- Duvalier J. Malone (@duvaliermaloneofficial)
Successful author, political columnist, motivational speaker, and community activist Duvalier Malone also serves as CEO of Duvalier Malone Enterprises, a global consulting organization that offers services to non-profits and underserved areas of America. He is one of the active political influencers on Instagram, with 12.2K followers.
5- Cam Higby (@camhigby)
Cam Higby is a TikTok star famous for posting political and current event commentary videos. He began posting to TikTok on January 16, 2021, and has more than 1.5M followers on TikTok. He then started his activity on his Camhigby Instagram page, which has amassed 59K followers.
6- Rick Scott (@scottforflorida)
Richard Lynn Scott (born December 1, 1952) is an American politician and businessman serving as the junior United States senator from Florida since 2019. A member of the Republican Party, he was the 45th governor of Florida from 2011 to 2019.
He is one of the republican influencers and top political bloggers on Instagram with 28K followers.
7- Shermichael Singleton (@shermichael_)
Shermichael Singleton is a political consultant, author, commentator, and the former Contributing Host of Vox Media's Consider It, a weekly Facebook Watch current affairs show. He is also a 2019 Forbes 30 Under 30 honoree for Law and Policy for his contributions to politics and media. Shermichael Singleton is one of the active political influencers on Instagram who has gained 39.2K followers.
8- Heather Gardner (@heathergtv)
Heather Gardner is a television host, producer, writer, political commentator, and editor. She quickly established herself as an outspoken voice to be taken seriously on social media platforms thanks to her bold, candid, and comedic attitude on social and political issues.
As one of the top political bloggers on Instagram, she has 34.4K followers.
9- Armstrong Williams (@realarmstrongwilliams)
The next political Instagram account on our list of political influencers is Armstrong Williams'. Armstrong Williams, an American political commentator, businessman, author, and host of talk shows, was born on February 5, 1962. Williams has held a daily radio show, writes a nationally syndicated conservative newspaper column, and is the host of The Armstrong Williams Show, a nationally syndicated television show.
10- Kat Cammack (@katforcongress)
The representative for Florida's third congressional district, Kathryn Christine Cammack, was born on February 16, 1988. She is an American politician and political advisor. A member of the Republican Party, Cammack previously served as deputy chief of staff to her predecessor, Representative Ted Yoho, who retired in 2020.
Democrat Sara Jacobs is the youngest woman elected to Congress in the 2020 election cycle, and Kat Cammack is the second-youngest.
She is one of the best republican influencers and top political bloggers to follow if you are into political content.
11- Jo Jorgensen (@jorgensen_2020)
American academic and libertarian political activist Jo Jorgensen was born on May 1, 1957. As one of the liberal influencers, she was the Libertarian Party's nominee for president of the United States in the 2020 election, in which she finished third in the popular vote with about 1.9 million votes, 1.2% of the national total.
12- Ryan Fournier (@ryanafournier)
Ryan Fournier is an activist and political commentator who founded Students for Trump, a coalition run by students to promote Donald J. Trump for president. From congressional to gubernatorial campaigns, Fournier has been active in politics for more than half of his life. Fournier has promoted his ideas by appearing on numerous television networks, such as Fox News, CNN, and MSNBC.
He is one of the most followed political influencers on Instagram, with 445K followers.
13- DeAngelo Caesar (@macrofreedom)
All throughout the world, MacroFreedom fights for freedom and finances. They make every effort to promote economic and political liberty in an educational yet entertaining way. MacroFreedom will always strive to represent political, social, and economic freedom for all people.
14- Alex Lorusso (@alxthelord)
The Executive Producer of "The Benny Report" on Newsmax is Alex Lorusso (ALX). Alex is also a political strategist who collaborates with a lot of well-known people. He has appeared in print media like Fox News, Breitbart, The Daily Caller, The Blaze, The Gateway Pundit, and others, as well as on Newsmax.
15- Michael Bennet (@michaelbennet)
Michael Farrand Bennet, an American attorney, businessman, and politician, was born on November 28, 1964. He is serving as the senior United States senator from Colorado, a position he has held since 2009. A member of the Democratic Party, he was appointed to the seat when Senator Ken Salazar became Secretary of the Interior.
16- Jim Clyburn (@whipclyburn)
James Enos Clyburn, a politician and retired educator from the United States, was born on July 21, 1940. He represents South Carolina as a Democrat in the U.S. House of Representatives. Since 2019, he has held the position of House Majority Whip. He has held the position of majority whip twice, from 2007 to 2011, and from 2011 to 2019. As one of the known political influencers on Instagram, he has amassed 35.7K followers.
17- Jeanne Shaheen (@jeanneshaheen)
Since 2009, Cynthia Jeanne Shaheen has represented New Hampshire as the senior senator from the United States. She was born on January 28, 1947, and is an American retired educator and politician. She is a Democrat and the first woman elected as governor of New Hampshire, a U.S. senator, and the state's governor. Maggie Hassan, a former governor of the state and junior senator from New Hampshire is the only other woman to have held both positions.
18- Glenn Beck (@glennbeck)
Glenn Lee Beck (born February 10, 1964) is an American conservative political commentator, conspiracy theorist, radio host, and television producer. He is considered one of the well-known conservative Instagram influencers with 413K followers.
He is the CEO, the founder, and the owner of Mercury Radio Arts, the organization that owns his radio and television network TheBlaze.
19- Jessica Yellin (@jessicayellin)
She is a political journalist who has won Emmy and Gracie awards and has reported for CNN, ABC News, and MSNBC. She served as CNN's former chief White House correspondent. Yellin has covered Capitol Hill, domestic politics, local, state, and federal elections, as well as the culture wars and challenges faced by women in the workplace. The New York Times, The Daily Beast, Details, Entertainment Weekly, the Los Angeles Times, and The Atlantic have all published her work.
20- George P. Bush (@georgepbush)
George Prescott Bush, an American politician, and attorney was born on April 24, 1976. He has been the commissioner of the Texas General Land Office since 2015. A member of the Republican Party, Bush unsuccessfully campaigned for the party's nomination in the 2022 Texas Attorney General election. Houston, Texas, U.S. George is one of the republican influencers on Instagram with 23.3K followers.
21- Adam Vaughan (@adamvaughan_to)
Adam G. Vaughan, a Canadian politician who was a Member of Parliament (MP) from 2014 to 2021, was born on July 3, 1961. Vaughan served as the Liberal Party's representative for the Spadina—Fort York riding in the Toronto area. He served as Ward 20 Trinity—representative Spadina's on Toronto City Council from 2006 until he resigned in 2014 to run in Trinity—federal Spadina's by-election. As one of the liberal influencers, Adam Vaughan has an active presence on Instagram and other popular social media platforms.
22- Bill Weld (@govbillweld)
Bill Weld is an American lawyer and politician who was born on July 31, 1945, in Smithtown, Long Island, New York. He was the Libertarian Party's nominee for vice president in the 2016 presidential election. Previously, as a Republican, he served as the 68th governor of the state of Massachusetts from 1991 to 1997.
He is one of the well-known political influencers, better to say liberal influencers, on Instagram with 14.2K followers.
23- April D. Ryan (@adr1600)
April Danielle Ryan is an American journalist, author, and White House Correspondent for The Grio. From January 1997 to November 2020, Ryan served as a White House correspondent and Washington, D.C., bureau chief for American Urban Radio Networks. She began working for CNN as a political analyst in 2017. Ryan was recognized as the "Journalist of the Year" by the National Association of Black Journalists in May 2017.
24- Josh Rogin (@joshrogin)
American journalist Josh Rogin writes a foreign policy column for The Washington Post's Global Opinions section and works as a political commentator for CNN. He is the author of the book Chaos Under Heaven: Trump, Xi, and the Battle for the 21st Century. Josh is also one of the active political influencers on Instagram.
25- Emiliana Molina Fajardo (@emilianamolinafajardo)
In San Diego, California, Emiliana Molina works as a bilingual anchor and multimedia journalist for NBC 7 and Telemundo 20. For Noticias RCN and NTN24, Emiliana worked as a political correspondent in the nation's capital, reporting on topics such as the White House, Capitol Hill, the State Department, the Organization of American States, and more. Emiliana was a scholarship recipient from the White House Correspondents Association.
26- Constantin Jean-Pierre (@cjpworldwide)
Constantin Jean-Pierre is an American politician. The politician is associated with the Republican party. If you are looking for republican influencers and are into political influencers' content on Instagram, his account can help you meet your needs.
27- André Carson (@repandrecarson)
André D. Carson, a politician from the United States, was born on October 16, 1974, and has represented Indiana's 7th congressional district since 2008. A member of the Democratic Party, his district includes the southern four-fifths of Indianapolis, including Downtown Indianapolis. He is one of the active political influencers on different social media platforms, including Instagram.
28- Rameshwer S. Sangha (@mprameshsangha)
Former Canadian politician Rameshwer Singh Sangha, born on June 6, 1945, served as a Member of Parliament (MP) for the riding of Brampton Centre from 2015 to 2021. He won re-election in 2019 after being first elected in the federal election of 2015.
29- Randy Bryce (@ironstache)
Randall John Bryce (born December 9, 1964) is an American activist, ironworker, and former political candidate. In the 2018 midterm elections, he was the Democratic Party's choice for Wisconsin's first congressional district.
30- Senator Jeff Merkley (@senjeffmerkley)
American politician Jeffrey Alan Merkley was born on October 24, 1956. Since 2009, he has represented Oregon as the junior senator from the United States. From 2007 to 2009, Democratic Party member Merkley presided as the 64th speaker of the Oregon House of Representatives. USA, Oregon, Myrtle Creek.
Conclusion
In conclusion, these are the top political Instagram influencers that you should be following. By following them, you can stay up-to-date on the latest political news and events.
1- Who is the most well-known influencer?
The most well-known Instagram influencer is Ronaldo, who has amassed 484M followers on his Instagram account.
2- Who is an influencer person?
An influencer is a person who has power over your target audience in your niche or industry. Influencers are those who are knowledgeable, influential, and insightful about a specific subject. Their pre-existing presence in a niche makes them a useful launching pad for brands in search of credibility.