Instagram stories tips are creative ideas for reaching out to your target audience and interacting with them through your Instagram story. Luckily, Instagram has rolled out a set of tips for Instagram stories for brands' inspiration to stand out among your industry's overcrowding.
Instagram offers different key tips on how and when brands can take advantage of these new Instagram stories tips.
Also, many Influencers on Instagram should have access to such Instagram creative ideas to not only grow their pages also show off brand awareness.
With multiple amazing features that Instagram story contains, you can hack through, increase your reach, maximize more traffic, cut through the noise and attract followers.
3 Key Tips for making Instagram stories
1. Provide stunning stories content strategy
The first prominent that is effective Instagram stories tip is to let you share posts from Instagram to your story as long as the post isn't from a private account
Showcase the real moment of your life
Share genuine moments of your life and Instagram business to build a community around your brand. People are interested in getting more out of behind-the-scenes photos and videos. Fortunately, the Instagram story is a great feature that can help make a trusted relationship with your audience.
Share user-generated content
Instagram stories effectively can attract more eyes to your Instagram content, as appear front-and-center in Instagrammers' feeds. Brands make the most of this low-effort way to promote their user-generated content as a genuine marketing strategy to be helpful and increase engagement. Remember that sharing stories frequently among your audience can expose you to a wider audience.
Express your brand personality in a storytelling voice
Storytelling voice is one important thing that leads to organic growth on Instagram. People like creative ideas in conveying your brand personality, and this is the only thing that is crucial to your success. Tell your business Instagram story by sharing creative Instagram stories. Express how your business started, your mission, hardships you've had to overcome to eventually build your self-image so, do not forget to use live broadcasting videos to impact more than ever.
Showcase your products and services
Show your audience how valuable they are by providing authentic, consistent Instagram stories about your product reviews and services. Feature every new product in full-screen format and announcing special offers can share a huge opportunity to boost your product sales because Instagram lets you use multiple amazing features.
Go Instagram live
Thanks to Instagram live videos that can offer real-time broadcasting videos to your followers to form a better relationship and show what happens behind the scenes in your business or make live tutorials to gain a broader audience. Pay attention to inform your followers before going live on Instagram to join you and ask questions in the comment box you can respond to during your live stream.
2. Go for interactive ways to craft your Instagram stories
Work with Instagram Stories polls
Instagram stories polls are the best tools to interact with your audience's range to discover their interests and tastes. It works to encourage engagement to get your customers to feedback for added value and satisfaction
Use different question stickers
Instagram question stickers have gained popularity among Instagram brands to announce that they are accessible to the audience. It is an interactive way to ask for advisory opinions, discuss a challenge, and then share your other audience's responses.
Add a location to your Instagram Stories
It is recommended to add locations on Instagram stories to let your audience know where you are sharing stories and end up with more reach and views beyond your followers. Therefore it also helps your engagement rate on Instagram.
Consider hashtags to your Instagram Stories
Hashtags are really useful to maximize your Instagram stories' views because they are searchable and make your Instagram content easier to discover. Try to make your Instagram story more authentic by using the right Instagram hashtags.
Use CTA
Brands should ask to get on Instagram, so CTA is necessary to achieve this marketing goal. Call to action acts as guidelines to help Instagram users to know what to do. Setting up Instagram shopping, "swipe up "links, and using interactive objects are engaging to attract more followers in sales offers.
Tag other accounts
Tag the Instagram accounts you are interacting with on your Instagram story to show who you are interacting with or have a brand partnership. Tagging on Instagram stories can attract more attention to promote other Instagram business accounts.
3. Use Instagram stories to design
To entertain your Instagram audience and connect with them, you need to create a stunning and appealing visual experience on Instagram.
Use Instagram create mode: Add background
Add background to your stories that best fit with the colors and style of your products. If you want to create a text-based story and do not have a photo or video, use the Instagram stories' background. You can choose simple colors or pick a colorful gradient background for your text to highlight information.
Make the most of Instagram stickers
Stickers are interactive graphic elements that can express the sense of the content you are going to share with your audience, tell where you are, and share great fun with your followers. Some people use them as texts to inform an event or mood; this is the effect of playful and pin floating words and stickers to your stories.
Select awesome fonts for your stories
Another important tip to have beautiful Instagram story templates is selecting awesome fonts to keep your branding on People's minds. Add your brand fonts to your stories to remember that a consistent visual identity.
Stand out your text with colors and alignments
Text can stand out on stories with variations of a lighter or darker shade of color and brush even if you build your brand colors. You can also tap the alignment button in the top left corner of the screen to change your text's alignment. The importance of using colors is to create a cohesive look with a color-blocking technique focusing on a single color for several posts.
Share GIFs directly to stories
Fortunately, Instagram brings a huge opportunity for brands and Instagram users to share their personalities and creativity.  Go through the GIFY library to use animated stickers to help you make any photo or video creative and interesting. In this way, you can use gifs for promoting your brand marketing efforts like marketing campaigns, call to actions also drawing more attention.
Draw attention with Instagram Story Filters and Effects
Unlike unfiltered moments on Instagram live, brands need Instagram filters available in two categories, such as AR filters and face filters each one has particular benefits for businesses to convey more fun and unexpected moments for their followers as well as build their brand awareness with such stories filters. A cool design effect on your Instagram stories plays a crucial role in engaging your audience.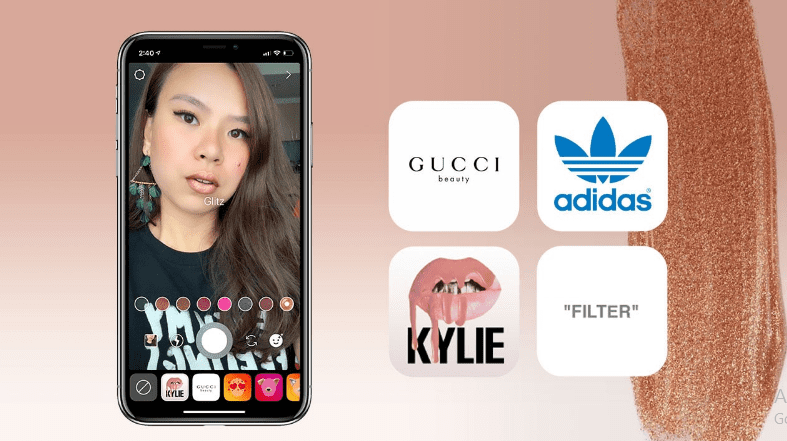 All in all, Instagram stories tips include new useful features and editing tools that are essential to expanding your Instagram brand in people's minds. Notice that to be updated with the newest and most creative ideas to surpass your competitors