OnlyFans is a social media platform where content creators can monetize their content by offering exclusive access to their subscribers for a fee. Typically, the content shared on OnlyFans includes adult-oriented material such as photos, videos, and live streams, although creators can also share non-adult content.
Users can subscribe to a creator's profile by paying a monthly fee, and in exchange, they gain access to the creator's exclusive content. The subscription fee is set by the creator and can range from a few dollars to several hundred dollars per month. OnlyFans takes a percentage of the subscription fee as their commission.
Whether you are a creator or a fan of OnlyFans, this article helps you join the platform quickly.
How does OnlyFans work for beginners?
OnlyFans aims to offer creators a space to produce and disseminate exclusive, high-quality content that isn't available elsewhere. Creators may choose to set up their accounts for free or paid access, and fans must pay to gain entry to the unique content.
OnlyFans Signup Requirments
Before explaining how to start an OnlyFans and sign up as a creator, you need to meet the following requirements:
Age: You must be at least 18 years old to create an account on OnlyFans. You need a valid government-issued ID to prove your age.
Personal Information: You need to provide personal information, including your name, date of birth, and address. Bank Account or Payment
Card: OnlyFans pays its creators through direct deposit or a payment card. You must provide your bank account information or a payment card to receive payments.
Content: OnlyFans is a platform for adult-oriented content, so you will need to create and share content that complies with their terms of service.
Once you have met these requirements, you can sign up as on OnlyFans and start sharing your content with your followers.
How to start an Onlyfans?
OnlyFans sign up can be a relatively straightforward process. Here are the general steps to follow:
1. Create an account:
To start sharing your content on OnlyFans, you first need to create an account. The sign-up process is quick and free.
Go to the OnlyFans website and click the "Sign Up" button. You'll be asked to provide your email address, a password, and some basic personal information.
You can also sign up with your Twitter or Google account.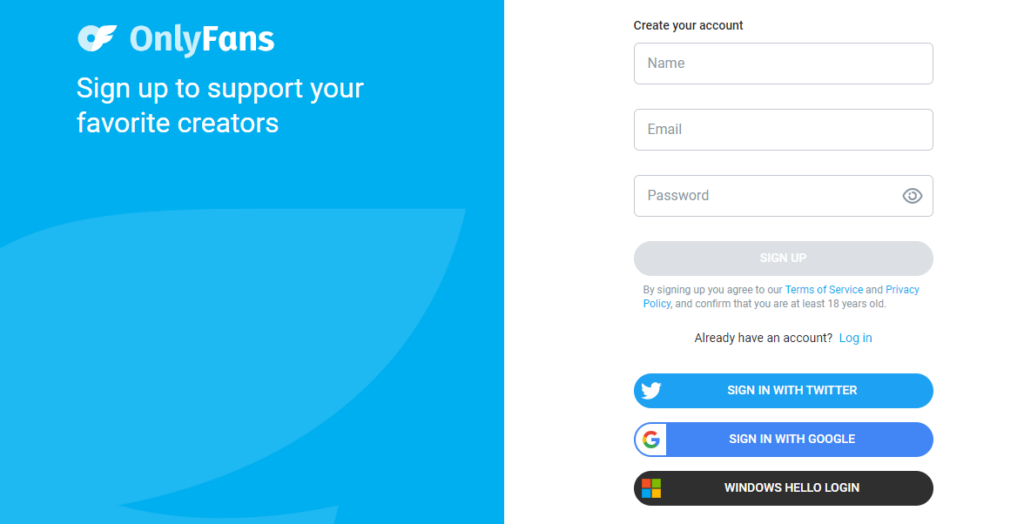 2. Set up your profile:
Once you've created your account, you can customize your profile by adding a profile picture, banner, and bio. You can also choose whether your account will be free or paid.
3. Set your subscription rate:
You have the option to set a subscription rate for your account or make it free for fans to access. Even if you choose the latter, you can still monetize your content by offering pay-per-view messages, posts, and streams.
4. Create content & promote your OnlyFans:
After creating your account and deciding on your pricing strategy, focus on creating and promoting your content. You can upload photos, videos, and written posts.
Don't forget to let your followers on other social media platforms know about your OnlyFans profile to grow your fan base. You can also use paid advertising or influencer marketing to reach a wider audience.
How do I start OnlyFans secretly?
To initiate an anonymous OnlyFans account, either as a creator or as a fan, consider the following five tips to maintain your safety and privacy:
1. Sign up using an anonymous email address.
2. Avoid utilizing any personal information in your login credentials.
3. Set up two-factor authentication.
4. Adjust your privacy settings.
5. Be careful about what you choose to post.
Conclusion
In conclusion, learning how to start an OnlyFans account can be a great way to share your content and connect with an audience while earning money. However, it's important to approach it with a clear understanding of the platform's rules and regulations, as well as a solid plan for creating and promoting your content. By following the steps outlined in this beginner's guide and staying focused on your goals, you can set yourself up for success and achieve your desired level of income and visibility on OnlyFans.
Remember, building a successful OnlyFans account takes time, effort, and dedication, but with persistence and a willingness to learn and adapt, you can create a thriving online presence and turn your content into a profitable venture.
FAQs
1. How much does it cost to start an OnlyFans page?
To start an OnlyFans page, there are no upfront costs associated with it. OnlyFans is a platform that allows creators to make money by sharing their content with their followers, and the platform takes a percentage of the revenue generated.
However, there are some costs that you might incur if you want to create high-quality content for your OnlyFans page. For example, you might need to invest in equipment such as a camera or lighting equipment. You might also need to pay for subscriptions to other websites or platforms to source content or inspiration.
Overall, the cost of starting an OnlyFans page can vary depending on the type of content you plan to create and the resources you need to create it. However, it is possible to start an OnlyFans page with minimal upfront costs and grow your revenue over time by consistently creating high-quality content and engaging with your audience.
2. Is it worth it to start OnlyFans?
Whether or not it is worth it to start an OnlyFans page depends on several factors, including your goals, the type of content you plan to create, and your ability to market and promote your page effectively.
OnlyFans can be a lucrative platform for creators who are able to build a substantial following and consistently create high-quality content. However, it can also be a competitive space, and success on the platform often requires a significant investment of time and effort.
If you are considering starting an OnlyFans page, it is essential to do your research and understand the platform's policies and guidelines. You should also be prepared to invest in equipment and other resources to create high-quality content.
Ultimately, whether or not it is worth it to start an OnlyFans page depends on your individual goals and circumstances. If you are passionate about creating content and are willing to put in the effort to build a following, it is possible to earn a substantial income on the platform. However, success is not guaranteed, and you must be realistic about your expectations and the potential challenges you may face.