Generally, the main marketing goal of most businesses is to sell products or services. They use different tools and techniques to increase sales more efficiently. Consequently, it is crucial for businesses to stay well-informed about emerging tools that can improve their digital marketing strategies. Have you heard the name Koji? It is an innovative link-in-bio platform that empowers creators to connect their social media accounts, establish online shops, and undertake other projects using a single customized URL.
Read this article to find out how to use this platform to improve your business.
What Is Koji Website?
As mentioned, Koji is a link-in-bio platform known as an eCommerce tool that allows you to sell products, services, premium content, and more on social media platforms like Instagram, TikTok, and Twitter.
Koji aims to democratize software development and make it easy for anyone to create and share their own apps. With an extensive collection of free templates, users can personalize their web-based profiles with links and mini-applications that facilitate audience engagement and monetization. Koji is a free tool that comes at no cost. However, only a percentage of each transaction will be paid to the app developers.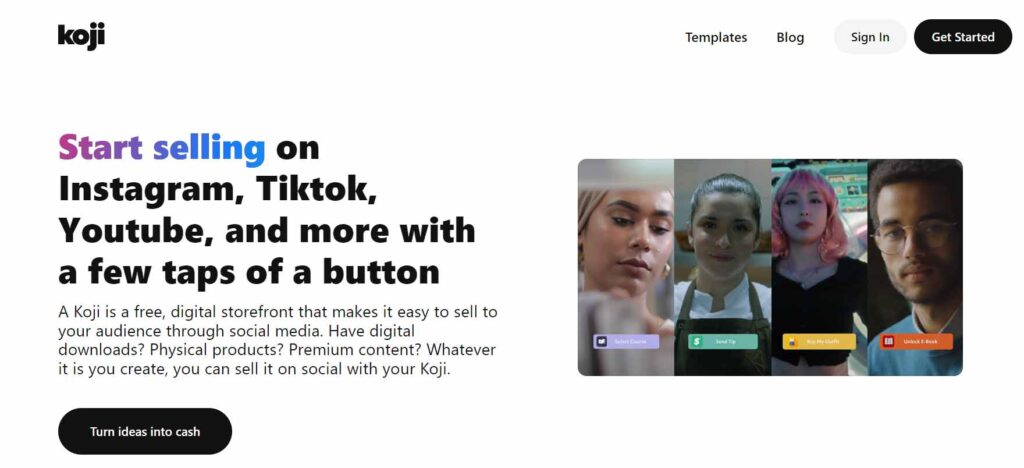 Let's take a look at Koji's history. Koji was founded by Dmitry Shapiro, who formerly worked for MySpace Music and Google. Therefore, it is clear how familiar he was with social media and its users' needs. The main idea was to create an app to make it easier for its users to create content and sell products. This goal took 4 years for Dimitry's team to be accomplished.
Koji can connect with various apps that can enhance your social media presence and monetization. Some of the apps that you can use with Koji are:
Social Media Platforms: You can share your Koji link in your bio on any social media platform, such as TikTok, Instagram, YouTube, Twitter, Facebook, Snapchat, and more. Your followers can access your Koji profile and apps without leaving the platform or downloading anything.
Koji App Store: You can browse hundreds of free apps created by Koji and its community of independent developers on the Koji App Store. These apps can help you sell products, services, premium content, and more. You can also create your own apps or remix existing ones to suit your needs.
Ainfluencer: The Best Influencer Marketplace To Increase Your Sales
Do you want to sell more products online and increase brand awareness on social media? Think of influencer marketing as one of the most effective methods to improve on social media. You can easily sign up on Ainfluencer for free and find the proper influencer for your niche. With a few clicks, create a campaign, adjust a budget, and invite influencers.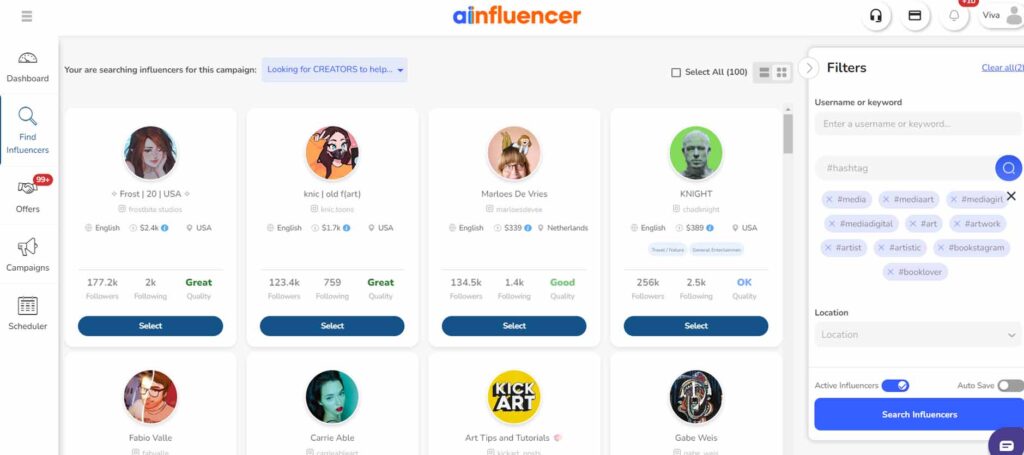 Ainfluencer makes it easier for brands and companies to collaborate with top influencers and grow their market online.
What Is a Link-In-Bio Platform?
As mentioned, Koji is a link-in-bio platform. You may wonder what kind of platform it is. A link-in-bio platform is a versatile tool that allows you to create a customizable landing page with multiple links that you can add to your social media profiles, such as Instagram and TikTok.
The benefit of this lies in the fact that with just one click, you can effortlessly guide your loyal followers to your website, online shop, blog, or any other captivating content. Additionally, you even have the option to leverage the platform for selling your products, thereby reaching your business goals.
Who Can Benefit From Using Koji Tool?
Do you think Koji is a proper tool for your business? Anyone who wants to sell or share something on social media can benefit from using Koji Web, including the following group of social media users:
Content creators and influencers who want to sell digital products, services, premium content, personalized videos, shoutouts, and more. They can also use the Koji app to create and host interactive games, quizzes, polls, and challenges to engage their followers.
Small businesses and entrepreneurs who want to sell physical products, e-books, PDFs, presets, LUTs, and more directly from their social media profiles without building a complicated storefront. They can also use the Koji app to collect email and SMS subscriptions from their customers and get powerful analytics on their sales and traffic.
Anyone with a social media account who wants to create a customizable landing page with multiple links that direct their followers to their website, blog, shop, or other content. They can also use the Koji app to communicate directly with their fans and get feedback on their posts.
Are You An Influencer? Join Ainfluencer To Make Money Online
As an influencer, you can join the Ainfluencer community for free to increase your visibility to top brands and companies. No matter how many followers you have, you still have a chance to make more income from influencer marketing.
What Makes Koji Different?
Koji facilitates the shopping experience, making it easy for customers to purchase digital and physical products with a single tap using various payment methods like credit cards or Apple Pay.
Your community can shop directly from any social media platform without having to leave for a different browser window. This exceptional feature makes Koji an ideal choice for anyone looking to showcase and expand their customer base by leveraging social media platforms to sell their products or services.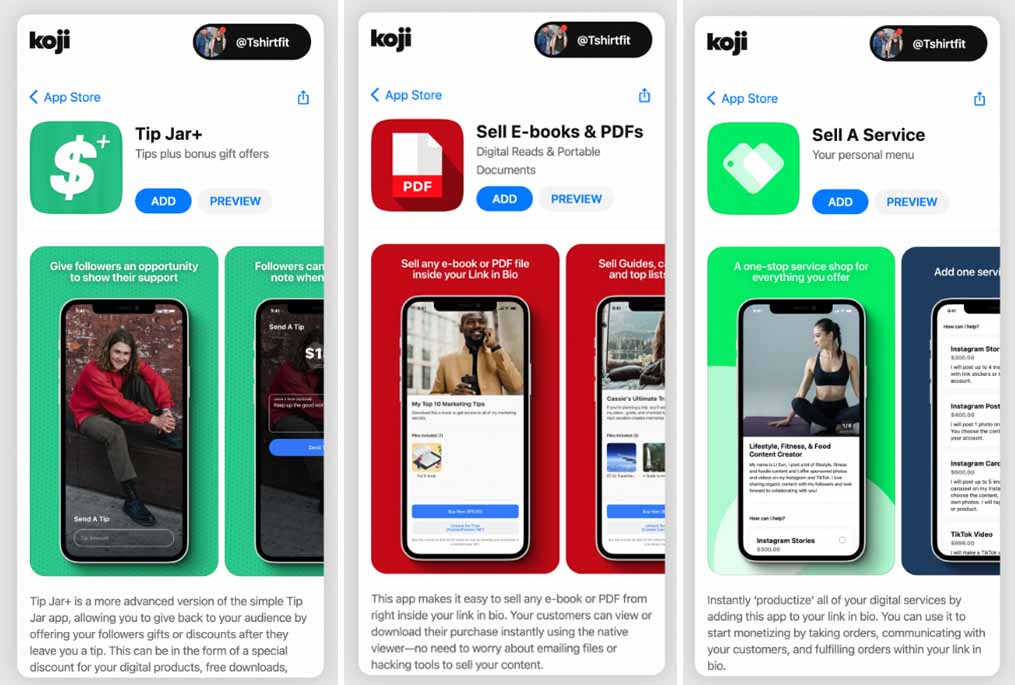 Koji Features
This wonderful e-commerce tool has several features that make it a unique and useful tool to leverage your online presence and connect with your fans. Some of its features are as follows:
Fully Customizable Profile: You can personalize your profile page with your own colors, fonts, images, videos, and links. Furthermore, you can add a bio, a profile picture, and a cover photo and make your profile uniquely yours.
Extensive App Library: With an impressive selection of over 300 apps, you can improve engagement with your audience, such as selling digital files, running fundraisers, playing games, hosting polls and quizzes, and more.
Seamless Experience: Koji ensures a smooth and uninterrupted experience for your followers. Your followers can interact with your profile and apps without leaving the page or downloading anything. Furthermore, they enjoy the convenience of making payments directly through credit cards or cryptocurrencies, streamlining the purchasing process.
User-Friendly Interface: You don't need any coding skills or technical knowledge to use the Koji tool. You just need to select a template, remix it with your own content and settings, and share it with your followers.
Free of Charge: The freedom to create and utilize an unlimited number of profiles and apps comes at no cost. You only pay a small percentage of each transaction when you sell something through the Koji tool.
Pros and Cons
Every tool and app comes with pros and cons. This tool is no exception too.
Koji Pros
Free for everyone to use,
Accessible to anyone regardless of follower count,
Customizable.
koji Cons
Koji still doesn't have an app,
It lacks name recognition.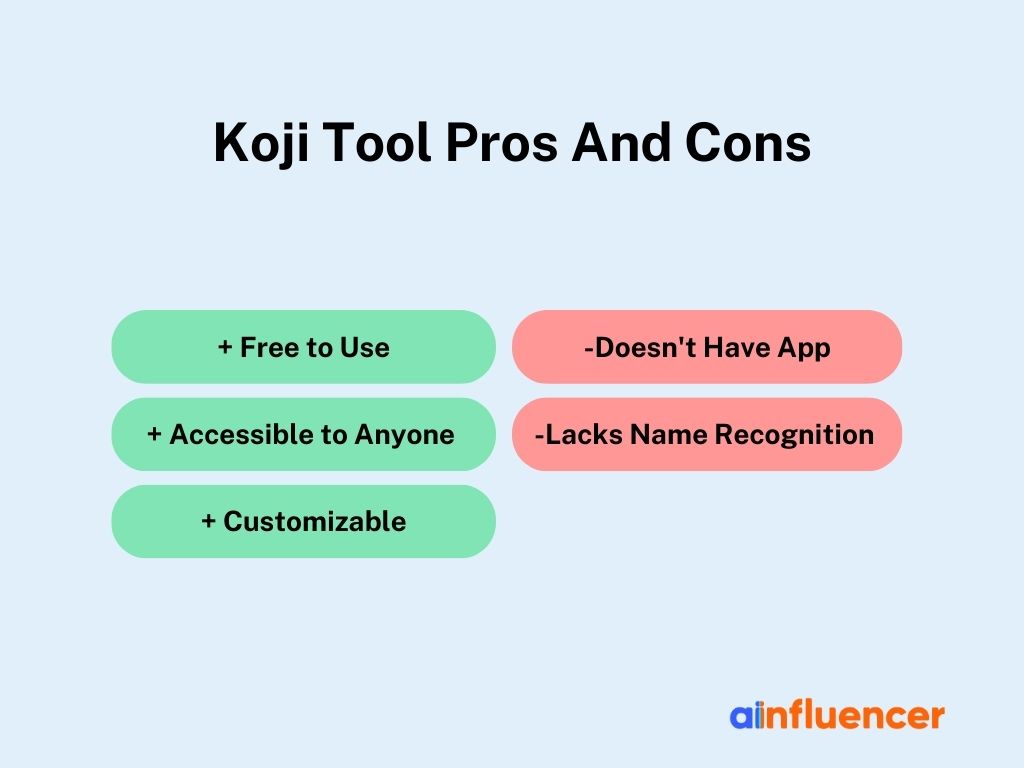 How To Create an Account On Koji? 
Now, it's time to start your journey on this tool. Follow these steps to create an account on Koji:
Since Koji doesn't have an app, you should use its website for registration. Like any other website, you can sign up with an email address, Facebook account, or phone number. Select the one that is more convenient to you and create your account.
Choose a template from the hundreds of apps available on the website. You can browse the apps and templates by category, popularity or search by keyword.
Customize the template with your preferred settings and content. You can edit the title, description, price, images, videos, and more. Additionally, you can preview how your app will look on different devices.
After creating your Koji account, you can share it with your followers on other platforms. The process is easy, copy the link, embed it on your website, or use a QR code. Therefore, your followers don't need to download anything or leave your page, they can directly access your app.
After sharing your Koji link with your followers, you can track its performance on your dashboard.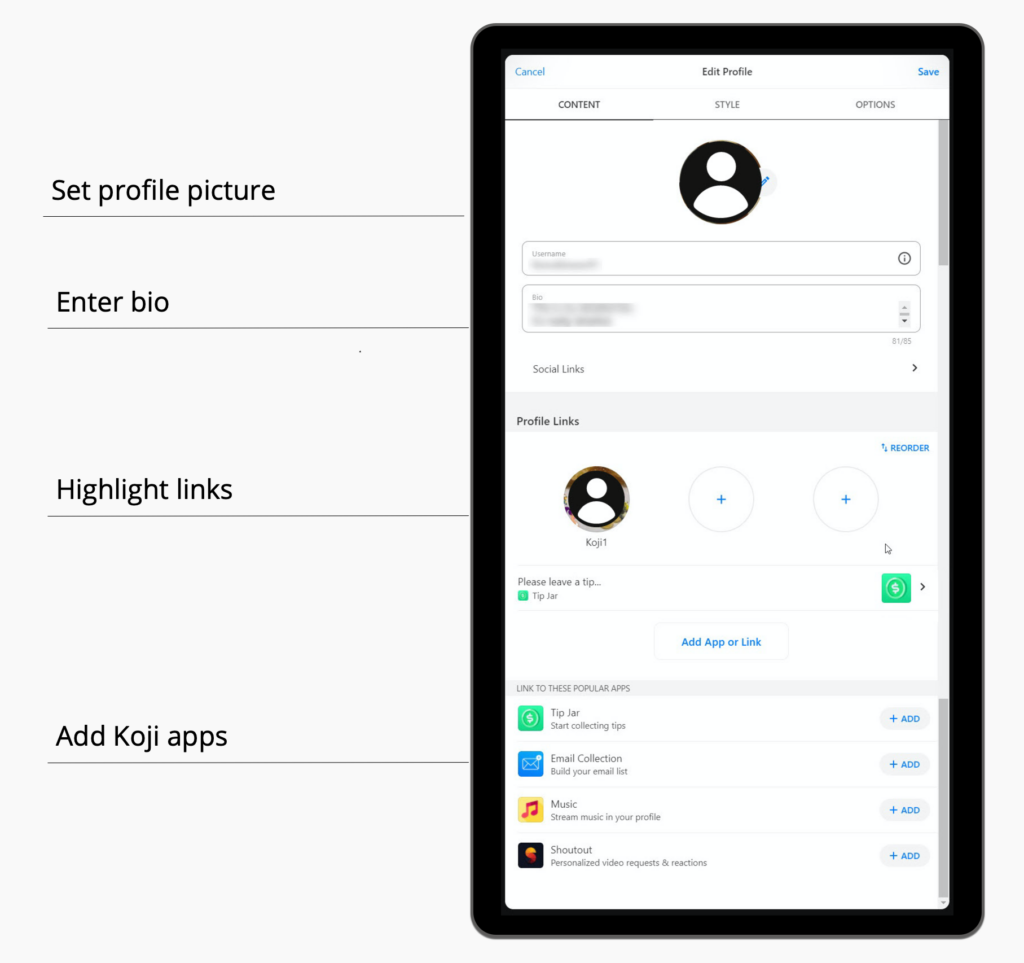 How To Make Money With Koji?
The purpose of creating an account on an e-commerce tool like Koji is to make money. You can get paid with the Koji tool in two ways:
Product and Service Sales: One way to make money on Koji is by selling products and services. This tool allows you to sell digital files, physical goods, subscriptions, donations, tips, e-books, and more. You can set your preferred price and accept payments with credit cards or cryptocurrencies. However, you should note that you should pay a commission for each sale to the site. This amount is up to 15% of your product price.
Remixing Other Creators' Apps: You can also earn money by remixing other creators' apps and sharing them with your followers. Remixing means customizing an existing app by incorporating your unique content and settings. When someone remixes your app, you get a share of their earnings every time they make a sale. This way, you can create a passive income stream by sharing your apps with other creators.
Finally, you can withdraw your money to your bank account or crypto wallet at any time. You can decide on the payment method while creating your account.
Koji Costs
Koji operates on a completely free-to-use basis, without any premium upgrades. Rest assured, you don't need to have any concerns about subscription fees or limitations. However, only a mere 15% of each transaction is allocated to the developers of the respective app. This arrangement ensures that selling your products becomes a mutually beneficial process on the Koji platform.
Bottom Line
In the world of marketing, a new tool is announced every day. Although some tools just come and go without any popularity, some become more useful for content creators. Koji is one of the best e-commerce tools that can help you increase sales. Although Koji was announced in 2021, it became popular among brands and influencers in only a few years. This tool allows you to gather everything in one place and create a personalized landing page without the need of professional knowledge about coding or graphic design.
Do you still need help to improve your social presence and increase your sales online? Ainfluencer can be the best option. With this free, effective, and reliable marketplace, you can easily connect with top influencers on your market. 
FAQs
How Many People Use Koji?
This app earned popularity very quickly. Up to now, more than 500,000 creators and companies are using it for different purposes. Some of them are top influencers and well-known brands.
Is Koji Free?
From creating an account to personalizing your profile, all the steps you take on this app are free. You don't pay any monthly subscription and don't need to buy a premium version to access more tools and customization. Everything is free of charge until you sell a product. A commission for each transaction will be paid to the tool's developers.