Have you ever asked yourself whether your social media strategy is working or is it just a waste of time and money? Well, tracking your performance and insights helps you find your answer. That's why there are hundreds of social media analytics software available in the market to help professionals.
By choosing the best platform and monitoring your social media metrics over time, you can boost your online presence with organic users. In this article, we will introduce you to some of the best available and trusted social media analysis tools that you can try to grow your accounts.
What Is Social Media Analytics Software?
Social media analytics software is a professional tool designed to gather reporting on data related to social media accounts. These tools monitor different metrics and enable you to generate performance reports that can be shared with your team, stakeholders, and supervisor.
With this data, you can identify the strengths and weaknesses of your strategies, plan better, check your competitors' performance, and grow your followers.
Top 5 Social Media Analytics Tools To Try
Selecting the right social media analytics software depends on your business's specific needs and goals. Here are some of the best social media analytics tools and their features to decide better.
1. Hootsuite
When it comes to social media reporting tools and analytics software, Hootsuite is a name you can hear multiple times. If you use multiple social media platforms and want to analyze their data and monitor their performance in one place, Hootsuite is what you need. 
Hootsuite supports Instagram, Twitter, Facebook, Pinterest, and LinkedIn to monitor your performance with metrics including Clicks, Comments, Reach, Engagement rate, Impressions, Shares, Video reach & views, etc. Also, it provides some unique features allowing you to track your profile visits and growth rate which makes it the best social media analytics tool.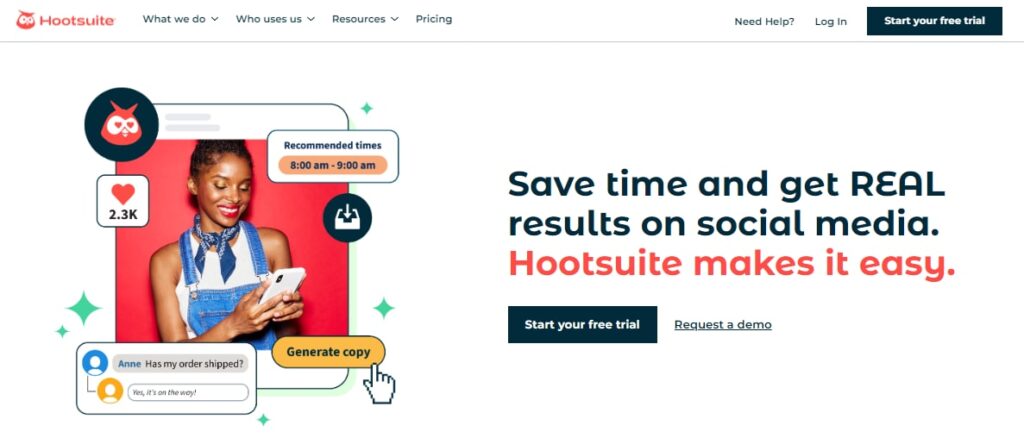 To help your content reach and maximize your engagement rate, Hootsuite suggests the best time to post on Instagram and other platforms you use. But that's not its only feature; Hootsuite helps you grow your audience and performance with the help of social media experts. 
With Hootsuite's social media analytics software and listening tool, you have access to deep monitoring tools to see where your target users spend time online with mention monitoring and See how your users and fans feel about your brand with sentiment analysis.
Hootsuite Pricing
If you decide to use the Hootsuite software for social media analytics, it provides different packages to choose from based on your needs. Here is their pricing: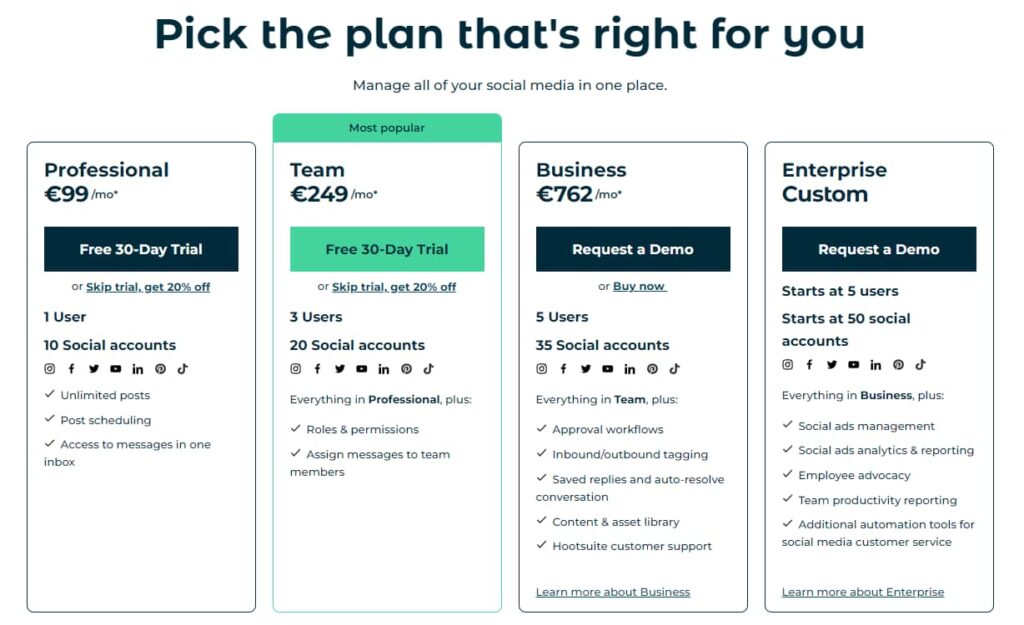 Professional: €99per month/mo
Team: €249per month/mo*
Business: €762per month/mo*
Enterprise: Custom(request a demo)
Note: All these packages provide a 30-day free trial to test the features before purchasing.
2. Sprout Social
Another known name on the list of social media analytics software tools is Sprout Social. Similar to Hootsuite, Sprout Social supports multiple social media platforms including Instagram, Twitter, LinkedIn, Facebook, TikTok, YouTube, Pinterest, and WhatsApp. So, if you are looking for a cross-channel tool for monitoring your analytics, Sprout Social seems to be a good option. 
This platform provides complete analytics with both templated and customizable reporting options (meaning you can set the essential social metrics you want to monitor and care about). Also, this platform allows you to add your competitors and compare your performance on social media to them to find new opportunities.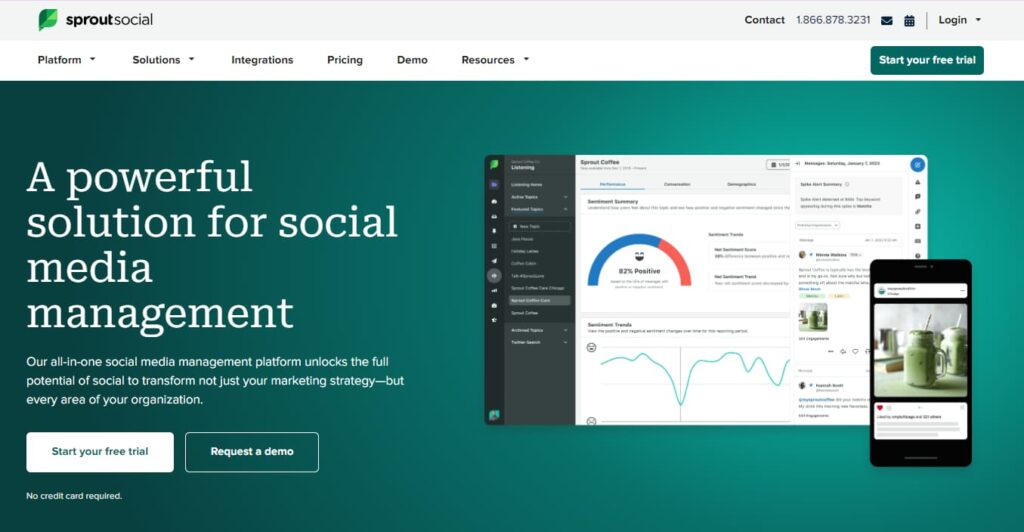 One of the key and special features provided by this social media reporting tool is trend monitoring. You can see new trends and social media hashtags that are going viral to use for your content creation. After that, you can quickly organize and share your data with easy-to-understand and presentation-ready reports for your team members.
But that's not all! Sprout's Advanced Listening tool provides you with valuable data about your audience demographics, industry influencers, campaign performance, ad management, etc.
Sprout Social Pricing
For those deciding to use Sprout Social's social media reporting tool. this platform provides different plans. If none of them suits your business, you can also contact their team and ask for personalized packages.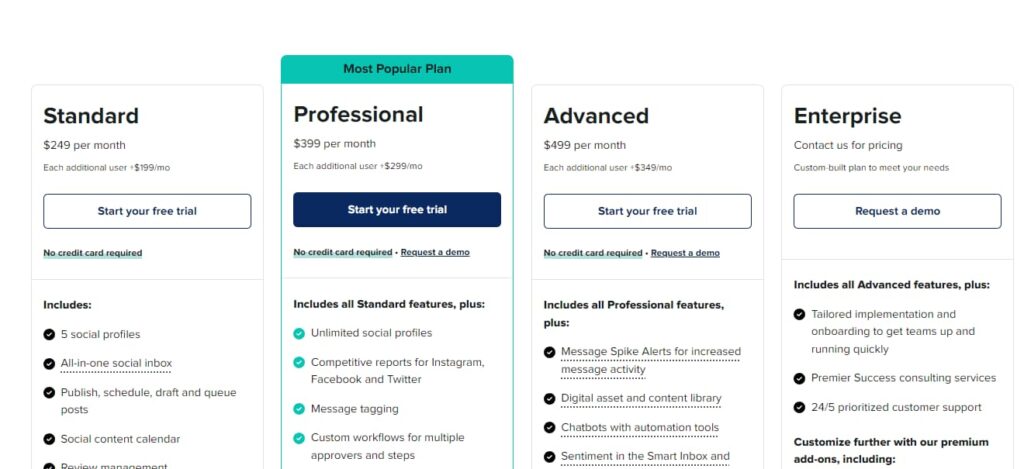 Standard: $249 per month
Professional: $399 per month
Advanced: $499 per month
Enterprise: Contact their team for pricing
3. Rival IQ
Want to track your competitors' performance consistently and compare it with yours to plan a winning strategy? RivalIQ is one of the best social media analytics software focusing on creating a stronger social media strategy with everything you need to compare your social performance to your competitors.
So, instead of only relying on your performance over time, you can find what's average for brands in your industry and measure your success against that. Overall, Rival IQ provides for main features: Competitive Analysis, Social Posts Analysis, Social Media Audits, and Social Listening.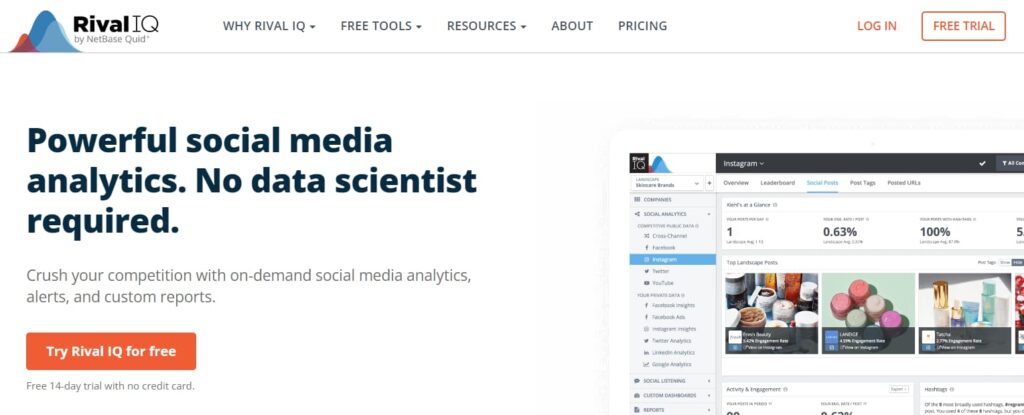 After setting your brand industry on Rival IQ, you can view popular topics and find the phrases and topics that drive social engagement in your landscape. RivalIQ is one of the social media analytics tools that supports major platforms such as Instagram, Twitter, Facebook, TikTok, etc.
Another cool feature that this software offers is social post analytics which lets you see which posts work for each platform and identify why they work better there. After spotting the best posts and trend hashtags, Rival IQ suggests the best times to post on TikTok and other platforms to get the highest reach.
Rival IQ Pricing
Want to use this platform to grow and enhance your online performance? Here are the different packages that it offers: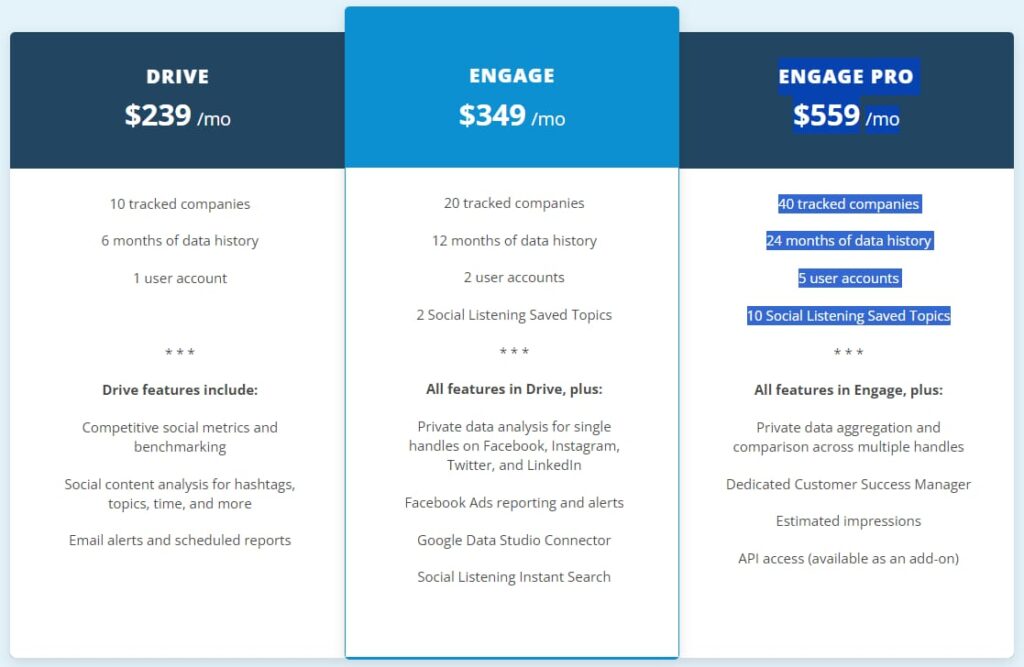 DRIVE: $239/mo: 10 tracked companies/ 6 months of data history/ 1 user account
ENGAGE: $349/mo: 20 tracked companies/ 12 months of data history/ 2 user accounts/ 2 Social Listening Saved Topics
ENGAGE PRO: $559/mo: 40 tracked companies/ 24 months of data history/ 5 user accounts/ 10 Social Listening Saved Topics
4. Hubspot
If you want to run social media campaigns to grow your audience, Hubspot is one of the best available options. With Hubspot, you can measure the performance of all your marketing campaigns in one place with built-in analytics, reports, and dashboards.
If analyzing the exported data from your social media accounts is challenging, don't worry! Hubspot shows you how marketing interactions drive revenue, track site analytics, and get detailed reports for all your marketing channels.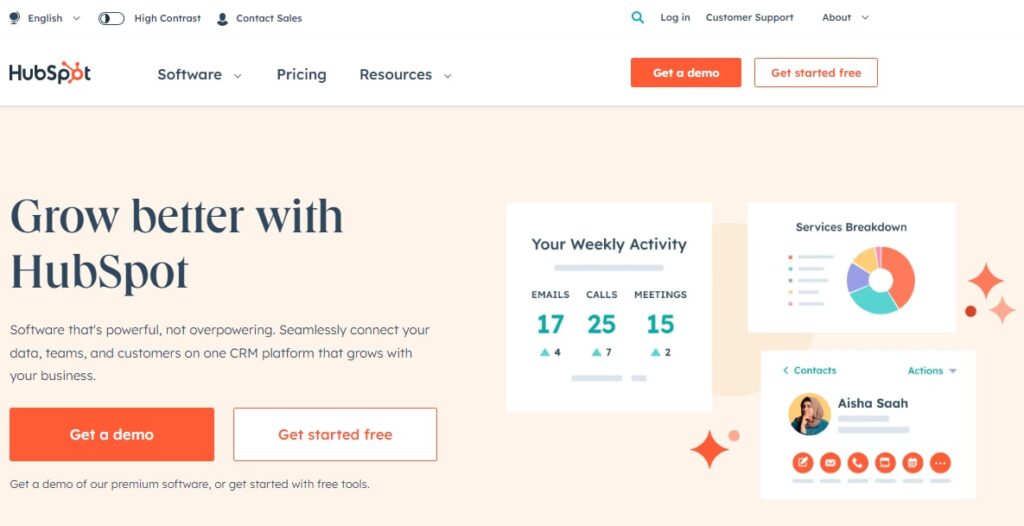 Other than that, this social media analytics software provides data with easy-to-understand graphs and visuals showing specific platform metrics such as audience growth, interactions, and impressions. For a professional that also has a website, you can Measure traffic to your website and check its quality based on traffic interactions and key metrics like sessions and conversion rates.
Hubspot Pricing
This platform is one of the social media analytics tools that doesn't only offer analytics and insight tools. This feature comes in their marketing packages where you can add your social media accounts, analyze them, and grow over time. Let's see their pricing packages: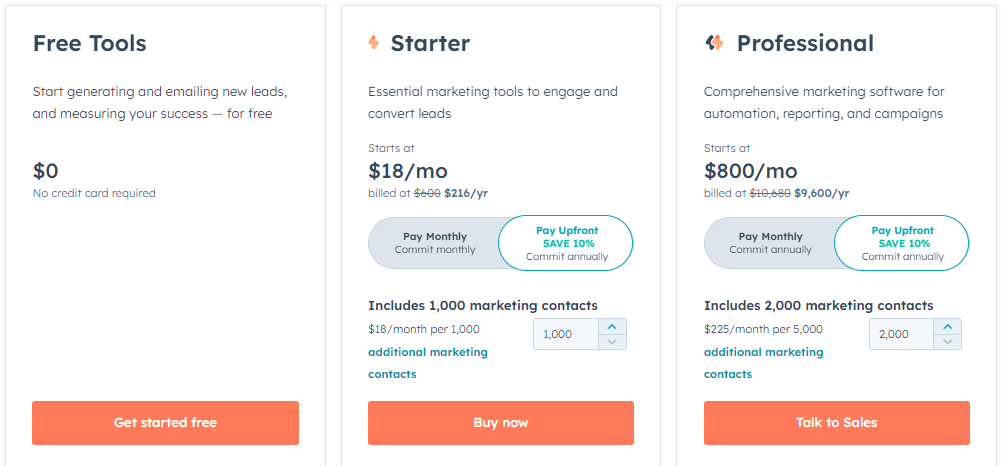 Free Tools: Start generating and emailing new leads, and measuring your success — for free
Starter: Essential marketing tools to engage and convert leads- Starts at: $18/mo
Professional: Comprehensive marketing software for automation, reporting, and campaigns – Starts at $800/mo
5. Google Analytics
Now, it's time to introduce you to a free tool for those who are on a budget. Almost all professionals, especially those who own a web-based business, know about Google Analytics as one of the best free tools. With this tool, you can track and learn about your website visitors, track campaign entries, and monitor how many users come from each social media platform.
So, it's not completely a social media analytics tool; But for brands and businesses whose main goal is selling through a website, Google Analytics is a must. You can monitor which social media platforms give you the highest traffic and analyze these audiences as well as calculate the ROI of your social media campaigns.
6. Buzz Sumo
If you are looking for social media analytics software to track and monitor the social engagement of any given piece of content, Buzz Sumo is a good choice. BuzzSumo monitors your competitors, brand mentions, and industry updates. You can also monitor your industry keywords, hashtags, and trends that your competitors are ranking in.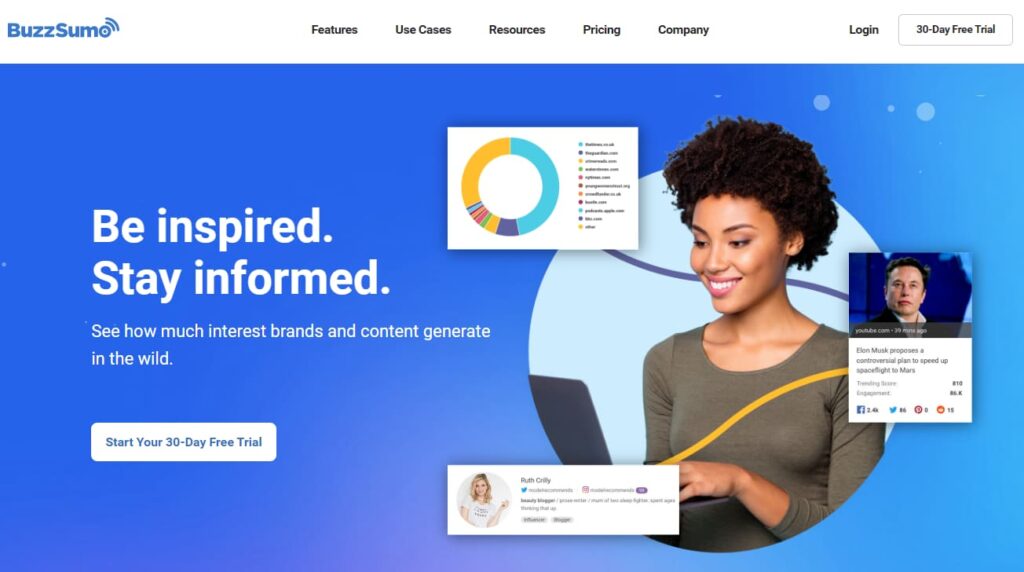 With their monitoring tool, you can see what people are saying about current and emerging products in your category, monitor mentions of your brand and respond at the right moment, and keep up with industry news and the global zeitgeist
Buzz Sumo Pricing
Did you decide to choose Buzz Sumo's software for social media analytics? Here are the different packages they offer.

Basic: $119 /mo – Essential BuzzSumo tools and data for solo users.
Content Creation: $249 /mo – For marketers and marketing agencies wanting to take their content to the next level.
PR & Comms: $249 /mo – For agencies needing to monitor coverage, research journalists, and track trends.
Suite: $499 /mo – Ideal for the entire marketing team in large brands and agencies.
Enterprise: $999 /mo – No-holds-barred access. Everything household-name brands and agencies need.
How To Grow Your Business With Influencer Marketing?
Now that you know how to analyze your performance and insights, it's time to learn how to beat your competitors. One of the best social media strategies you can use these days to grow your brand is collaborating with influencers and running influencer marketing campaigns.
No matter what platform you use, you can definitely find many creators in your niche who have established their trusted audience. But how to find them? Ainfluencer is an influencer marketing platform that helps you find your best match in a couple of minutes and without spending anything.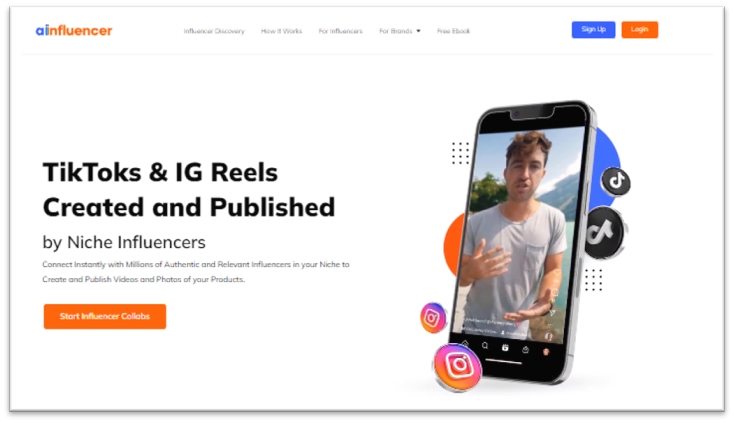 Ainfluencer has a vast network of TikTok and Instagram creators(more than 500,000 influencers) across different industries. Using powerful search filters(based on language, hashtag, niche, budget, location, engagement rate, follower count, etc.) brands can find their best influencer match and contact them easily.
Conclusion
Social media analytics software empowers businesses to make informed decisions based on real insights rather than assumptions. By choosing the right tool for your needs, you can refine your strategies, enhance engagement, and achieve better results in your long-term strategies.
In this article, we've introduced you to some of the best social media reporting tools that you can try to monitor your competitors and grow your accounts.
FAQs
1. Why Is Social Media Analytics Software Important For Businesses?
Social media analytics software is crucial because it allows businesses to make informed decisions based on data-driven insights. It helps them understand their audience, track the success of their content, and refine their strategies to achieve better results in the competitive online landscape.
2. What Kind Of Insights Can I Gather From Social Media Analytics Software?
With social media analytics software, you can gather insights such as audience demographics, engagement metrics (likes, comments, shares), reach of your posts, peak engagement times, sentiment analysis, and even competitor performance.
3. How Does Social Media Analytics Software Benefit Marketing Campaigns?
Social media analytics software enhances marketing campaigns by providing real-time data on campaign performance. It helps you identify what's working and what isn't, enabling you to adjust your strategies for maximum impact and ROI.
4. What Benefits Does Real-Time Monitoring Provide?
Real-time monitoring allows you to stay up-to-date with the latest trends, conversations and mentions related to your brand or industry. This helps you respond promptly to engage with your audience and address any issues that arise.