Brands and businesses are actively looking for new methods to attract customers and grow their audience. One of the new methods in recent years that is getting noticed is marketing ambassador programs.
You might have heard about different brand advertisement examples and methods but did you know anything about the power of ambassador marketing to grow your business?
In this article, we will show you everything you need to know about what is ambassadorship, how it helps your business, and where to start.
What Is Ambassador Marketing?
To talk about brand ambassador marketing and find out what it is, you first need to know who is a brand ambassador. Brand Ambassador stands for anyone who talks and represents your brand, product, or service. They might be social media influencers or happy customers who like to advertise your brand and introduce it to others.
A brand ambassador promotes your products on their social media platforms, personal websites, or through word-of-mouth strategy. Now that you know who brand ambassadors are, let's see what is ambassador marketing.
Ambassador marketing is different from traditional advertising methods and focuses on the power of personal connections and authentic recommendations. By partnering with brand ambassadors, companies tap into their influence and credibility to reach new audiences and boost brand loyalty.
Ambassador Marketing Benefits
Now, you know what is ambassador marketing. So, let us tell you how your business can benefit from it. Here are the most important reasons why you need to try ambassador programs.
1. Build Relationships
One of the primary benefits of marketing ambassador programs is building strong relationships with your consumers. Ammbasodars can connect you to their potential and engaged audience and encourage them to contact you.
You can ask your brand ambassadors and promoters to showcase your brand in creative ways by incorporating the latest social media trends.
2. Increase ROI
One of the main factors businesses need to consider is the ROI. ROI stands for return on investment or return on costs and is a ratio between net income and investment. Even if you want to work with creators, you need to keep your eyes on influencer marketing ROI to measure performance.
Since brand ambassadors have gained the trust of their audience, they are more likely to get higher ROI than traditional methods.
3. Increase Brand Awareness and Sales
Similar to affiliate and referral programs, the main purpose of a brand ambassador marketing strategy is to increase brand awareness and leads. Brand ambassadors play an important role in boosting brand awareness by actively promoting the brand through various channels.
As brand ambassadors share their positive experiences and recommendations, they can boost your engagement which leads to more sales.
Brand Marketing Ambassador Strategies to Consider
Are you ready to grow your business with the help of ambassadors? Here are the top ambassador marketing strategies you need to consider for running a successful program.
1. Identify Brand Ambassadors In Your Industry
The first step in building a successful brand marketing ambassador program is to identify potential ambassadors in your industry. You can search in review platforms, social media, or look for ambassador software to search for active creators.
After finding creators, take the time to research and evaluate their credibility, engagement levels, and overall fit with your brand.
2. Contact Potential Ambassadors
Once you have identified potential ambassadors, it's time to reach out and establish contact. You can contact them through email, social media direct messages, or in-person conversations. Be clear about the mutual benefits of the partnership and the specific expectations you have from them.
If they were willing to collaborate, you can send them your brand ambassador contract and start your marketing ambassador program.
3. Create Ambassador Programs
After contacting the creators, it's time to create your marketing brand ambassador campaign and program. To ensure consistency and maximize the impact of your brand ambassador campaign, it's essential to create a structured and well-defined program.
Whether it's a campaign or referral programs, you need to discuss with your ambassadors to have the same mindset.
4. Set Your Goals
Every successful program requires planning ahead and determining the specific objectives you want to achieve and ambassador programs are no exception. Clarify your goals and talk with the creators to plan your strategy.
Here are some of the common objectives to set as your ambassador referral marketing goal:
Content reach,
Engagement,
Traffic,
Sales.
5. Set Standard Rules For Your Ambassadors
Establish clear guidelines and expectations for your ambassadors. This may include requirements for social media posting times (what hours and how many times per week), content creation, use of specific hashtags or branding elements, etc.
Note: Ensure that your ambassadors understand and agree to these guidelines before officially joining the program.
It's important to mention all the rules and requirements in your ambassadorship deal. According to Contract Counsel, a brand ambassadorship agreement( influencer contract), is a legal agreement between a company/brand and the ambassador/influencer that the company is hiring to promote its products or services across different platforms.
Where Can You Find Brand Ambassadors?
Social influencers have gained a lot of popularity and influence over the past decade. With their ability to create compelling content, establish a loyal following, and engage with their audience authentically, they have become one of the best choices for businesses looking to collaborate with brand ambassadors.
One of the best places to look for creators/influencers for running your campaigns and ambassador programs is Ainfluencer. Ainfluencer is a top influencer marketing platform that is designed to connect businesses with influencers in their specific niche.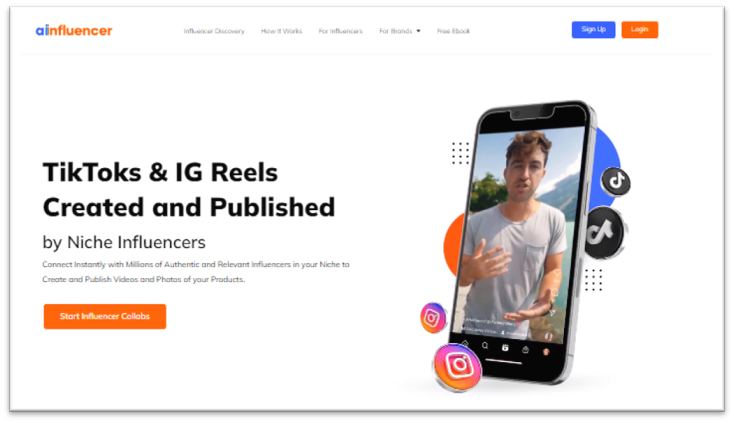 This platform provides an extensive influencer database (more than 500,000 active creators) across Instagram and TikTok. No matter if you're looking for micro-influencers with a dedicated niche following or macro-influencers with a broader reach, Ainfluencer has the best options in your niche.
With advanced search filters, based on hashtags, niche, location, language, engagement rate, budget, and more, brands can find influencers who align closely with their target audience. This way you can have a better marketing brand ambassador strategy and grow your business.
Conclusion
Marketing ambassador programs offer many benefits to businesses looking to build relationships, increase ROI, and boost brand awareness and sales. By engaging with brand ambassadors, companies can grow their customers with potential and targeted users.
In this article, we've shown you what are ambassador programs marketing and how to start your programs to increase your customers.
FAQs
1. What Is The Role Of A Brand Marketing Ambassador? 
A Brand Marketing Ambassador represents your brand, promotes its values, and engages with customers to build brand awareness and loyalty.

2. How Can A Brand Marketing Ambassador Help Grow My Business? 
By effectively promoting your brand, creating engaging content, leveraging social media, collaborating with influencers, and engaging in community outreach, a brand marketing ambassador can drive growth for your business.

3. Can Any Individual Become A Brand Marketing Ambassador?
While anyone can aspire to become a brand marketing ambassador, it is crucial to select someone who aligns with your brand's values, possesses excellent communication skills, and has a genuine passion for your industry. This ensures that they can effectively represent your brand and engage with your target audience.