Instagram Notes is a recent feature in the app, enabling users to share quick updates about their lives with followers. While crafting engaging text for these notes can be challenging, choosing the right Instagram note idea can start conversations and of course friendships.
While you can certainly use this feature to share a status of your day, it's also a chance to display your sense of humor and to express your feelings. If coming up with something clever isn't really your thing and has become an Instagram challenge for you, don't worry. We've gathered a list of different Instagram Notes ideas to give you a head start.
What Is an Instagram Note?
Instagram Notes, commonly known as 'Notes,' is a feature on Instagram that allows users to share straightforward text-based updates with their followers. These updates serve as a means to communicate various messages, thoughts, or announcements. Instagram Notes offers users a way to connect with their audience by sharing glances of their daily lives or expressing their creativity through text.'
Users have the flexibility to personalize their Notes by selecting a background color and picking from a range of styles. These Notes are usually showcased on the user's profile and serve as a swift method to bring information or share something noteworthy without the necessity of a complete image or video post.
Instagram Notes can be found in the DM (direct message) section of the app and have a 60-character limit. People are getting creative with them, using them for announcements, mood expressions, or fun lines of their own. To come up with the best Instagram note ideas, you need to be creative, and that's why we're here to help.
Read also: How To Use Instagram Live
Best Instagram Notes Ideas
Being clever and creative in Instagram Notes might be something that not everyone can do, which is why we are going to share the best Instagram Note ideas to keep things simple for you.
45 Funny Instagram Notes Ideas
1. Running on caffeine & chaos!
2. Free cookies inside!
3. Don't be a salad, be a taco!
4. You're egg-stra special!
5. Caffeine & dreams brewing!
6. Don't carrot all, we're funny!
7. Feeling sassy with our coffee!
8. Just rolling with the boba!
9. Don't worry, be happy!
10. We dough-nut know what to say!
11. Just rollin' with it!"
12. Let's taco 'bout it!
13. Time for a cheesy deal!
14. Coffee: our daily grind!
15. Doughnuts kill my vibe!
16. We're tea-riffic!
17. Burger lovers unite!
18. Procaffeinating: join us!
19. Fry-Yay vibes!
20. Taco 'bout delicious!
21. Sweatpants: our dress code!
22. Salad won't fix this.
23. In a goofy mood.
24. Insert your best Dad joke here.
25. Hang out? I'll ask my mom. She said, "No."
26. Why walk on a treadmill when you can walk to get food?
27. We're not growing older; we're evolving.
28. I prefer not to think of them as mistakes but as memories.
29. Always on the go…for food.
30. Naysayers can keep naying while we are slaying.
31. Our social media manager is out. You're stuck with me.
32. Every day is Pizza Day if you buy pizzas daily.
33. Zero days since someone in our office sang "Let It Go"
34. Why does the banana wear a tie? It isn't a-peel-ing enough.
35. Talk to us after we've had our coffee.
36. Friday is still four days away.
37. Don't cry. Have an extra french fry.
38. The Earth's rotation really makes our day.
39. Instagram Notes not found.
40. Stressed, spelled backward, is Desserts.
41. Thank you to the inventor of the spork.
42. We see you sliding into our DMs.
43. True love is talking to you even when we're hungry.
44. We like romantic walks…to the fridge.
45. We have notes on our Instagram but not in our wallets.
38 Simple Instagram Note Ideas to Brighten Your Day
1. Slay the day!
2. Never stop exploring.
3. Radiate good vibes.
4. Life is too short for bad coffee.
5. Happiness looks gorgeous on you.
6. Keep smiling, it's contagious!
7. The world is your oyster.
8. When nothing goes right, go left.
9. Make today amazing!
10. Every day is a new beginning.
11. Dare to be different.
12. Life's a journey, enjoy the ride.
13. Life is a beautiful mess.
14. Life is too short to wear boring socks.
15. Dream big, shine bright.
16. Embrace the journey, not just the destination.
17. Dream big, work hard, stay focused.
18. Life is short, make it sweet.
19. Chase your dreams, not perfection.
20. Keep calm and carry on.
21. Take the road less traveled.
22. You are enough. #SelfLove
23. Fall in love with the journey.
24. Adventure awaits!
25. Home is where the heart is.
26. Savor the little moments.
27. Just keep swimming.
28. Life's a beach.
29. Find beauty in simplicity. #LessIsMore
30. Stay wild and free.
31. Good vibes only.
32. Life's too short to wear boring clothes.
33. Be a voice, not an echo.
34. Hello Monday!
35. The best is yet to come. #PositiveVibes
36. Take time to appreciate the little things in life.
37. Do more of what makes you happy.
38. Let your light shine bright!
45. Best Instagram Notes Idea
1. Binge watching
2. Work hard, play harder!
3. Eyes are never quiet.
4. Add me to the Close friend's list.
5. Let's celebrate me!
6. It's time to party!
7. Cheat day!
8. New beginnings
9. Gains all day, every day!
10. Life is a journey.
11. Follow your dreams.
12. Be the change.
13. Adventure awaits!
14. Great things take time.
15. Wassup everyone?
16. Gotta post something here.
17. Hey there
18. Hi everyone!
19. What's going on?
20. Have a wonderful day.
21. Have a good day.
22. Enjoying the day.
23. Relaxing!
24. Finally weekend.
25. At the movies.
26. Out and about.
27. Feeling bored.
28. Have a great day.
29. Stay positive.
30. Creating history.
31. Positive thoughts.
32. Craving for junk food
33. Time for pizza
34. Every day is a new beginning.
35. Confidence is key.
36. Smile big, and laugh Often.
37. Don't give up.
38. Never lose hope.
39. Achieving goals
40. Strolling
41. Time for a walk.
42. Anybody awake?
43. Staying calm.
44. I decide my vibe.
45. Live a good story.
80 Cool Instagram Notes Ideas
1. Hating me won't help you.
2. Keep calm and carry on.
3. Every day everywhere.
4. Seas the day
5. The sun is shining.
6. Life is hard so rock soft.
7. The less you care, The happier you will be.
8. Keep it classic, yet modern.
9. I am what I am.
10. I only focus on the good.
11. I need space.
12. It's a wonderful life!
13. Life is short, make it sweet.
14. I'm not perfect, but I'm a limited edition.
15. Don't follow your dreams, chase them.
16. I'm not heartless, I'm just smarter than my emotions.
17. Don't play hard to get, play hard to forget.
18. Having a cool attitude is the way to go.
19. Be yourself, everyone else is already taken.
20. I'm not perfect, but I'm always improving.
21. Life is tough, but so are you.
23. Don't let yesterday take up too much of today.
24. Showing coolness.
25. Chillax.
26. Living a cool life.
27. Keeping it cool
28. Feeling cool
29. Keep a cool head and maintain a low profile.
30. Be still and cool in your own mind and spirit.
31. Trying to be cool today.
32. Be cool
33. Cool and relaxed.
34. Keep it cool and carry on.
35. Let's be cool.
36. Being cool doesn't mean being smart.
37. Flaunting my coolness.
38. Discovering my cool side.
39. I'm not perfect, but at least, I'm not fake.
40. Count your blessings instead of your problems.
41. Some days you just have to create your own sunshine.
42. Be the type of person you want to meet.
43. Make sure you're perfect before judging me
44. I never know what to say here.
45. It's Becky, the intern, the person posting notes.
46. Feeling rundown lately.
47. What a busy day.
48. No sleep until the last episode.
49. My secret worry? That my own biggest crush reads this.
50. Rain check?
51. You are beautiful in every single way.
52. No misery, just madness.
53. You have beautiful eyes.
54. She's born to slay. Yaaas Queen!
55. Going live at 10 pm tonight.
56. Want to catch up?
57. Get our latest offers!
58. You were born to slay!
59. Just another day at the office.
60. Zzz…
61. It's just a bad day, not a bad life.
62. Just me.
63. RN Instagram notes.
64. Insert extremely smart advice here.
65. Ask me anything.
66. Give me a very funny joke.
67. Currently binge-watching.
68. Out here reading people's Instagram Notes.
69. Insert a random thought here.
70. Here's a new note.
71. Is Anybody still awake?
72. Let's celebrate!
73. Party time!
74. You're invited. It's not a secret.
75. Wild and free work.
76. Feeling meh.
77. Post yoga happiness.
78. Life recently.
79. Self-love.
80. Typical me on a Friday night.
30 Self-care Instagram Notes Ideas
1. Take a nap or get enough sleep
2. Treat yourself to your favorite food or drink
3. Practice yoga or other physical activity
4. Listen to calming music or sounds
5. Practice self-compassion and forgive yourself
6. Spend time with loved ones or pets
7. Say no to things that drain your energy
8. Take a deep breath and let go of tension
9. Drink a glass of water to hydrate
10. Stretch your body to relieve stress
11. Take a relaxing bath or shower
12. Practice mindfulness or meditation
13. Go for a walk or spend time in nature
14. Indulge in a hobby or creative activity
15. Write in a journal to express your feelings
16. Don't be afraid to stand out. Embrace your uniqueness.
17. The only way to be awesome is to believe you're awesome.
18. Start your day with a goal. Live your life with purpose.
19. Be the best version of yourself.
20. Tomorrow isn't promised. You only have today.
21. Speak less and you'll hear more.
23. You should be your greatest cheerleader.
24. Shoot for the moon. If you miss, you'll be among the stars.
25. The best investment is yourself.
26. We all fight silent battles. Be kind.
27. Live for today and you'll live your best life.
28. Keep your eyes on the prize.
29. Girl, catch flights, not feelings.
30. If you want something, make it happen.
40 Unique Instagram Notes Ideas
1. Chillin' and vibing.
2. Just a vibe.
3. Nobody's got time for that.
4. Make a note of this.
5. Penny for your thoughts?
6. Lost in thought.
7. Got any Notes or ideas?
8. Main character moment
9. Can't unsee
10. Vibe check!
11. What's new?
12. Stressed but still blessed
13. Go for it!
14. Matching your vibe.
15. 50% sweet. 50% savage.
16. Adventure awaits!
17. Passing the vibe check.
18. Feeling rundown lately.
19. What a busy day.
20. You were born to slay!
21. Just another day at the office.
22. Do you have any notes or ideas?
23. Say something very smart here.
24. It's just a bad day, not a bad life.
25. Just me.
26. Here's a new note.
27. An ordinary IG note.
28. You're invited. It's not a secret.
29. Wild and free work.
30. Core memory.
31. Feeling meh.
32. Life recently.
33. Self-love.
34. Wanna talk?
35. Typical of me on a Friday night.
36. Good mood. Sky High.
37. Spring season!
38. Chill night.
39. Bring it on.
40. Useless notes.
40 Attitude Instagram notes ideas
1. The tide is here to stay.
2. Be young!
3. Just flaunting my attitude.
4. Don't boast around.
5. I'm not bossy, I'm the boss.
6. Grow through what you go through.
7. It's the little things in life.
8. Don't wait for opportunities. Create them.
9. Dreams don't work unless you do.
10. Live like there is no tomorrow.
11. Preparing for what's to come.
12. I'm not rude, I'm brutally honest.
13. The end may be just near.
14. I'm not arrogant, I'm confident.
15. Not afraid!
16. Maintaining my attitude.
17. Don't need your approval.
18. Keep on judging.
19. My life, my attitude.
20. I'm not everyone's cup of tea.
21. Not sorry for being me.
22. I don't follow, I lead.
23. Work hard, slay hard.
24. I'm not perfect, but I'm a limited edition.
25. Life is too short to be fake.
26. Attitude is everything.
27. I don't need your approval to be me.
28. I'm not perfect, I'm original.
29. They told me I couldn't that's why I did.
30. Silent people have the loudest minds.
31. Never settle.
32. Don't try to follow me. I'm already lost.
33. Be a warrior and not a worrier.
34. I am who I am today because of the choice I made
35. Take a ride on my energy.
36. I will either find a way or make one.
37. Does my sparkle burn your eyes?
38. I was born to stand out.
39. Judge me when you are perfect.
40. Be you. The world will adjust.
How to Make an Instagram Note?
Here's a straightforward method to create an Instagram Note. Just follow these steps to get what you want.
1. Open the Instagram app.
2. Tap the inbox icon in the top right corner.
3. Click on the box labeled "+ Leave a Note " at the top left corner."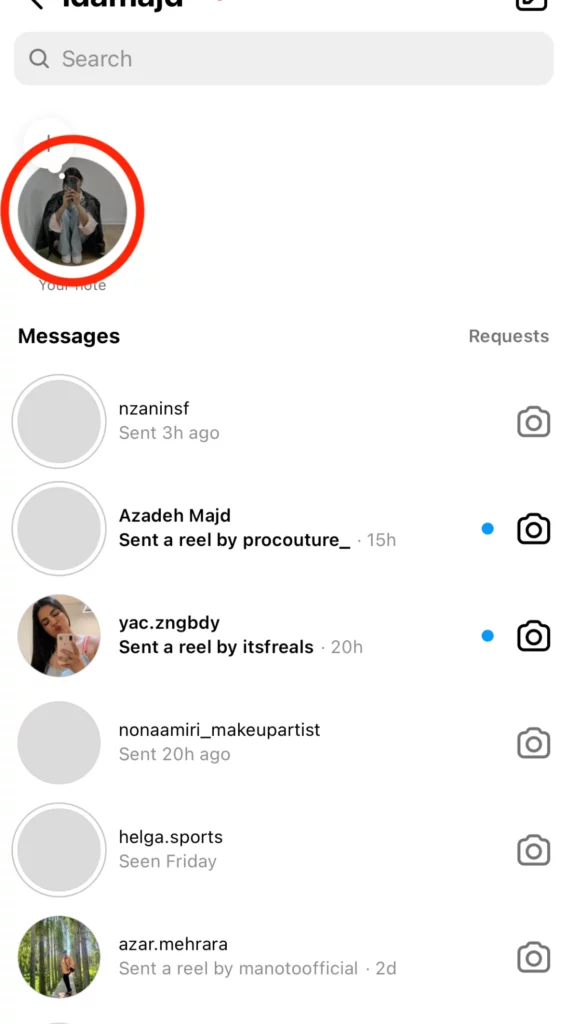 4. Type your 60-character message.
5. Select your audience and tap the "Share" button.
6 Best Ways to Use Instagram Notes
Many Instagram users have been using Instagram Notes in a basic way, but you can use it creatively to connect with your followers. Here are some creative ways to make the best Instagram Note ideas.
1. Share Quick Updates
You can use Instagram Notes to post quick updates to your followers. These updates can be about your day, your thoughts, or your activities. It's a way to share brief messages with your audience without the need for a full image or video post.
2. Convey Mood or Emotions
You can use Instagram Notes to convey how you're feeling at the moment or express your emotions through short text messages. It's a way to share your mood with your followers in a brief and direct manner.
3. Make Announcements
Use Instagram Notes to share important news and announcements with your followers. It's a handy way to keep them informed and engaged with your updates.
4. Ask Questions
You can use Instagram Notes to ask questions to your followers. This can spark engagement and conversations as they respond to your queries.
5. Share Quotes
You can use Instagram Notes to post your favorite quotes, motivational phrases, or clever one-liners. It's one of the Instagram insights that will lead you to a way to share inspiring or thought-provoking content with your followers.
6. Express Gratitude
Using Instagram Notes to 'express gratitude and appreciation ' means thanking your followers or customers for their support, likes, comments, or purchases. It shows you value them and want to build positive connections. It's a simple way to make them feel appreciated.
Conclusion
Instagram Notes are a flexible tool to connect, be creative, and share moments. Whether you're sharing thoughts, engaging with followers, making announcements, or spreading positivity, these ideas keep your content interesting. Be genuine and personal in your Instagram Notes to foster a lively and engaging profile.
FAQs
1. Are Instagram Notes for Everyone?
This feature may not be accessible to all users. Instagram Notes offers a personal area where you can post short updates visible to specific individuals, and they can respond to these updates as messages within the Instagram platform.
2. Can I See Who Viewed My Instagram Notes?
When someone responds to your note, it initiates a private conversation between you and that individual exclusively. Other users do not have access to information about who has viewed or commented on your note, ensuring the privacy of your interactions.