The Easter holiday is a time for families to come together and celebrate. There are many traditions that can be added to your Easter Sunday to make it unique and special for you and your family.
We've gathered some fun activities and Easter Dinner ideas to share with you.
Whether you want to stick to traditions or mix things up with something different, you will surely find something here to try out.
what is Easter?
Easter is a religious and cultural festival celebrated by Christians worldwide on the first Sunday after the full moon in March.
The date of Easter is determined by the vernal equinox. It can fall anywhere between March 22 and April 25.
For Easter to be as valuable in belief as it is in tradition, it is sometimes a good idea to make sure those taking part in either practice have an enjoyable time.
Even though not everyone celebrates both the historical or springtime symbols of the holiday, there's still a simple way for you to celebrate with your good friends.
How to run effective influencer marketing campaigns this Easter
Easter is among the most profitable times of the year for retailers.
Family connections, scrumptious food and drink, and festive events are all on top of the holiday's to-do list, but retail purchases too!
A successful Easter campaign could engage customers and drive seasonal sales.
Most companies aim to maximize their marketing efforts in order to increase their revenue and remain ahead of their competitors.
Here are some ideas to inspire you for your Easter campaign:
Collaborate with influencers
Launch a new product in time for the Easter time
Host an event
Run a promotion or offer discount
Increase your content marketing efforts
Why should your brand incorporate influencer marketing into your Easter content strategy?
Because of the upcoming holidays, consumers generally have a lot more time to spend on social media. There is a greater chance that consumers will be engaging with your brand more often, keeping your products top of mind during this time.
By developing relevant and entertaining content based on your brand's attachment to influencers, your business's reputation and sales will improve during this season.
It's due to the fact that a strong influencer's community is often very inquisitive and engaged, as their followers and fans show great interest in what they say.
Ainfluencer is an influencer marketplace that is 100% free. You can find Instagram Influencers based on category, engagement rate, followers, location, etc. Sign up on Ainfluencer and try it yourself.
ALDI partnered with five top food bloggers to create a unique recipe-focused campaign. Each influencer created one sponsored post featuring an Easter recipe, accompanied by one to two sponsored Instagram posts.
Also, in a sponsored collaboration with Cadbury, Mumsnet vloggers Sarah & Emma share some top tips and hacks for hosting the Easter egg hunt at home.
10 Easter Traditions to Enjoy with Your Family
Here are some ideas for Easter time you and your family can enjoy together:
1. Make and decorate an Easter tree
Decorating an Easter tree is a fun way to show your family and friends how much you appreciate them. There are a lot of different ways to go about it, so choose something that you enjoy doing.
You can use all sorts of materials, from natural materials like branches and leaves to brightly colored eggs and Easter chickies.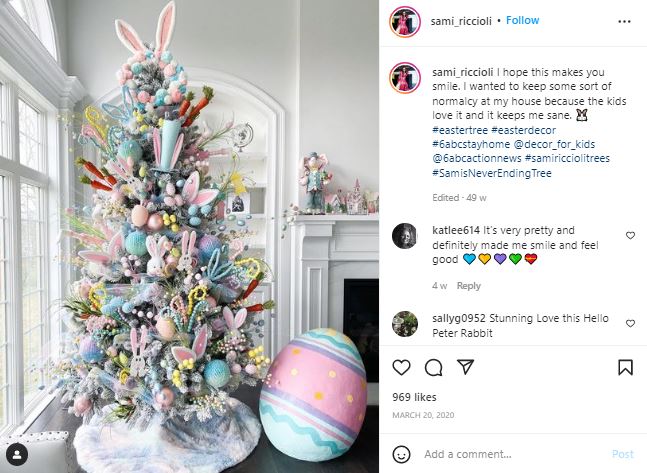 2. Have an Easter egg hunt
Easter time is for family, fun, and eggs. It's the perfect time to have an Easter egg hunt! There are many different ways to have an egg hunt, and each one is sure to be fun for everyone involved.
You can go on a big adventure, or focus on finding specific eggs in a specific location. Whichever way you choose, make sure to have lots of fun!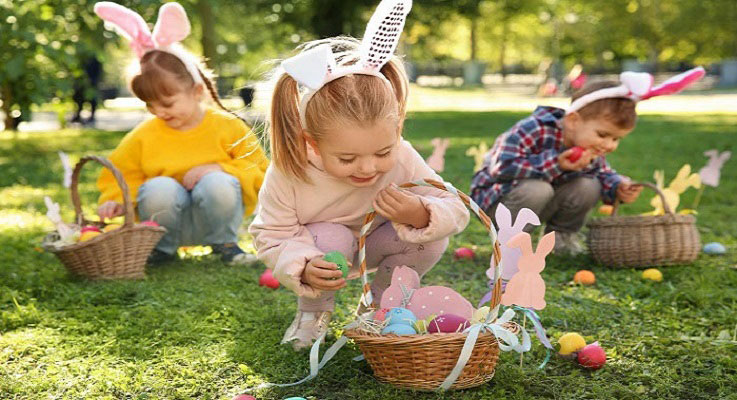 3. Make Easter baskets for the family
Easter baskets are one of the most cherished traditions on Easter. They can be made from anything from candy to flowers to chocolates.
There is no wrong way to make an Easter basket, as long as it is personal and unique to the recipient.
Check out this video to get inspired for some DIY Easter baskets ideas:
4. Observe Lent
Observe Lent and gain strength in faith. Lent is a time when you can reflect on your life and make changes to improve it.
It is a time to repent and find forgiveness. Lent is also a time to pray and find peace. By observing Lent, you will have a more fulfilling religious experience.
5. Bake Easter Goodies
What better way to celebrate than by baking goodies together?
Make Easter special for your family with these delicious treats! You can choose from traditional Easter favorites like chocolate bunnies or easter egg cupcakes, or try something new like gingerbread men, bunny carrot cake, or a nice bread designed with colored eggs.
Preheat your oven and get cooking!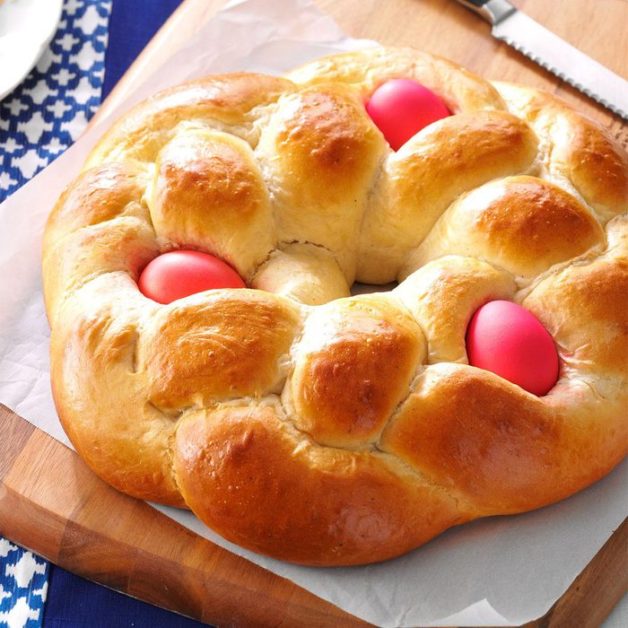 6. Attend an Easter Parade
why not celebrate the occasion by attending an Easter parade?
These parades are a great way to get out and have a good time with your loved ones. There are several Easter parades in the area that you can attend, so select one that fits your schedule and interests.
There's sure to be something for everyone, from traditional floats and costumes to quirky one-of-a-kind entries.
You can turn yourself into a TV and give people happy easter wishes!
7. Read the Easter Story
What Easter story is most familiar to you? Probably the one in which a young lamb is led to freedom by three wise men, who bring him to the birthplace of Jesus Christ.
Or maybe you know the story of the crucifixion and resurrection, in which Jesus rises from the dead and conquers death. The Easter story is ancient and full of symbolism. It tells us that through faith in God, we can overcome our troubles and find hope for a better future.
8. Visit the Easter Bunny
Do you love Easter eggs as much as we do?
Of course, you do! Well, in order to enjoy Easter eggs to the fullest, be sure to visit the Easter Bunny! This jolly little fellow will be waiting for you at many of your favorite spots around town.
9. Attend a Church Service
Services held at churches across the United States vary in their content, but they all share one common goal: to bring people together and remind them of the importance of faith.
If you're looking for an Easter experience that's both religious and festive, attending a service at a local church is a great way to go.
10. have an Easter dinner
If you're hosting an Easter dinner, here are some tips for making Easter time memorable. Start by choosing an interesting Easter dish to serve. Opt for something you've never made before or something that would be a standout dish on its own.
Keep the menu light and refreshing, with plenty of Easter favorites like ham, eggs, and bunnies. Decorate your table with brightly-colored flowers and baskets of Easter candy.
There's no need to overthink Easter dinner this year. Whether you're hosting a small gathering or cooking for a large crowd, these Easter dinner ideas will have everyone happy!
Easter dinner ideas the whole family will love
Try out some of these delicious Easter Sunday dinner ideas for your Easter meal.
First things first, the ham! For many, it's ham or nothing. This traditional Easter centerpiece is perfect for brunch, lunch, or dinner.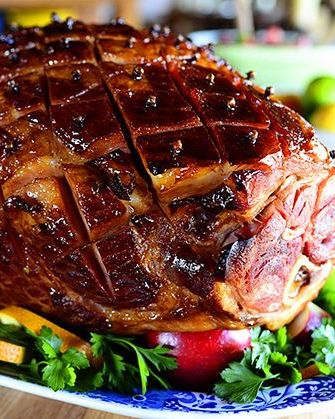 Tradition has it that Easter dinner includes pork chops. They are simple and easy dishes to cook, and they can be made in several different styles.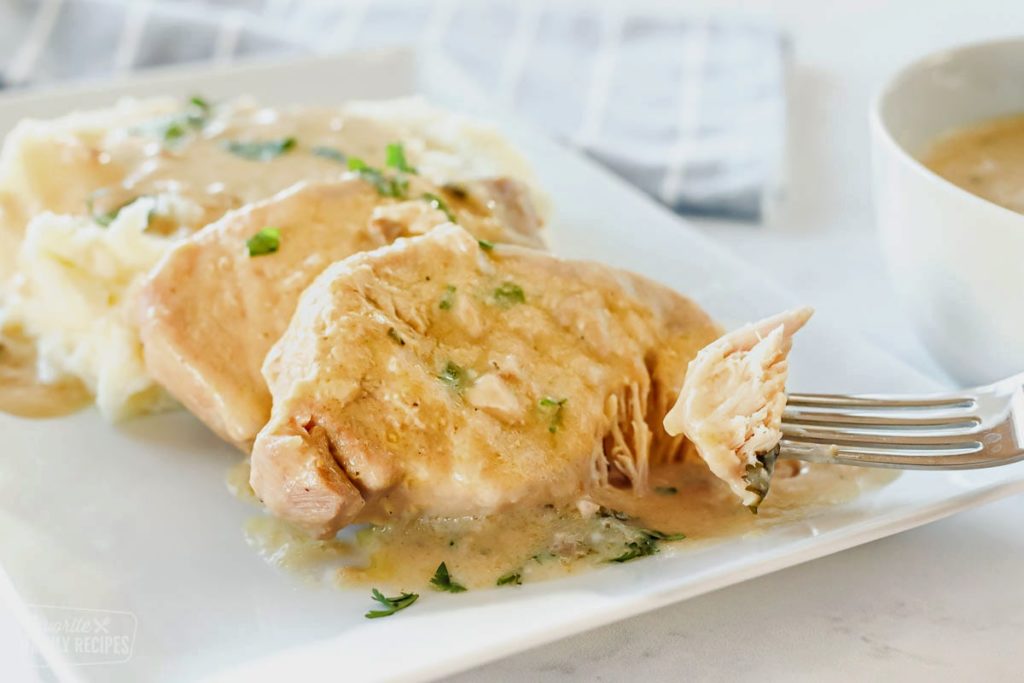 This simple side dish comes together really fast, but it's still impressive enough to serve as a side to your holiday ham. Plus, it adds a springy vibe to your Easter menu.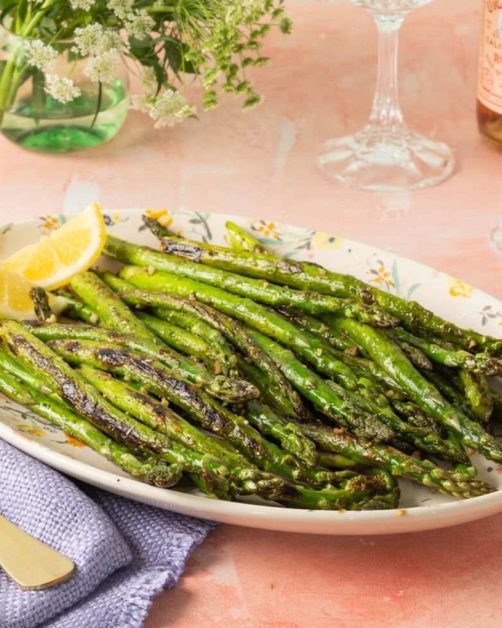 Here's a fun twist on deviled eggs: add horseradish for a spicy kick! You can serve it as an appetizer or side dish at your Easter dinner.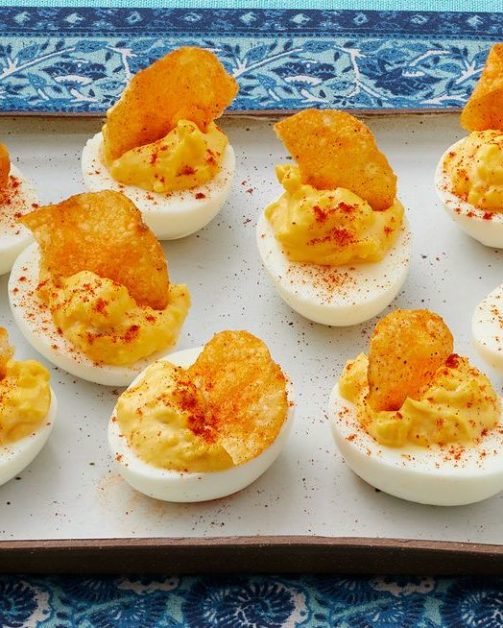 Ree serves this glorious ham on a grazing board with plenty of sides. It's a fun presentation that all your guests will love.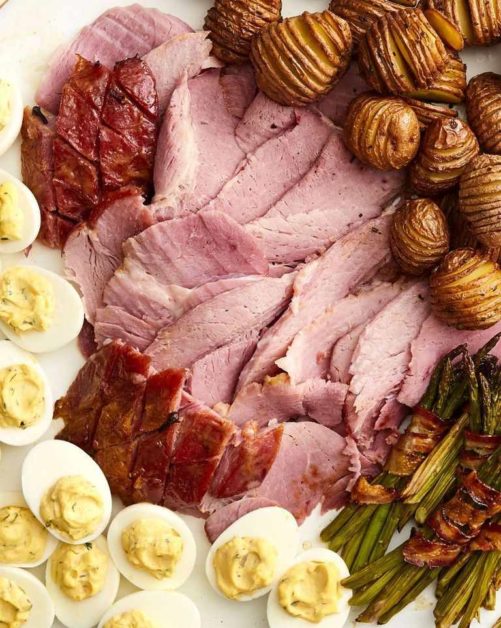 Quiche is usually associated with Easter brunch, but who says you can't serve it at dinner too?
Whether it's morning or night, we'll take any excuse to eat this cheesy bacon quiche.