In 2021, YouTube launched a new feature that allowed creators to create and share videos up to one minute long called 'YouTube shorts'. This feature is similar to TikTok and reel videos. They got popular after a while and now everyone wants to know the best time to post YouTube shorts for getting a higher reach.
If you already know how to become a YouTuber but want to participate in the Shorts community for sharing creative videos, we have your answer. By finding the best time to post on YouTube shorts and scheduling your videos, you can maximize your views. Also, this way you can earn more money from your channel.
Factors Affecting The Best Time To Post YouTube Shorts
If you want your YouTube shorts to become one of the most viewed YouTube videos, there are some factors to consider for finding the best hours.
1. Time Zone/Location
The best time of day to post YouTube shorts also depends on the time zone of your target audience or where most of your subscribers are located. Especially, if you have a global audience, finding the hours that work for all time zones can be challenging but can help you maximize your content reach and get more views. 
2. Target Audience
One of the first considerations in finding the best time to post on YouTube shorts is your target audience. Based on your audience demographics and their online behavior, these hours and days can vary. Factors such as age, location, and interests determine what hours most of your audience is active on YouTube. 
3. Content
The last factor in finding when is the best time to post YouTube shorts is your content type. Some types of content ( for example tutorials or product reviews)  may resonate better at specific times of the day or week. A good example is sharing comedic and fun videos on weekends or holidays to attract more users. 
How To Find Your Best Time To Post On YouTube?
Now that you know the factors affecting YouTube shorts best time to post and view different case studies, it's time to find it for your channel. In summary, there are two methods for finding your active times; YouTube analytics or A/B testing. Now, let's check each method to find out which one is better. 
1. Channel Analytics
Similar to other platforms, YouTube provides deep insights and analytics to help you know your audience better and manage your social media metrics. Here is how to access your channel analytics:
Android
Open the YouTube Studio app.
From the bottom menu, tap Analytics.
Choose "Audience."
In the opened screen, look for 'When your viewers are on YouTube'
Here, you can view your audience's online activity across your channel and all of YouTube. Data is based on your viewers across all devices in the last 28 days
Desktop
Open the YouTube website on your browser and click 'YouTube Studio' from the left menu.
Click 'Go To channel Analytics'.
Select the 'Audience' tab.
Look for your "When your viewers are on YouTube" report.
Your most popular day is the one with the most dark purple bars.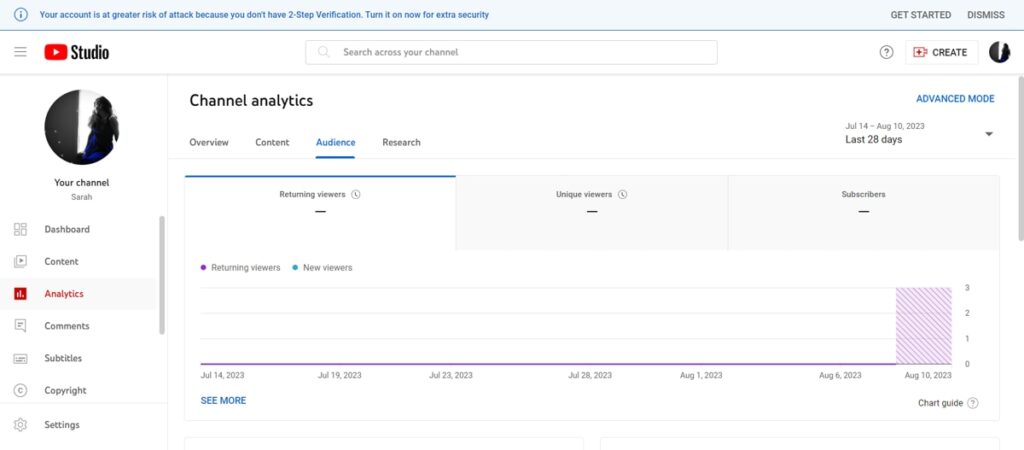 2. A/B Testing
If you are new to YouTube, the analytics data can not tell you much. The best way to find your best hours for sharing the posts is by testing with different days of the week. After that, change the hours for sharing the post and make sure to watch the views.
Even though this method is not accurate, it is the best way to find what is the best time to post YouTube shorts when you don't have subscribers. 
Is There The Best Time To Post YouTube Shorts? Case Studies
There are different case studies about the best time to post YouTube shorts and how to determine it. Let's take a quick look at them to have a better mindset. However, keep in mind that if the weekends in your location are not Saturday and Sunday, these studies can not be helpful!
1. Hubspot
According to a study by Hubspot, the best days to share and post videos on YouTube are Fridays, Saturdays, and Sundays. This study mentions that most people watch YouTube during the same time they watch television. So, you can upload your videos before the peak hour to receive the highest engagement.
2. Frederator Networks
If you want to analyze your channel and check your audience activity, we have your solution. Frederator Networks provides a tool where you can enter your channel's name and it will analyze it to give you the best time to post YouTube shorts. According to their blog, here is the best time to post YouTube shorts on Saturday, Sunday, and Friday.
Friday: 6 PM, 7 PM, 8 PM, 9 PM
Saturday: 3 PM, 4 PM, 5 PM, 6 PM
Sunday: 12 PM, 1 PM, 2 PM, 3 PM
3. Social Pilot
In another study by Social Pilot, these platforms suggest different hours for weekends and weekdays. Here is a quick look:
The best time to post YouTube shorts on Monday till Friday: between 2 and 4 pm CST or EST 
Weekends: 9 – 11 AM EST or CST (depending on where your target audience is based).
4. Boosted
Analyzing overall YouTube users in all countries, Boosted recognizes that most users are in the US and then Brazil, Russia, China, India, and the UK. Other than that, they found that the highest level of engagement on YouTube is on Friday through Saturday and Wednesday. Let's see the timing it suggests:
On most days, the best time to post is at 5 PM.
The best time to post YouTube shorts on Sunday is either at 11 AM or 5 PM.
If you target Americans, then another possible option is to post on a weekday morning (at about 8 AM EST). 
Best Time To Post YouTube Shorts: Overall Look
If you are looking for a quick answer to when is the best time to post YouTube shorts, we have your answer. However, keep in mind that these hours may vary based on the factors we've discussed, but it's a good starting point.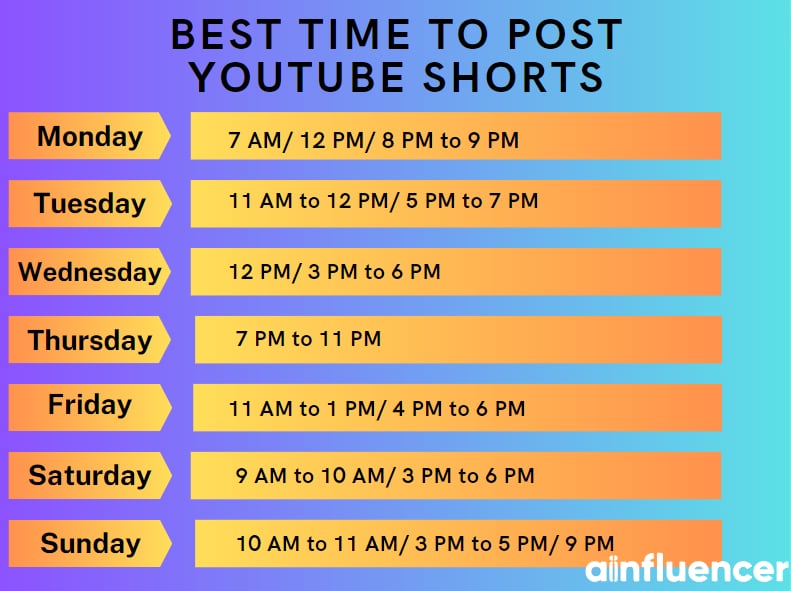 1. Best Time To Post YouTube Shorts on Monday
2. Best Time To Post YouTube Shorts on Tuesday
11 AM to 12 PM (Noon)
5 PM to 7 PM
9 PM to 10 PM
3. Best Time To Post YouTube Shorts on Wednesday
4. Best Time To Post YouTube Shorts on Thursday
5. Best Time To Post YouTube Shorts on Friday
7 AM to 9 AM
11 AM to 1 PM
4 PM to 6 PM
9 PM to 11 PM
6. Best Time To Post YouTube Shorts on Saturday
9 AM to 10 AM
3 PM to 6 PM
10 PM to 12 AM
7. Best Time To Post YouTube Shorts on Sunday
10 AM to 11 AM
3 PM to 5 PM
9 PM
How To Collaborate With Brands?
If you are a YouTuber with established subscribers, you can start collaborating with brands to earn extra money. Brand collaborations and partnerships help you monetize your channel with your content creation talent. But how to find brands that are willing to collaborate? That's where Ainfluencer can help you.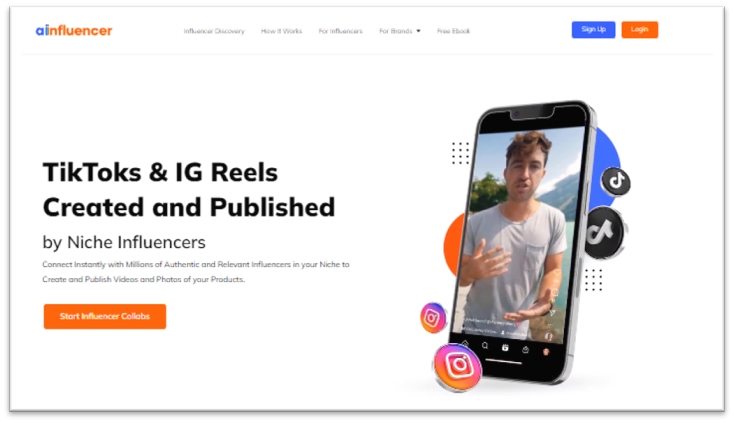 Ainfluencer is a free influencer marketing platform that connects brands and businesses of all sizes to potential influencers. With powerful search filters (based on hashtags, niche, location, language, budget, social media metrics, etc) and the help of AI, you can find your best match in a couple of minutes. And the best part is that it's totally free to use!
Conclusion
While case studies provide valuable insights, the best time to post YouTube Shorts remains a customized answer. Combining the factors of time zone, target audience, and content type allows creators to find the best time of day to post YouTube shorts and schedule their content.  
This article shows you how to find your best hours using channel analytics to grow your audience. Remember, there's no one-size-fits-all solution; the best posting time for you depends on your unique audience and content style.
FAQs
1. How Can The Timing of My YouTube Shorts Affect Engagement?
The timing of your Shorts can significantly impact their performance. Posting at the right time can expose your content to a larger, more engaged audience, increasing the likelihood of likes, shares, and views.
2. Is There a Specific Best Time to Post YouTube Shorts?
There isn't a one-size-fits-all answer to this. The optimal posting time depends on your target audience's demographics, online behavior, and time zones. Use analytics to identify patterns and determine your ideal posting times.
3. How Can I Determine My Audience's Peak Activity Hours?
Utilize YouTube Analytics to track metrics like views, likes, and comments. Analyze these data points to identify when your audience is most active, and consider posting during those times.
4. Should I Adjust My Posting Schedule Based On Time Zones?
If your audience spans different time zones, staggering your posting times can ensure that your Shorts reach a wider global audience. Tailor your schedule to align with peak usage hours in various regions.