The medium of transportation plays a crucial role in ensuring a comfortable travel experience, be it for business, leisure, vacation, or study purposes. Among the various options available, air travel stands out for its convenience and efficiency. However, when it comes to Swoop Airlines, the scenario is quite different.
Public reviews and customer experiences shed light on the reasons why traveling with Swoop Airlines should be avoided at all costs. In this article, we will explore the negative aspects associated with this airline. We'll also analyze reviews from passengers who have shared their experiences on renowned platforms such as SkyTrax (Airline Quality), TripAdvisor, TrustPilot, and more.
Overall Ratings of Swoop Airlines on Different Platforms
Let's begin by examining the overall ratings of Swoop Airlines on these prominent platforms:
SkyTrax
Swoop Airlines' rating on SkyTrax, a popular airline review platform, is remarkably low comparing to other well-known airlines.
Despite being a budget airline with minimal passenger amenities, customers have rated the affordability aspect poorly. It indicates the airline's unfavorable practices when it comes to taking advantage of consumers.
TripAdvisor
Swoop Airlines' overall rating on TripAdvisor, a renowned travel platform, is equally disappointing. In fact, it couldn't be any worse. The ratings for customer care, service quality, and value for money are significantly lower when you compare them to industry standards.
Swoop Airlines markets itself as a cost-effective option for travelers, but the reality is far from it. For instance, they charge passengers for basic amenities such as a glass of water for a crying one-year-old baby on board.
It is common sense to pacify the child to maintain a calm environment for other passengers and ensure their satisfaction. However, based on public reports, additional expenses quickly add up, resulting in passengers paying significantly more than their initial fare fees.
Charges for items like food bags, carrying a purse onto the airplane, using the restroom, or requesting a blanket for a cold child can easily double or triple the overall cost.
The initial appearance of affordability vanishes as passengers progress through their flights.
Moreover, Swoop Airlines has a long history of scamming passengers. It does so by manipulating return tickets and making unauthorized charges on their credit cards.
Trust Pilot
Like other platforms, the overall rating of Swoop Airlines is extremely low on this platform, too. Take a look:
Better Business Beauru (bbb.org)
The overall rating of this airline is 1.2 out of 5, which is surprisingly low. It shows just how many unsatisfied passengers have gone through the same nightmare.
Here are some of the sample reviews of passengers of Swoop:
#Deceptive and Scammy Behaviors of Swoop
#Lack of Support, lies, and Scammy Behavior of Swoop
#Scam on Cancellations and Refunds
At first glance, unfortunately, no other airline in the world has such a negative reputation as Swoop has demonstrated when you compile all Swoop Airlines reviews across many platforms.
Why We Don't Suggest Swoop Airlines
Reports suggest that the airline fails to provide promised reimbursements for canceled or heavily delayed flights. It leaves passengers to bear the financial burden.
In some instances, flights are even returned to airports due to mechanical issues, yet they issue no refunds.
Additionally, unsuspecting passengers are surprised by unexpected charges on their credit cards, such as last-minute boarding pass fees. There have been reports of credit card information being collected and sold in black markets. This issue has raised concerns about the security of personal data.
Onboard, they require passengers to purchase everything at inflated prices, including a simple cup of water. Extra baggage, such as purses, can cost up to $150. The charges for exceeding weight limits are also exorbitant and irrational.
Considering the extensive negative feedback across multiple platforms, it becomes evident that Swoop Airlines has acquired a reputation for unethical and fraudulent practices.
Its actions have significantly tarnished the travel industry, with no other airline matching its negative reputation when reviews from various sources are compiled.
Now, let's explore why we strongly discourage choosing Swoop Airlines. Through our research, it has become clear that trusting this airline or corporation is a grave mistake.
In the following sections, we will discuss the numerous issues plaguing Swoop Airlines. We will also present compelling reasons to avoid them at all costs.
#1 Fraudulent and Scammy Behaviors
Swoop Airlines has been involved in various forms of passenger scams. Reviews frequently highlight the following occurrences:
They update Flight tickets with new dates and place significant charges on them.
Cancellations or long delays with no reimbursement for flight fares or hotel stays, despite promises.
They ask passengers to pay four times the original fare for new flights due to cancellations.
Flights are being returned to airports due to mechanical issues, with no refunds provided.
Unwanted charges appearing on credit cards for services passengers were not aware would incur additional fees, such as last-minute boarding pass fees.
Reports suggest credit card information is collected and sold in black markets, potentially leading to unauthorized charges.
Onboard, passengers are compelled to purchase everything at highly inflated prices, including basic necessities like water.
Additional charges for purses, exceeding luggage weight limits, and other services are unreasonably high.
Here are a few reviews illustrating these concerns:
They may also place a big charge on your credit card on their own authorization.
#2 Terrible Customer Service
Customer satisfaction is crucial for any business, particularly those operating in the service industry. When it comes to airlines, hotels, or restaurants, providing real human customer support with compassion is of utmost importance.
Unfortunately, Swoop Airlines falls short in this aspect, lacking customer support entirely and relying solely on an automated bot named Donna. The airline explicitly states on its website that they are unlikely to respond to emails from customers.
Numerous reviews from dissatisfied customers emphasize the absence of human representatives to address their concerns, leaving them with only automated bot responses.
Take a look at these reviews from Airlinequality.com and other sources: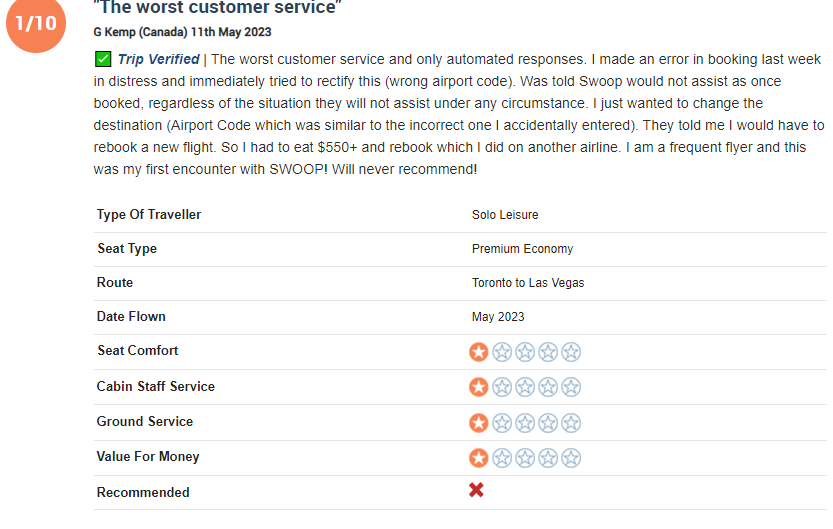 These passengers had frustrating experiences with Swoop Airlines, encountering difficulties in obtaining the necessary assistance.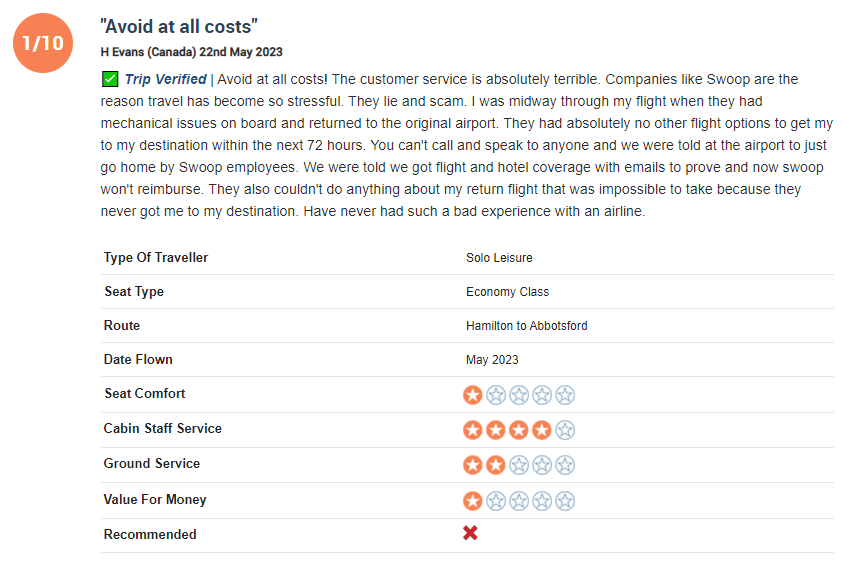 Lack of customer support and compassion is a common theme, with one customer even being charged $452 without their consent.
Imagine unexpectedly having to return home seven days earlier than you planned and being charged an additional amount without any prior notification. Such experiences can make the entire journey a terrible ordeal for the entire family.
#3 Expect Long Delays Often
Swoop Airlines has developed a chronic issue with flight delays, causing significant distress to passengers seeking punctuality and reliability. The airline's operational inefficiencies, limited flight availability, and disregard for timeliness have resulted in a concerning number of delayed and even canceled flights. It's one of the main reasons we don't recommend Swoop Airlines to anyone.
Unfortunately, passengers receive no compensation, except for insulting food coupons worth $20 for a group of six passengers. Lack of proper explanations leaves passengers without a clear understanding of the situation, wasting their valuable time.
Many travelers have missed important events, such as work meetings, family gatherings, or doctor visits, due to Swoop's consistent inability to adhere to schedules.
Take a look at these reviews highlighting the disappointment caused by flight delays: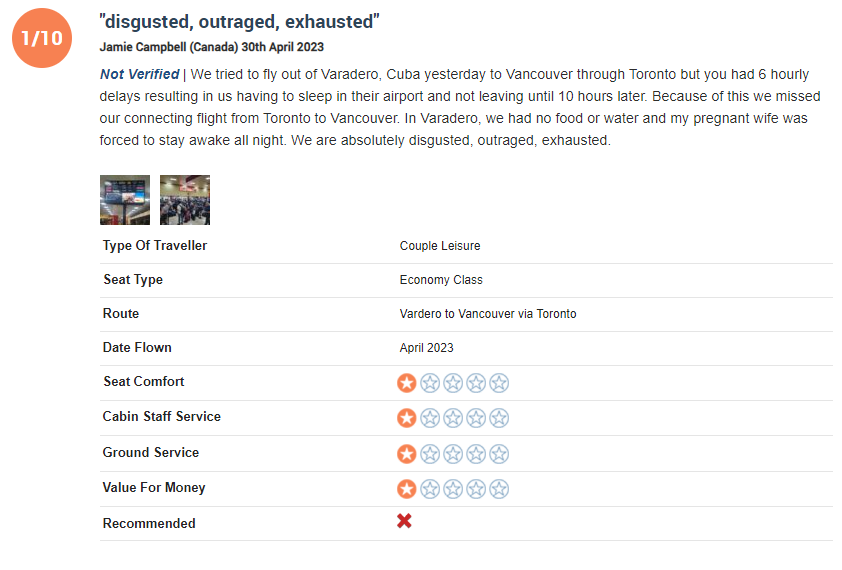 Here's another one: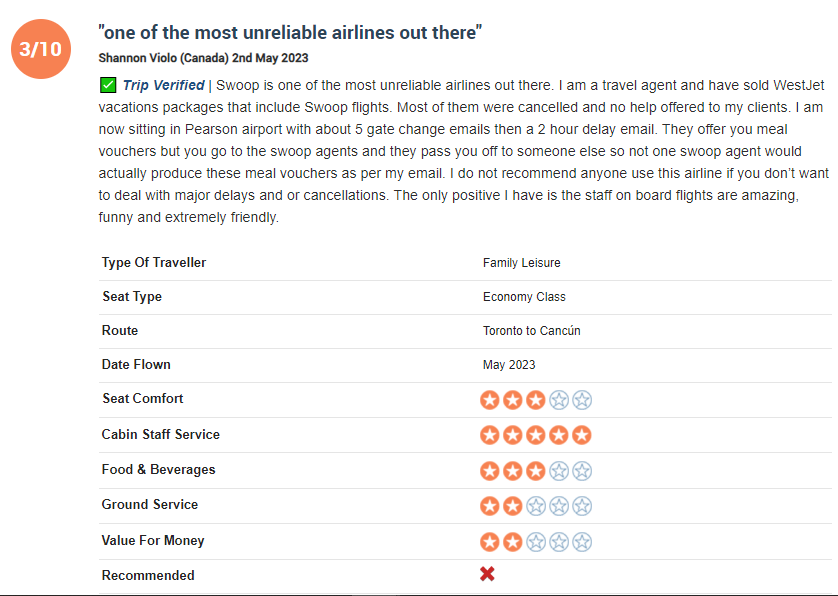 Passengers carefully plan their schedules, whether for work or personal commitments, but Swoop Airlines demonstrates little regard for them.
Lack of timely notifications about delays ruins passengers' travel plans and creates frustration. In some instances, false information has been provided, endangering passengers in potentially hazardous locations.
Passengers are left with wasted time, missed opportunities, and disrupted schedules due to Swoop's failure to inform them properly and in a timely manner.
Consider the experience of this unsatisfied passenger: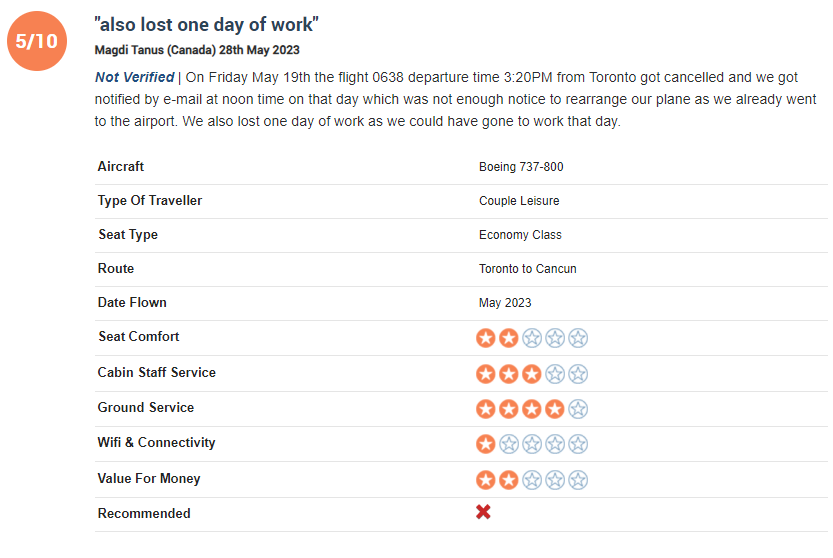 #4 Unreasonable Refund Policy and Frequent Cancellations
One of the major issues plaguing Swoop Airlines is its highly questionable and unacceptable refund policy, which directly contradicts "The Consumer Protection Act, 2019."
Numerous reviews indicate that passengers face significant difficulties in obtaining refunds for cancellations that are not their fault, including instances of lost luggage by Swoop and extensive delays.
The airline has even made promises to refund one side of a return flight but failed to follow through on these commitments.
To illustrate the severity of the problem, consider the case of a passenger who has been trying to secure a refund for the past four months without success.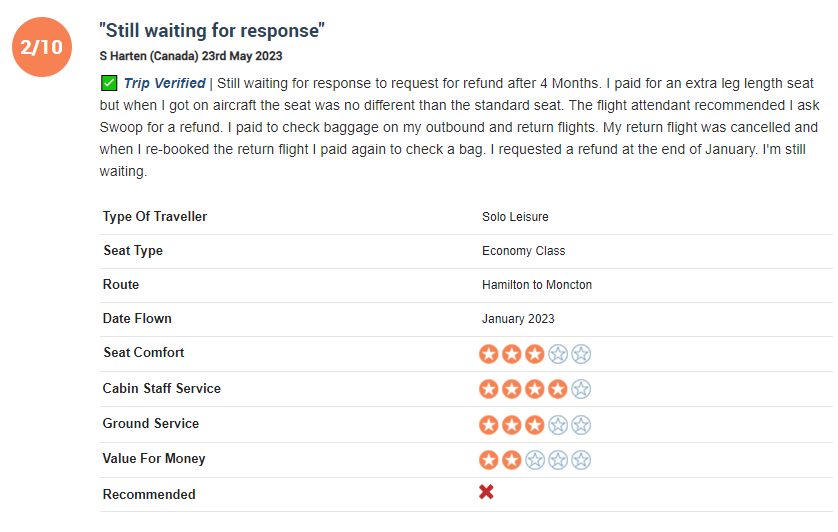 #5 Arbitrary Cancellations and Limited Rebooking Options
One thing that has become evident through the experiences of passengers is the high likelihood of Swoop flights being canceled without any reasonable explanation.
It is not uncommon for approximately 50% of flights to be canceled, leaving passengers without a genuine and honest reason, let alone a refund.
Dealing with non-existent support, unsympathetic staff, and a lack of proper assistance at airports adds to the frustration. This poses a significant risk, particularly for families, group travelers, and those with time-sensitive flights.
If Swoop Airlines fails to secure enough passengers for a particular flight, they are more likely to cancel it to avoid financial losses. As an ultra-low-cost carrier, the airline tends to have lower staff salaries compared to other airlines, leading to a shortage of personnel. Consequently, they only operate flights if they reach full capacity.
First to be Cancelled by Airports
During instances where airports need to reduce the number of incoming flights, ultra-low-cost carriers (ULCCs) like Swoop are often the first ones they cancel. This has been the unfortunate reality for many passengers.
In one reported incident, a Swoop staff member at the gate claimed that their flight was canceled due to Toronto Pearson Airport limiting landings during winter weather conditions. However, it didn't happen to larger airlines arriving in Toronto.
Rebooking Issues and Limitations:
Due to the frequency of cancellations for ULCC flights and the generally limited availability of flights to and from certain destinations, rebooking options become severely restricted.
As a result, passengers may find themselves stranded for extended periods, especially if the ULCC does not offer daily flights to their desired destination.
#6 Lack of Sympathy and Compassion for Sick or Vulnerable Passengers
There have been numerous reports highlighting Swoop Airlines' lack of sympathy and compassion towards passengers in need of immediate medical attention or support, such as parents seeking medical assistance for their children with conditions like diabetes.
People have observed Swoop staff members brushing off these passengers, suggesting they purchase cheap sugar packs or pay unnecessary fees to maintain their return flights.
Customer support has shown no mercy or empathy when dealing with these vulnerable passengers. Here are a few examples:
Passenger with Diabetes
Mother of a Child with Brain Tumor
Lack of Consideration for Families and Children
#7 Flight Changes Allowed Only 72 Hours Prior to Departure
Swoop Airlines imposes a strict policy that prohibits changes to flights less than 72 hours before departure. This means that even in urgent situations, such as requiring a flight extension within 71 hours of departure, it is impossible to make any modifications.
The airline's response is to insist that passengers purchase a new ticket while canceling their existing one, even in cases of emergencies like brain surgery.
#8 Lack of Trustworthiness in Swoop's Communications
In times of disruption, such as flight cancellations, gate managers at Swoop Airlines have been providing misleading information to passengers.
With no direct phone line or proper customer support channel, passengers have no other choice but to rely on these gate managers and accept their manipulative tactics regarding alternative flights or options involving other airlines like WestJet.
#9 In-flight Misconduct by Swoop Staff
One concerning issue that some passengers have raised is the occurrence of in-flight misconduct by Swoop staff members. There have been incidents where the behavior of certain staff members has been less than satisfactory.
Instances of in-flight misconduct can range from rude and unprofessional behavior to violations of passenger rights and protocols. As we mentioned earlier, some passengers have reported instances of staff members displaying a lack of empathy or disregard for customer concerns, creating an unpleasant experience for those involved.
Such incidents can leave passengers feeling disrespected and dissatisfied with the level of service provided.
Unfortunately, Swoop Doesn't take such reports seriously.
#10 Abandonment by Swoop When Choosing Non-Swoop Rebooking Options
Another issue that passengers have raised is the feeling of abandonment when they choose to rebook their flights with non-Swoop options. In situations where flights are canceled or disrupted, airlines often provide rebooking options to affected passengers.
However, many passengers have reported that when they opt for alternative airlines or arrangements, Swoop fails to provide the necessary support or assistance.
Passengers expect airlines to provide guidance and support throughout the rebooking process, regardless of whether they choose to rebook with the same airline or explore other options.
Unfortunately, many passengers claim that Swoop does not adequately assist them when they decide to book with different carriers, leaving them to navigate the rebooking process on their own.
#11 Swoop's Failure to Rectify Their Mistakes
One aspect that has caused frustration among passengers is Swoop's failure to rectify their mistakes promptly. Mistakes and errors are inevitable in any airline operation, but it is how an airline addresses and resolves these issues that set them apart.
Unfortunately, many passengers claim that Swoop has been slow or unresponsive in addressing their concerns or resolving issues that have arisen during their travel.
Delays in compensating for flight disruptions, addressing baggage mishandling, or responding to customer complaints can leave passengers feeling unheard and dissatisfied.
Conclusion
In this article, we have shed light on the reasons why it is advisable to avoid Swoop Airlines due to their numerous shortcomings. They exhibit a lack of compatibility in several aspects, jeopardizing the time, money, and comfort of their passengers.
We encourage you to consider traveling with other companies that prioritize customer satisfaction and uphold industry standards.
For inquiries or corrections regarding this article, please contact me, Mohammad Nambakhsh, the original author, at msnambakhsh2011@gmail.com.
I personally experienced a nightmarish trip with Swoop Airlines in June 2023 when traveling from Toronto to Punta Cana.