Want to build a good reputation in the marketing world? High-quality content is the core of a successful marketing campaign. It helps a business gain trust and recognition as an industry expert. For digital marketers, content creation is their top priority.
To achieve this, you can use the ultimate guide to content marketing and various content marketing tools, which will help you excel in your content marketing efforts. In this article, we'll discuss the content marketing tools to boost your marketing campaign.
What Are Content Marketing Tools?
Have you ever felt desperate, not knowing what to do with your content marketing? Well, there are some marketing tools available to give you a hand.
Content marketing tools are software, platforms, or applications created to help marketers with content creation, management, and optimization for their campaigns. They offer various functions to streamline content processes, distribution, and analysis, enabling businesses to attract and engage their target audience effectively.
If you're wondering how to develop a content marketing strategy for small businesses, these tools can be invaluable resources. They assist marketers in optimizing their content marketing efforts, enhancing productivity, and achieving better results in reaching and engaging their target audience.
Why Should We Use Content Marketing Tools?
According to what we said earlier, content marketing is necessary for promoting a brand's products and services even for small businesses. To succeed, you need the right technology and tools to support your strategy. It helps a business become a trustworthy authority in its industry. Surprisingly, digital marketers prioritize content creation.
In the following, we're going to discuss the top content marketing tools to help you choose the best one.
Read also: Content marketing for small businesses 
7 Best Content Marketing Tools
As we previously mentioned, content marketing tools are software, platforms, or applications designed to assist marketers with content creation, management, and optimization for their campaigns. Here are some examples of content marketing tools.
1. Hubspot
Hubspot is an American company that develops and markets software products for inbound marketing, sales, and customer service.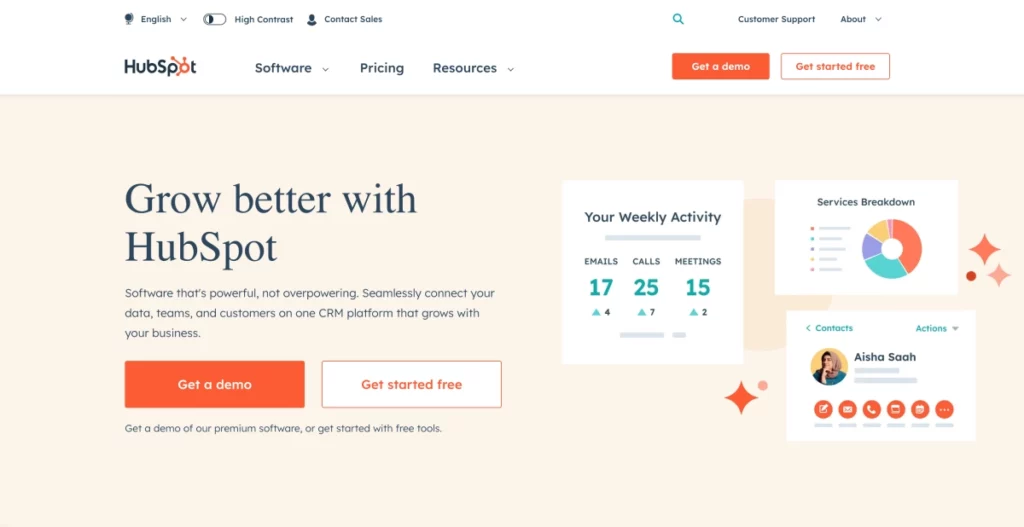 This content marketing tool offers a wide range of products and services, including customer relationship management, social media marketing, content management, etc.
After distributing content and setting up your account, HubSpot analyzes your marketing strategy's sales and overall performance.
Hubspot Pros
Easy to use,
Have free access to many features,
Reliable platform.
Hubspot Cons
It can be costly at some point,
Requires help to use advanced features,
Customizing templates can be challenging.
Hubspot Pricing
Professionals: Start at €792/mo
Enterprise: Starts at €3,300/mo
2. Buzzsumo
Looking to supercharge your content marketing efforts? Have you heard about Buzzsumo? Buzzsumo Buzzsumo is a great content marketing tool that helps you with content research, influencer marketing, content analysis, trending topics, and performance monitoring.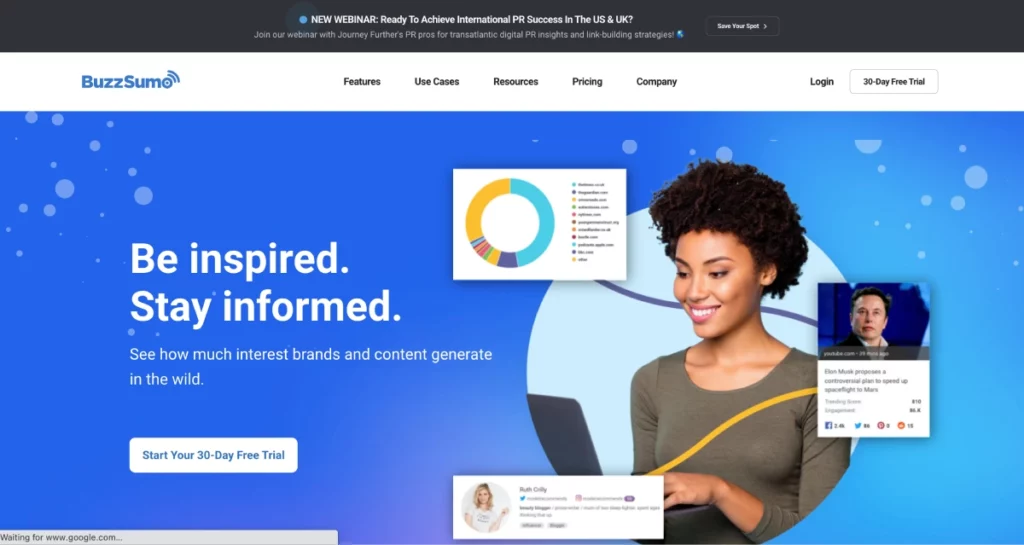 Researching content ideas, competition, and target keywords can be time-consuming. But according to their claim, this content marketing tool can make it easier by showing popular posts related to specific keywords.
You can also sort these results based on their popularity on social networks like Facebook, Twitter, and Pinterest. This way, you can find content ideas that will appeal to your target audience.
Buzzsumo Pros
Easily tailored to your content marketing goals.
Flexible content planning and marketing features.
Comprehensive performance metrics and analytics.
Buzzsumo Cons
Contracts should be annual.
Expensive for small businesses.
Limited A/B testing on lower-tier plans.
Buzzsumo Pricing
Basic: $119 /mo
Suite: $499 /mo
Content Creation: $249 /mo
PR & Comms: $249 /mo
Enterprise: $999 /mo
3. WordPress
If you want to create excellent blog content effortlessly, WordPress is the perfect tool for you. It provides marketers with everything they need to build a website or blog, a user-friendly publishing platform for content creation, seamless content uploading, visitor tracking, and streamlined marketing optimization.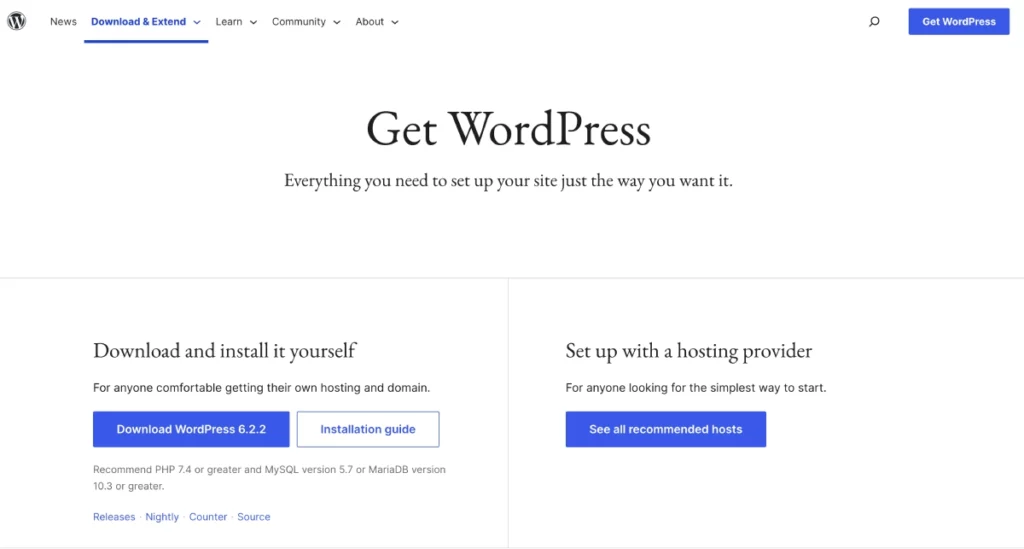 WordPress Pros
Adjusts to different screen sizes and devices for a better user experience.
It has open-source software or platforms that are free to use, and people can also modify and share the code with others without any restrictions.
Easy to use for all users, even those with little or no technical experience
WordPress Cons
Themes may have unnecessary code that slows down your site. If you need to become more familiar with WordPress, it's hard to know what code you need.
As an open-source platform, WordPress can attract hackers. To stay safe, choose plugins and themes carefully, and assess their quality before installation.
WordPress Pricing
Personal: $4/month billed annually
Premium: $8/ month billed annually
Business: $25/month billed annually
eCommerce: $45/month billed annually
4. Trello
Looking for an efficient way to plan and collaborate on projects? Trello is an efficient tool for planning and collaboration. It uses boards to represent projects and cards to represent tasks, helping you keep everything organized in one place. It also integrates with other applications commonly used in content marketing.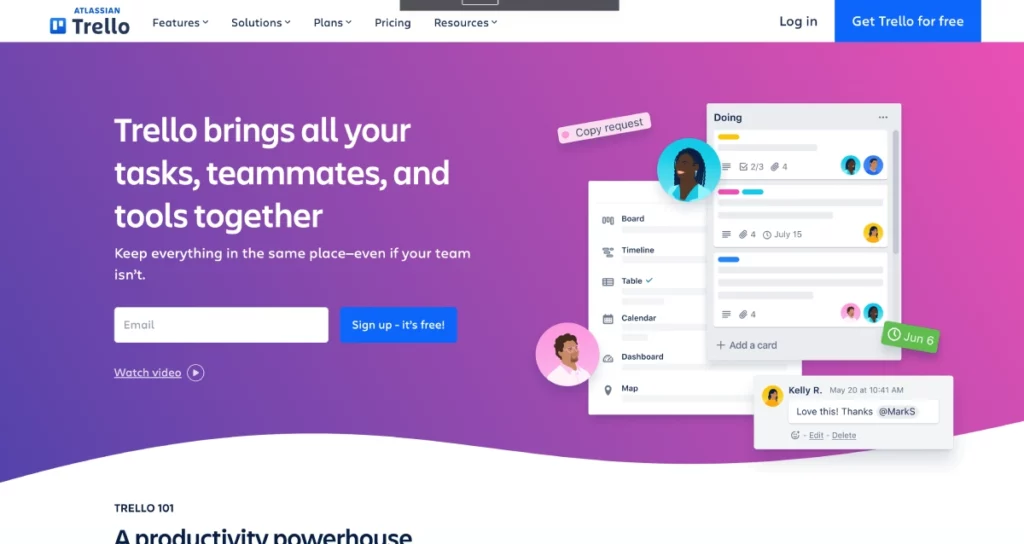 With this platform, you can effortlessly track tasks and assignments, ensuring you never miss deadlines. You'll have visibility into who's working on what, their progress, and completed tasks.
Trello Pros
Simple task management,
Intuitive drag-and-drop system,
Flexible multi-board workspaces,
Streamlines project visualization and organization.
Trello Cons
Limited task hierarchy levels and reporting options,
Privacy settings have some limitations,
The free version restricts attachment size and integrations.
Trello Pricing
Free: $0 USD
Standard: $5 USD
Premium: $10 USD
Enterprise: $17.50 USD
5. Asana
With Asana, you can easily assign tasks to team members, leave comments, track project status, and share documents. This feature helps you meet deadlines and maintain content quality control effortlessly.
This content marketing tool is perfect for all types of projects and works for on-site and remote teams.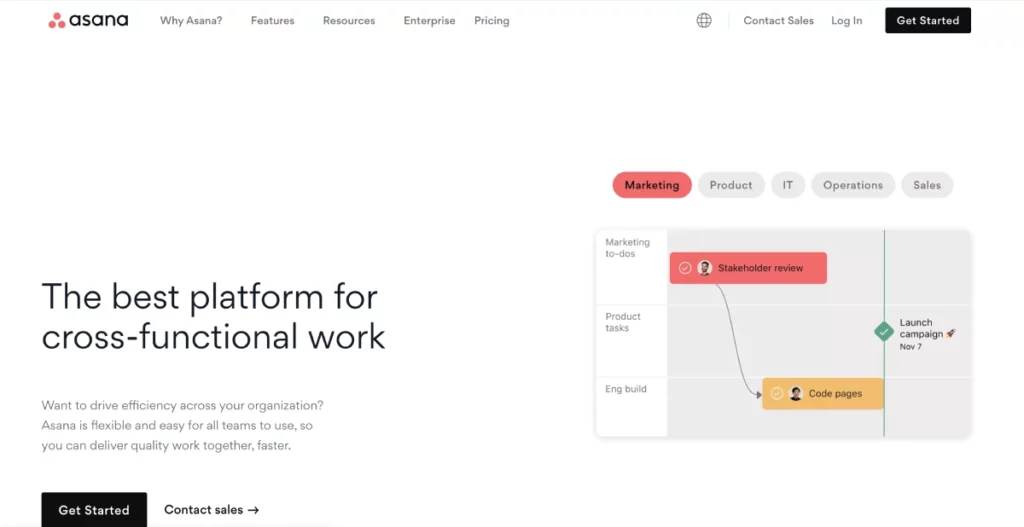 Asana Pros
Asana's free plan is perfect for small and medium-sized businesses,
It also offers numerous integrations with third-party apps like Salesforce, Slack, Dropbox, Google Calendar, and more.
Asana Cons
Understanding the Asana interface can be challenging for new users.
Adding new features can make the application complex and lead to problems.
It doesn't have time tracking.
Asana lacks built-in content planning features.
Best used for Project management, team collaboration, lead tracking, content workflows, and automation.
Asana Pricing
For individuals or teams just getting started with project management, the pricing is free.
For teams that need to create project plans with confidence have to pay € 13.49 billed monthly.
For teams and companies that need to manage work across initiatives need to pay € 30.49 billed monthly.
6. Yoast
Want to boost your content's visibility with SEO? Yoast is a top content marketing tool for SEO-focused content. It optimizes content for keywords, helps with meta descriptions, suggests relevant internal links, and handles technical SEO tasks.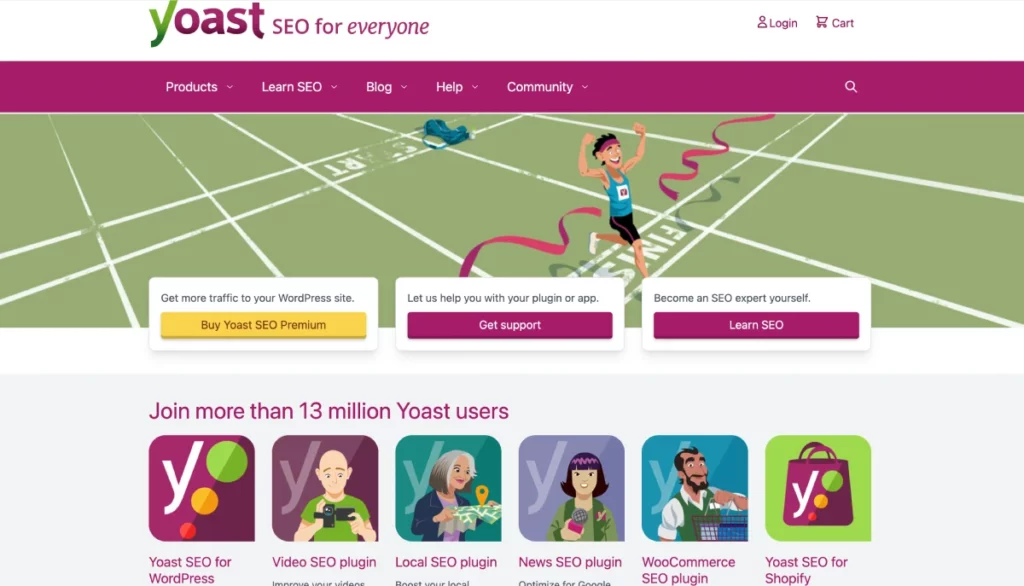 It rates the readability and SEO-friendliness of your content in real-time and highlights specific issues for you to address while you work. It's designed mainly for WordPress sites, so it offers many features dedicated to WordPress optimization.
You can also access their educational online courses about SEO by purchasing their high-end plans.
Yoast Pros
On-Page Optimization,
Yoast SEO is the best plugin for adding meta tags,
Yoast SEO plugin boosts rankings on SERPs by optimizing content, meta tags, and other vital SEO elements, enhancing visibility and potential for higher rankings.
Yoast Cons
Adding automatic features would be beneficial.
Comparing before and after scores.
Additional tutorials are beneficial.
Yoast Pricing
Get Yoast Premium: €99 EUR
7. Google Analytics
Google Analytics is another important free content marketing tool used widely by most platforms online. Not only can you track product purchases and form submissions, but you can also set up behavioral events.
It also provides marketers with in-depth reporting and analysis of website data. It tracks customer engagement with ads, website content, and social tools on all devices, helping managers understand what works on their site and adjust content strategies effectively.
This content marketing analytics tool also helps you track important metrics like page views, session duration, and bounce rate. This lets you know what content your audience loves.
Google Analytics Pros
Google Analytics tracks key metrics like page views, session duration, and bounce rate, revealing your audience's preferred content.
Tailored dashboards for your specific needs.
Free and available for everyone
Google Analytics Cons
Difficult to learn at first.
Limited keyword data are accessible.
Data susceptibility to spam and bot traffic (with available filters).
Google Analytics Pricing
Google Analytics is a free marketing tool.
Read also: How to Develop a content marketing strategy
Conclusion
As a result of what we said, Content marketing is essential for promoting products and services, even for small businesses. To succeed, you need the right technology and tools to support your strategy.
FAQs
1. What Are Examples of Content Marketing?
Content marketing examples include various media formats such as newsletters, podcasts, social media posts, and videos. The goal of all these forms of content is to provide valuable and relevant information that delights users and attracts them to your brand.
2. What Is a Content Marketing Format?
In marketing, content formats refer to different approaches to presenting content that can be shared through various media types. For instance, an advertisement can be in the form of a video or a social media post, making it a content format in itself.