In recent years, Video games have become popular among teenagers and even adults. One of the famous games is Minecraft which got noticed by millions of users in the first months after launch. That's why there are many Minecraft YouTubers showing users tricks and different strategies for this game.
If you are a fan of this game and want to play it better or want to know how to become a YouTuber for this game, we have your answer. In this article, we will introduce you to some of the best Minecraft YouTubers to subscribe to and get inspired.
What Is A Minecraft YouTuber?
In 2011, Mojang Studios introduced a new game in the Java language created by Markus Presson called Minecraft. Minecraft is called the best-selling video game with more than 238 million copies. In 2021, this game had more than 140 million monthly active users.
In Minecraft, you can discover and create your own world, fight hostile mobs, extract materials, build structures, etc. This game also offers different forms of user-generated content such as modifications, servers, skins, texture packs, and custom maps.
Similar to other video games, some YouTubers focus on creating videos about this game and attending live streams. So if you are a fan of this game, checking popular Minecraft YouTubers can show you tips and tricks around the world.
Top 15 Minecraft YouTubers
Are you looking for some of the best gaming YouTubers to show you where you can find gold and other materials on Minecraft and craft buildings? Here are the top accounts to check and subscribe to.
1.PewDiePie – 111M Subscribers
When talking about famous Minecraft YouTubers, one of the first names that comes to mind is PewDiePie. Felix Arvid Ulf Kjellberg is Swedish YouTuber born in 1989 in Gutenburg. Most of his fame is because of the Let's Play videos and comedic formatted videos and shows making him one of the content creators with the best personalities.
Without any doubt, Fekix is one of the old Minecraft YouTubers who created his channel in 2006. His first videos were about video game commentaries, most notably of horror and action video games. In 2011, he started live streaming gameplays on Minecraft and Call of Duty which led to his fame.
2. MikeCrack – 42.9M Subscribers
Started his YouTube channel by sharing magic trick videos, Mike Crack is a well-known name for many YouTubers. Miguel Bernal Montes is a Spanish Minecraft YouTuber born in 1993. He joined YouTube in 2009 and since then has kept sharing content about video games (mostly Minecraft), animations, and musical parodies.
In 2020, Forbes Spain magazine named Bernal on their list of the top 100 influencers in Spain for the year. Today, his channel has over 12.22 Billion views, making him one of the most popular Minecraft YouTubers.
3. MrBeast Gaming – 38.1M Subscribers
James Stephen Donaldson (professionally known as Mrbeast) is an American YouTuber and entrepreneur born in 1998. He is one of the biggest Minecraft YouTubers who has two different channels. In one of the channels, he shares content about the game and different tips and tricks and on the second one, he hosts Minecraft challenges.
In the challenges, he invites Minecraft players to compete with each other and he gives money to the winners. James is one of the top Minecraft YouTubers who is popular for these challenges with big prizes.
4. Dream 31.8M – Subscribers
One of the old Minecraft YouTubers whose account has more than 2.85 billion views in over 110 videos is Dream. He started his YouTube channel in 2014, but his account started to rise in 2018 when he shared his PewDiePie's Minecraft world.
Drean holds the world record of the most viewed Minecraft gameplay video on YouTube with more than 118 million views. His videos are mostly about his manhunt series (playing Minecraft while being chased by hunters), showing his Minecraft hostage simulator, different challenges, etc. If you like his videos, you can also follow him on Twitch to watch live streams.
5. Dan TDM – 27.6M Subscribers
Daniel Robert Middleton (known online as DanTDM) is a British YouTuber, author, and gamer born in 1991 in the UK. He is one of the most famous Minecraft YouTubers who started his channel in 2013 and has recently celebrated its 10th anniversary on YouTube with a video.
Dan is one of the popular Minecraft YouTubers who also shares videos of other online games such as Roblox, Polemon, and Sonic the Hedgehog. In 2015, DanTDM's channel was listed as one of the most popular YouTube accounts by viewership. In 2023, Dan is on the list of Minecraft YouTubers with over 19 billion views and 3,500 videos.
6. Jelly 23.5M Subscribers
One of the OG Minecraft YouTubers that has been around since 2014 is Jelly. Jelle van Vucht is a Dutch YouTuber born in 1996 who started his career when he was 17. His YouTube account grew so fast and only after a year, in 2015, he got 1 million subscribers.
Jelly's YouTube channel is filled with gaming videos and daily vlogs and his key to success is sharing videos regularly, multiple times a week. So, if you are looking for the best Minecraft YouTubers, make sure to check his channel.
7. SSundee 22.6M Subscriber
Ian Marcus Stapleton is an American YouTube gamer born in 1987 who joined YouTube in 2009. His first YouTube video was uploaded in 2011 under the title 'Minecraft Cave Adventure'. In 2013, Ian joined Team Crafted, and after that, he became one of the best Minecraft YouTuber names. SSundee channel is now filled with playing modded Minecraft and Among Us gameplay.
8. Aphmau – 18M Subscribers
Now, it's finally time for a female streamer. Jessica Bravura (known online as Aphmau) is an American YouTuber born in 1989. Jessica is one of the famous female Minecraft YouTubers who share role-play videos with her friends, playing different scenarios. She also plays Roblox and Among Us, but her main focus is on Minecraft.
9. PrestonPlays 14.7M Subscribers
If you are looking for Roblox YouTubers who also play Minecraft, PrestonPlays is the YouTube channel you need to check. Preston Blaine Arsement is an American YouTuber born in 1994 who joined YouTube in 2012. He is now one of the top Minecraft YouTubers who also produces content about Roblox and Among Us.
10. WiederDude – 13.2M Subscribers
If you are looking for fun Minecraft videos, the WiederDude channel on YouTube is what you need to check. WiederDude is an American YouTuber who joined this platform in 2016 and soon after got famous for his NOOB VS PRO VS. HACKER VS. GOD-kind videos. Besides these fun videos, he shares a series of tutorials about the game to help beginners.
11. CaptainSparklez – 11.4M Subscribers
Started his career by sharing 'Call of Duty' videos, CaptainSparklez is now one of the most famous Minecraft YouTubers. Jordan Maron (known online as CaptainSparklez), is an American YouTuber and Twitch streamer born in 1992. He joined YouTube in 2010, but his most fame is for the Minecraft-themed songs and song parodies he created in collaboration with vocalist TryHardNinja in 2015.
12. GeorgeNotFound – 10.3M Subscribers
Although he created his channel on YouTube in 2013, his first video was uploaded long after, in 2019. George Davidson is a British YouTuber and Twitch streamer born in 1996. His channel is all about Minecraft tricks and gameplay as well as collaboration videos with other YouTubers such as Dream and Mr.Beast. He also regularly participates in MC Championship (MCC) tournaments along with other Minecraft content creators.
13. Grian – 8.02M Subscribers
Checking the list of Minecraft YouTubers for beginners and experts, Grian is a known name. Grian is a Hermit and a YouTuber who joined Hermitcraft at the start of Season 6. His channel focuses on building Mindcraft houses and tutorials for beginners.
14. UnspeakablePlays – 7.65M Subscribers
Nathan Johnson Graham (popularly known as UnspeakableGaming) is an American YouTuber born in 1997. He started his YouTube channel 'UnspeakableGaming' in 2012, which name has now changed to 'Unspeakable Reacts' and has more than 12M subscribers.
Nathan's second channel is named Unspeakableplays, where he uploads gameplays of Minecraft, Roblox, and GTA.
15. LDShadowLady – 7.07M Subscribers
Another queen on the list of female Minecraft YouTubers is the LDShadowLady. Lizzie is a 30-year-old British YouTuber who is famous for her Minecraft series from the very beginning. She has been a member of the Empires SMP since its first season when she played the Queen of the Ocean Empire.
Her career on YouTube started in 2010 by uploading videos and gameplays of 'Call of Duty'. But after the Minecraft release, she changed the channel to this game.
How To Earn Money On YouTube?
As you know, YouTube pays creators based on the views they receive on their videos. But that's not the only way to earn money on the platform. In fact, by becoming an influencer and collaborating with brands, you can earn much more money. But how to find brands that are looking for influencers?
If you are using Instagram and TikTok besides your YouTube channel, we have the best solution for you. Ainfluencer is an influencer marketing platform that connects brands and influencers of all sizes across different niches. With powerful search engine and AI-powered filters (based on hashtags, location, niche, budget, engagement metrics, etc.) you can find your best match in a couple of seconds.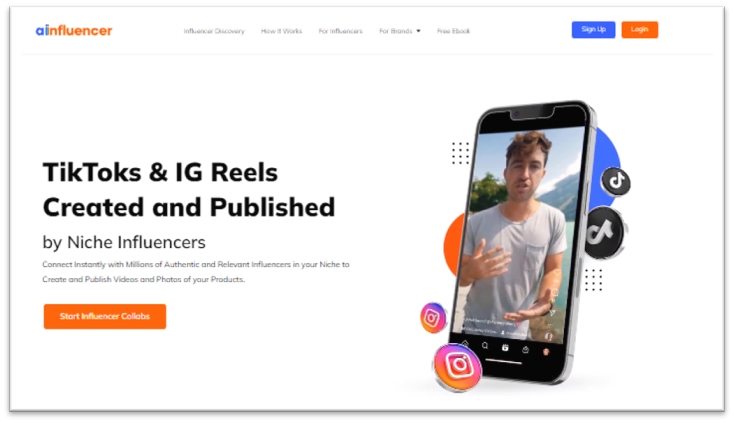 You don't need a massive following to start your work on Ainfluencer. Once you hit the 5k followers mark on your social media account, you are ready to earn money. And you know the best part? It's completely free to use.
FAQs
1. How Do Minecraft YouTubers Monetize Their Content?
Minecraft YouTubers can monetize their content through ad revenue, sponsored content, merchandise sales, and donations from their fans. How much YouTubers can make depends on the monetization methods they choose and can vary based on their subscribers. 

2. Are There Any Age Restrictions For Minecraft Content Creators On YouTube?
YouTube's age restriction policies apply to all content creators, including Minecraft YouTubers. Creators must adhere to the platform's guidelines and ensure their content is suitable for all audiences.

3. Can I Become A Minecraft YouTuber, Even If I'm New To The Game?
Absolutely! Many successful Minecraft YouTubers started with little experience. The key is to be passionate about the game, create engaging content, and connect with the Minecraft community. With dedication and creativity, anyone can become a Minecraft content creator.

4. How Can I Promote My Minecraft YouTube Channel And Grow My Audience?
Growing a Minecraft YouTube channel requires consistent content creation and effective promotion. You can start by sharing your videos on social media platforms, collaborating with other YouTubers, and participating in Minecraft forums and communities. Engaging with your viewers through comments and responding to their feedback can also foster a loyal fanbase.