Why do brands and influencers need to schedule Instagram posts in advance?
In an influencer program, a brand's strategy and an influencer's consistency are indicative of a formal contract. So, based on the strategy a brand is trying to develop, it is vital for influencers not to miss a publishing date.
Keeping this in mind, using a scheduler may not be the main incentive for brands and influencers to join an Instagram influencer marketing hub. A reliable influencer hub provides a platform where brands and influencers can easily connect.
Ainfluencer, however, promises to be an Instagram influencer marketing platform that boasts and covers all features you may need either as an influencer or a brand.
This article will tell you how you can join Ainfluencer, create a successful Instagram influencer program, and also schedule Instagram posts.
How to Schedule Instagram Posts on Ainfluencer?
Ainfluencer is a platform designed for both brands and influencers.
As a brand, scheduling your ad is a time-saving way to maintain quality and consistency. It also gives you enough time to find influencers and make sure you have carefully planned everything ahead to prevent any unnecessary effort.
To schedule a post or ad, you actually need to create one first. So, what you need to do first, is to join Ainfluencer as a brand. It will take you only a few seconds to write in your name, add your email address and create a password.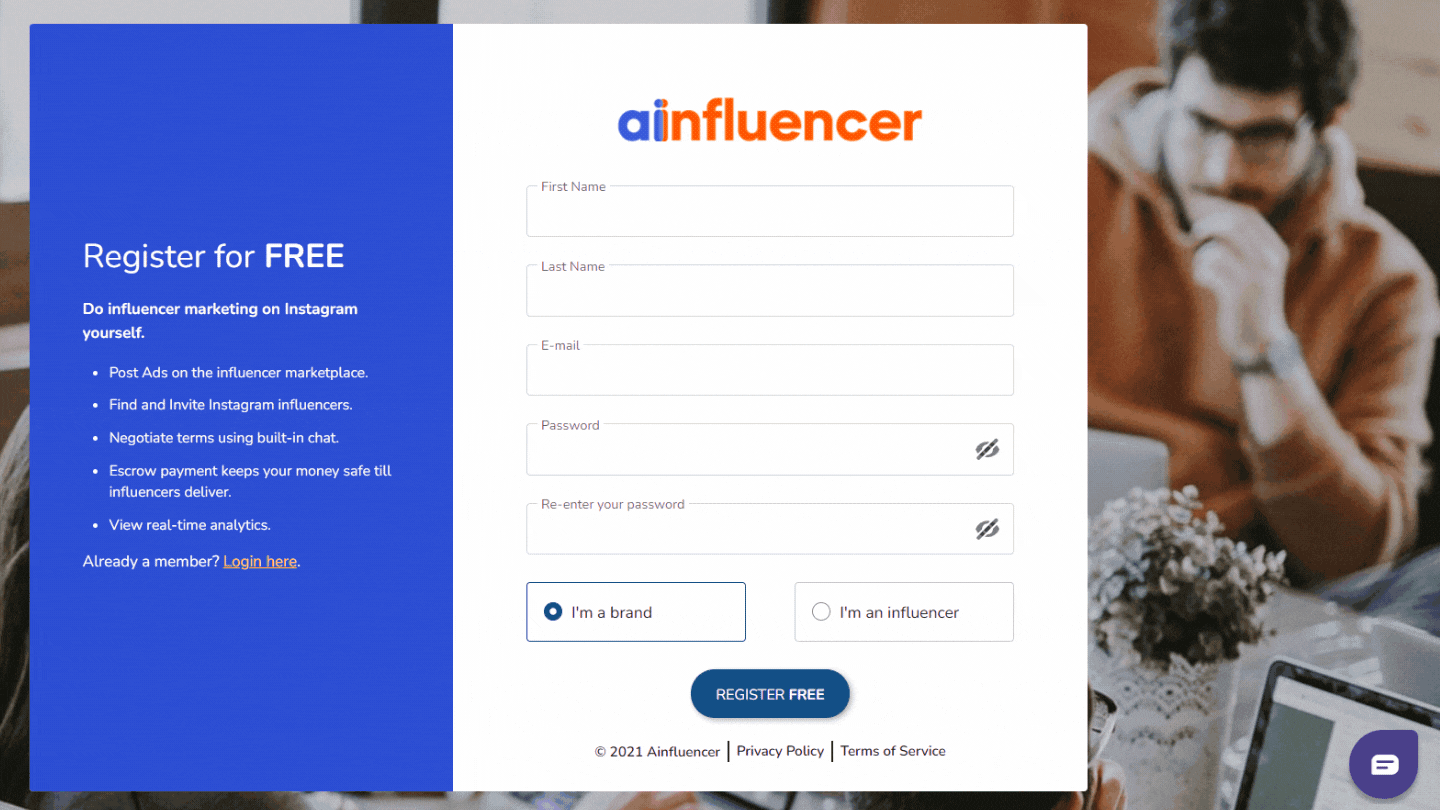 On Ainfluencer, it takes you 5 steps to create ads, each serving a particular purpose, including scheduling your Instagram posts.
Here is how.
1. Set Your Goals
To access the first step, go to "Ads" and click on "Create New Ads". select one or more of the objectives below.
Get Influencers to create content and promote it on their Instagram.
Have influencers demo and promote your product on their Instagram.
Publish your existing content & promotional ads on their Instagram.
Barter product in exchange for promoting your products or services.
To move to the next step, click on "Save & Next".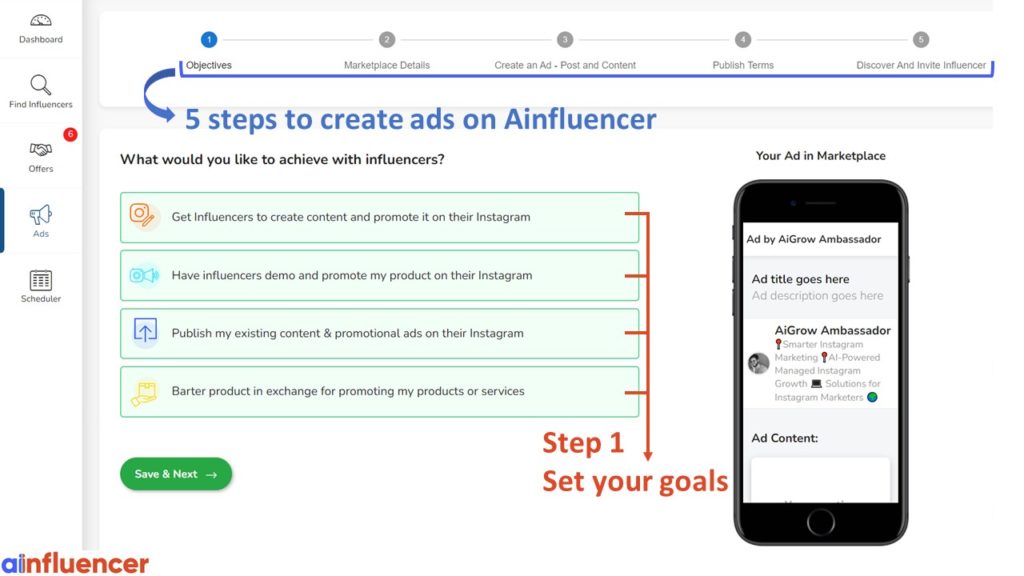 2. Create a Title and Description for Your Ad
Use this step to indicate how you will present your ad to an influencer. So, try to include every important feature in your description, such as your goals, product highlights, the type of influencers you wish to work with, and target customer demographics.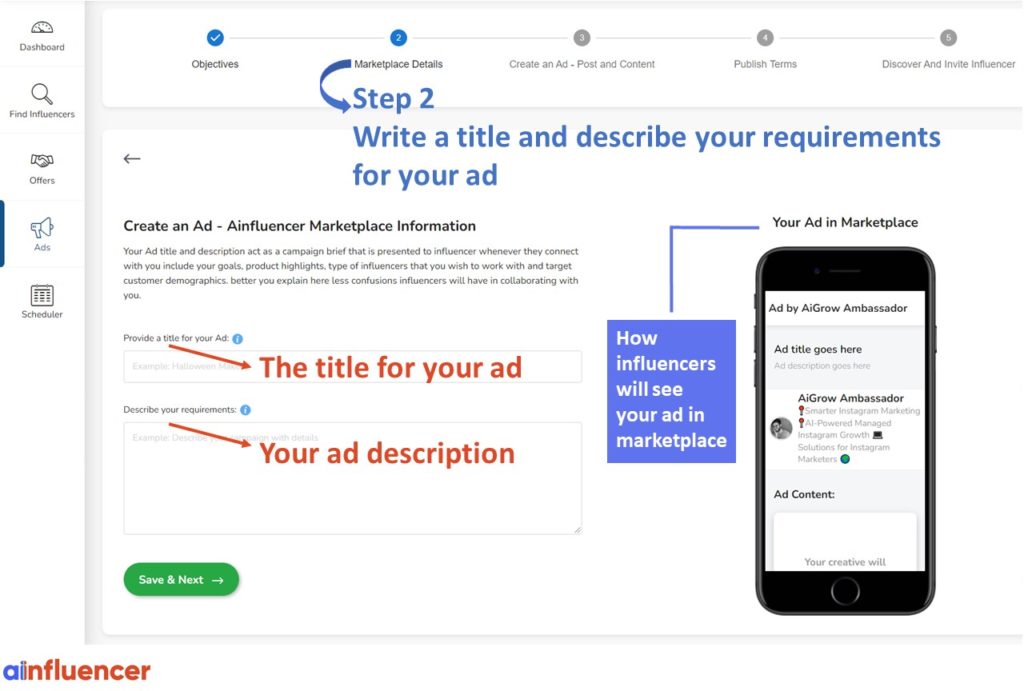 3. Select the Type of Your Content
You can select one of the 4 types below for how content will publish.
Feed posts
Stories
Reels
IGTV videos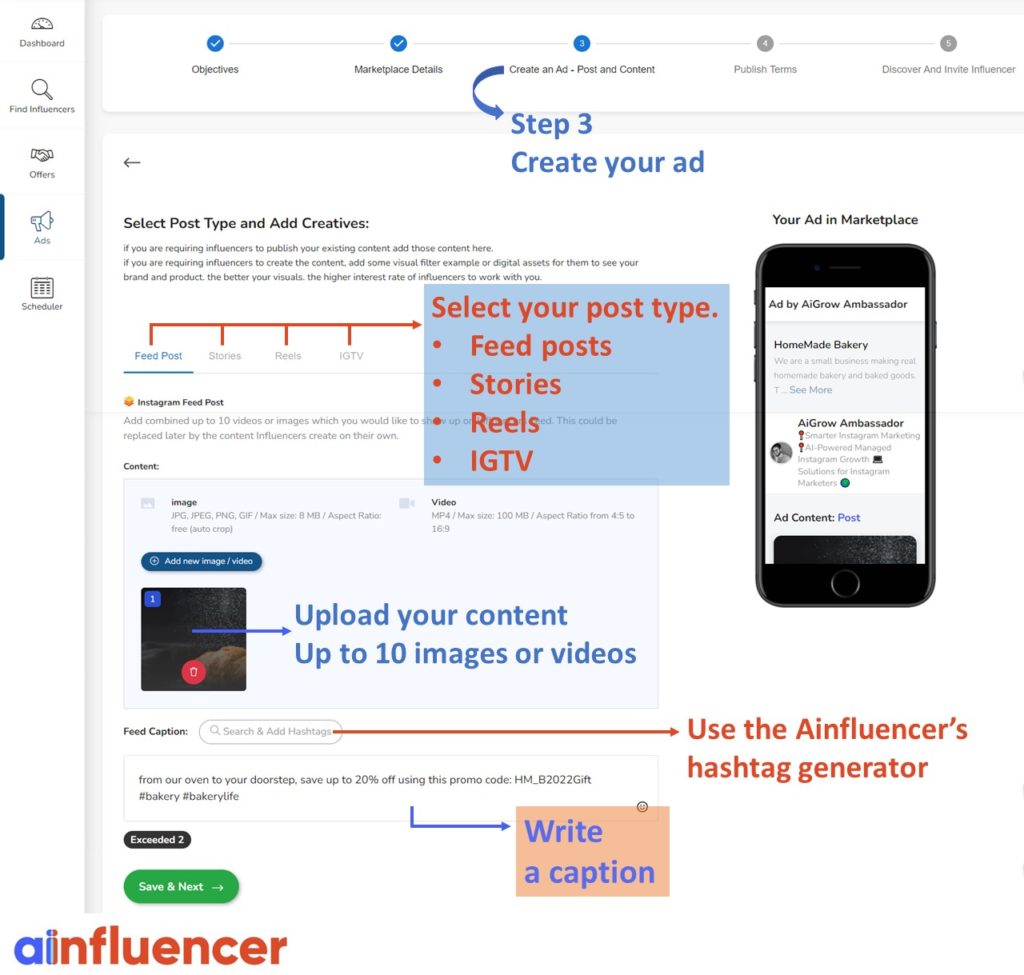 4. Schedule Your Instagram Post
Turning to step 4, you get the chance to schedule your Instagram post by deciding when and for how long your ad is going to be on your influencer's page.
Ad publication date: Decide if you have any limitations on when influencers can post, or set a date range for when you want the content to be published.
Time Span: Choose one of the options – negotiate, permanent, or set a specific date – to indicate how long your ad will remain on the influencers' page.
Also, If you want to add a link in the influencer's bio, select "Yes" and copy your link in the box that pops up.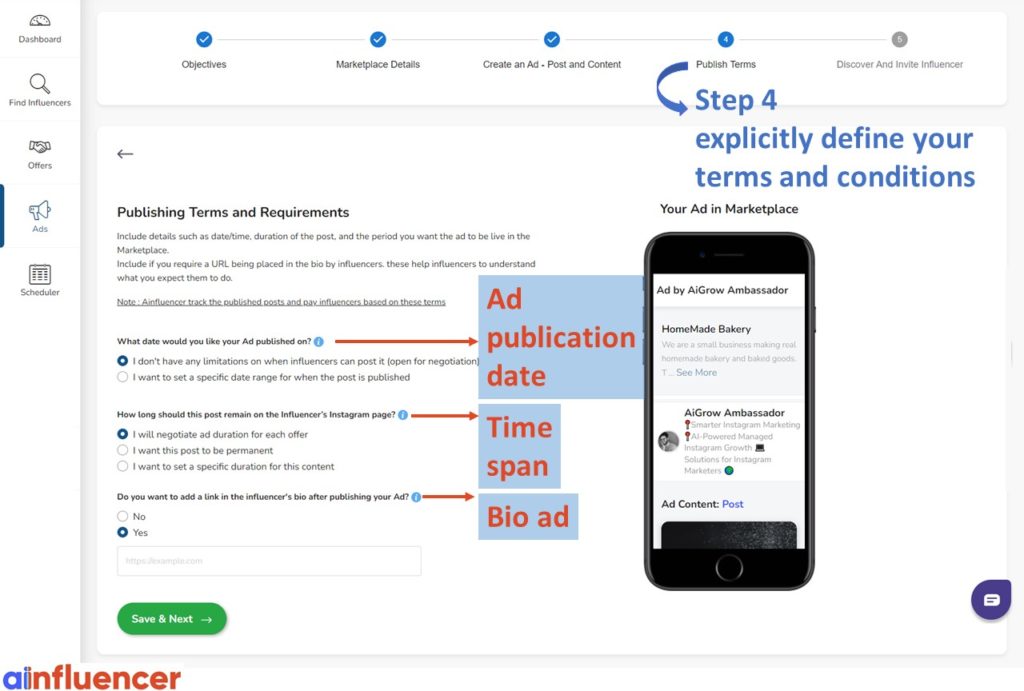 5. Begin Discovering Influencers
Although you can go to the "Find influencers" tab for a more detailed search to find influencers, this step allows you to help the Ainfluencer's AI to understand better what type of influencer you are looking for by adding relevant hashtags to your ad.
Finally, you can see how and when each ad is scheduled on your calendar through the schedular tab. What's more, you can see whether each scheduled post on your calendar is published by your influencer, pending, or failed.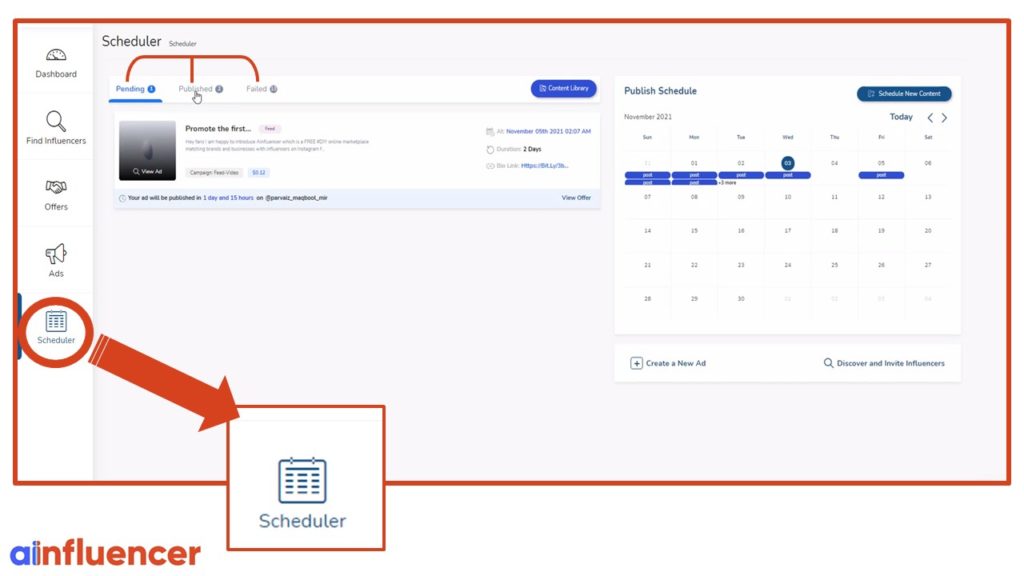 How to Schedule Instagram Posts on Ainfluencer As an Influencer?
One thing that plays a major role in an influencer career is to get their hands on the best ads, whether by getting invited to an influencer program or making brands offer to collaborate.
To explore and discover the best ads, join Ainfluencer as an influencer first.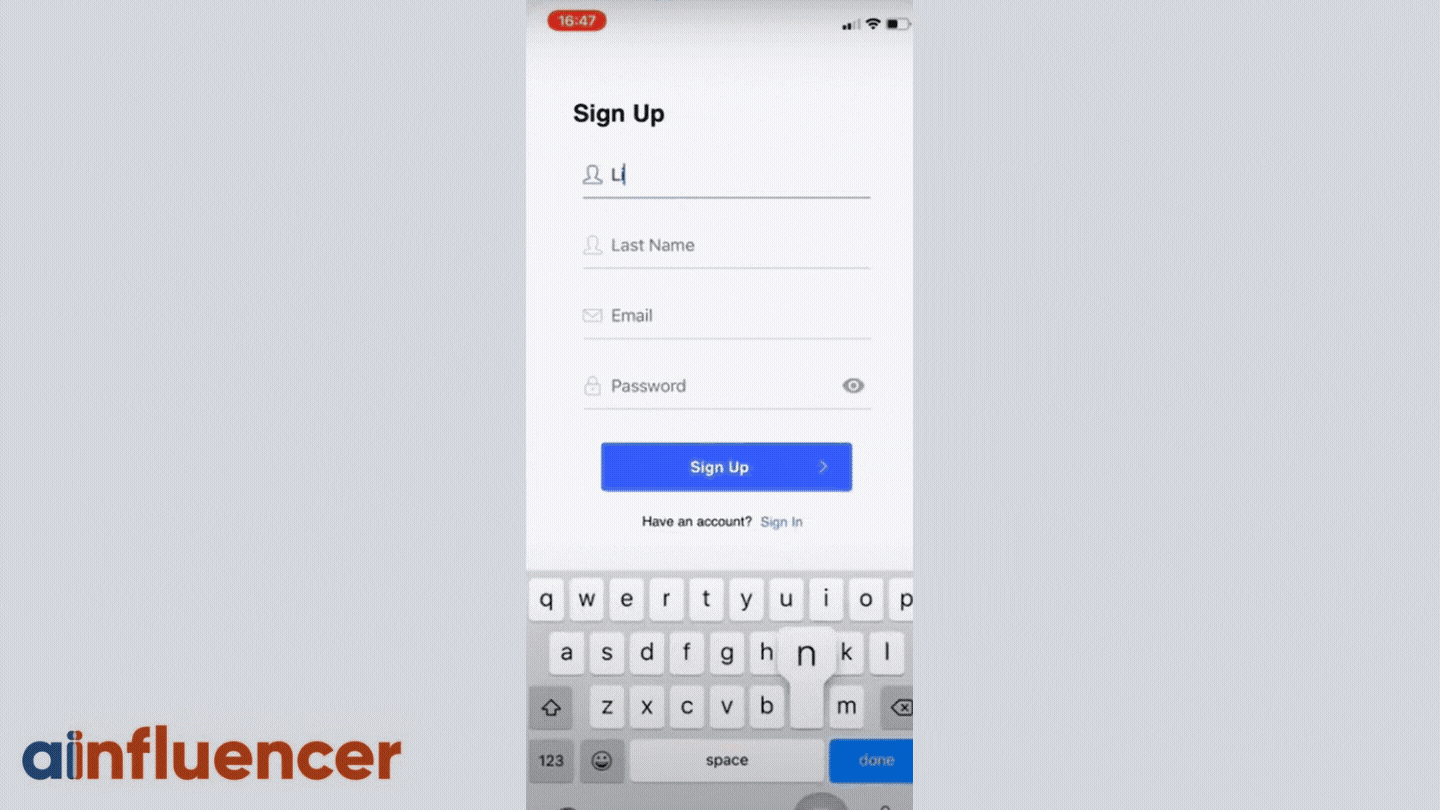 It is pretty much the same as signing up as a brand. You should enter your name and email address, and then create a password. However, as an influencer, you should also connect one or multiple Instagram accounts.
Watch this video to walk through a step-by-step guide on how to connect your Instagram account to the Ainfluencer app.
Once you have access to your dashboard on Ainfluencer, you need to enter a contract with a brand so there will be an Instagram post to schedule.
Let's see how.
1. Explore the Ads
Go to "Explorer" and navigate through all ads available on Ainfluencer or choose the "Invited" tab to only see the ads that brands are open to working with you. Keep in mind that both tabs provide thousands of opportunities.
Each ad that you select, gives you insight into both the brand and the ad's description – what does the brand expect from that ad. Pick the ones that you feel are right for you, and make a conversation with brands in the Ainfluencer's in-app chatbox.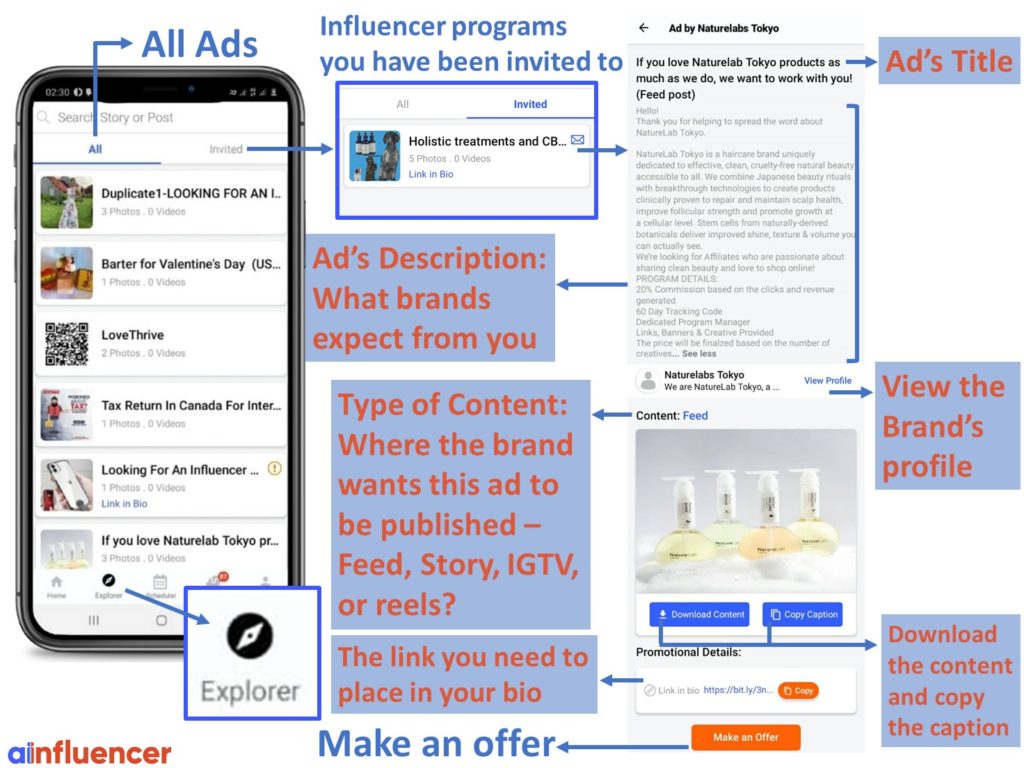 2. Schedule your Instagram post
If any conversation with brands results in closing the deal, the next step for you as an influencer is to schedule your post.
Remember that Ainfluencer will not release any payments until you have fulfilled your contract. Luckily, the "Scheduler" tab covers all those terms for you – from the publishing date, content, and caption to the removal date.
First, tap on the addition sign at the bottom right corner of the screen.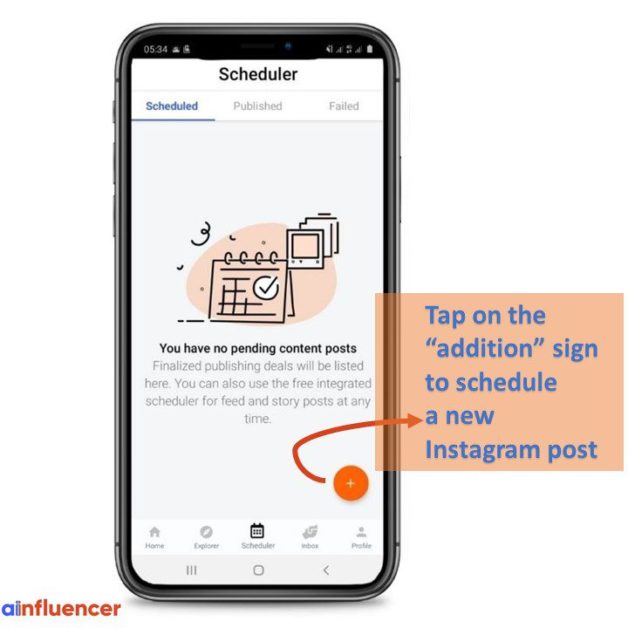 Next, upload your content and write the caption as agreed with the brand.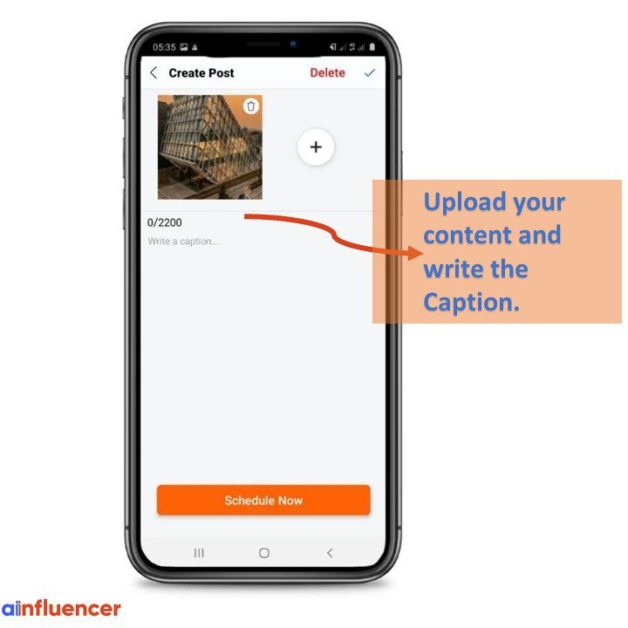 Finally, set the publishing and removal date. If you have connected more than one Instagram account to your Ainfluencer dashboard, you can also choose to publish the ad on multiple accounts at the same time.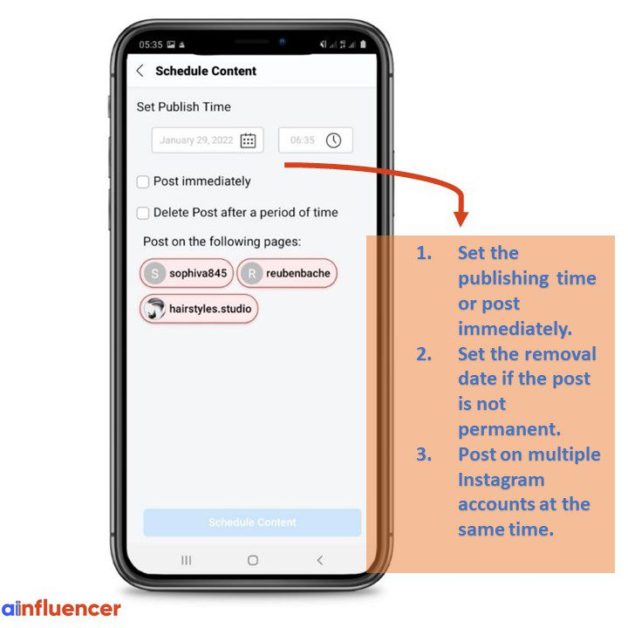 Another thing about the Ainfluencer's scheduler is to manage your posts, which are categorized in 3 tabs – Scheduled, Published, and Failed.
Conclusion
Scheduling Instagram posts are essential for both brands and influencers to maintain their strategy and never miss a deadline.
On Ainfluencer, you not only connect and negotiate a collaboration but also schedule Instagram posts in the most convenient and efficient way.