In today's digital age, social media marketing is crucial to success. Social media is a key platform for digital marketing, but it's also part of your brand's online persona. A huge number of people research and make purchasing decisions on social media– 81% of people use Instagram to research products and services. This means that brands must consider their online image as well as marketing for a successful social media strategy.
The right social media marketing strategy can build trust, attract leads, drive product sales, and lead to business growth. Smart marketers are turning to influencer marketing as a critical part of their social strategies. Influencer marketing enables brands to increase brand awareness, build trust and market to large, relevant audiences. Known for its effectiveness and strong ROI, this marketing method is rapidly growing in popularity.
What is influencer marketing?
Influencer marketing is a social media marketing strategy that uses influencers' influence and power to leverage brand product sales.
Influencers are influential personas on social media with vast, loyal communities of followers built around their specific niche. These social superstars speak their audience's language, grab attention, and build trusted relationships with followers. When an influencer promotes your business to their community, their authentic expert voice helps generate trust, leads, and sales for your brand.
Influencer marketing is one of the most effective digital marketing strategies out there. Influencers provide brands with the social proof they need to gain traction on social media, grow brand awareness, and generate revenue.
What is an influencer marketing platform, and why should you use one?
Influencer marketing platforms are discovery tools for brands that offer searchable databases of influencers.
Using influencer marketing platforms is the most effective and efficient way for brands to find influencers and reach out them. Brands can easily access databases of relevant influencers and collaborate to build brand awareness, generate traffic, and convey their message to their target audience. Influencer marketing platforms cut out the middle man and enable companies to work directly with niche content creators to achieve their marketing goals.
"68% of bloggers prefer to work directly with a brand instead of an agency or network."

Grouphigh
Ainfluencer an influencer marketing platform built to make finding, connecting and collaborating with influencers easy. Brands can create free ads on Ainfluencer's Ad Marketplace, then search the database of over 700,000 leading Instagram influencers and invite them to collaborate on campaigns. Influencers can browse branded ads and make offers, then collaborate with companies right in the app. It's safe, smart and the simplest way for brands to initiate influencer marketing.
10 benefits of influencer marketing
Increase reach
Build trust and authority
Increase brand awareness
Drive more website traffic
Boost sales
Understand your target audience
Grow and strengthen social media presence
Increase engagement
Lend an authentic voice
Gain high-engagement UGC
7 effective influencer marketing tips
An effective influencer marketing campaign starts with finding the right influencer to collaborate with. Here are 7 tips for a successful campaign:
1. Partner with an influencer that resonates with your brand
Marketers should look for social media influencers who resonate with the brand. Look for influencers with relevant niches, an aligned POV and voice, and an audience within the brand's target market. Take note of size; if your company is just starting out, working with a smaller influencer may yield better results. It's also good to research past brand collaborations and find an influencer who has been successful with similar campaigns in the past.
Influencer metrics are factors that determine an influencer's success, ability to increase brand awareness, bolster a brand's image, generate followers and facilitate sales. Looking at these metrics can help brands decide which influencers to reach out to and collaborate with to achieve their influencer marketing goals. There are generally 4 metrics brands should pay attention to: content, engagement, reach, and revenue. Brands looking to engage in influencer marketing should understand these insights and consider them before selecting an influencer to collaborate with.
3. Follow FTC rules
Federal Transmission Control rules prevent fraud, deception, and unfair business practices. Brands need to build disclosure guidelines into their agreements with influencers to make sure they are adhering to these rules.
Influencers should identify sponsored posts following FTC rules. Key things to remember:
Video reviews must include both written and verbal disclosure of the partnership. It must be within the video itself (not just the description).
The built-in tools on social media platforms are not enough.
#ad and #sponsored are the best hashtags to use for disclosure. Make sure they're highly visible and not just tacked on to a long string of tags.
4. Highlight your collaboration on social media
Make the most of your influencer marketing partnerships by sharing content across multiple social networks and marketing channels. Integrating influencer marketing as part of your brand's broader marketing strategy makes the most of collaborations and benefits both your brand and the influencer.
5. Respect influencers
Influencers are powerful content creators with strong connections to their audience. Their value lies in their community and the quality of their content, assets that have taken time and consistent effort to build. They aren't likely to accept low-ball offers, work with companies they don't believe in, or compromise their creative vision. On the other hand, influencers have been known to approach brands they're interested in with offers, and collaborate in unique ways. Respect the expertise and integrity of the influencers you work with, and let them take the lead.
6. Influencer marketing tools
Influencer marketing tools and platforms are an easy and effective way for brands to connect with influencer and initiate influencer marketing campaigns.
Ainfluencer is a full suite Instagram influencer marketing solution built to connect brands with content creators. Brands can:
Post free ads on the Ainfluencer Ad Marketplace
Search influencers and filter using our advanced AI systems
View influencer metrics, score and pricing
Invite influencers to collaborate on campaigns
Collaborate and execute influencer marketing campaigns right in the app
Manage payments securely
… and more!
7. Measure success and progress
Measuring results or influencer marketing success is critical to any campaign. The exact metrics will depend on the goals of the campaign, but generally speaking marketers should look to both ROI and engagement when measuring results. Ainfluencer makes it easy, calculating engagement with granular metrics delivered in real-time.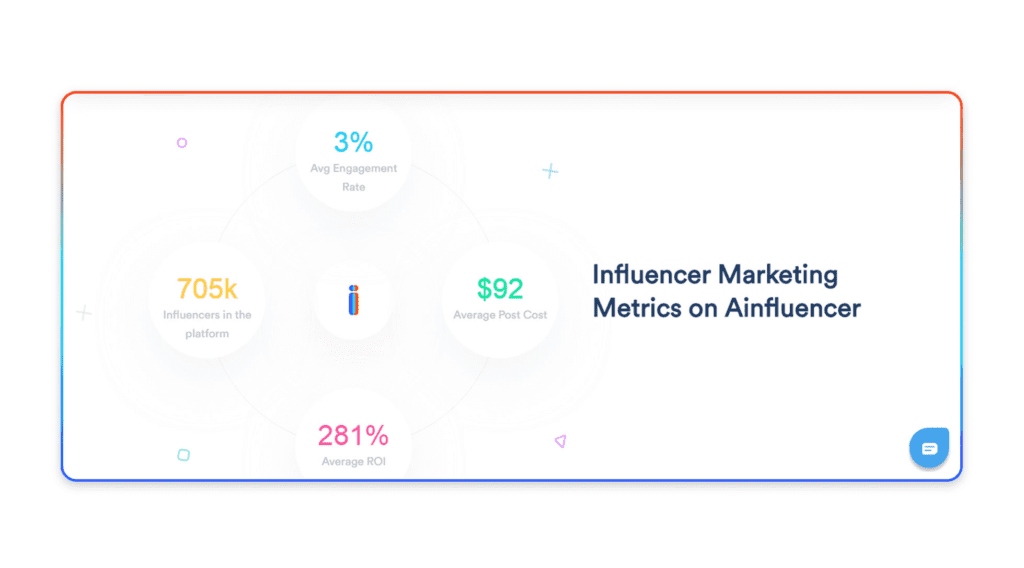 Influencer marketing is a highly effective strategy for brands to reach their social media marketing goals and achieve growth. Ainfluencer is the smartest, easiest, and fastest way to initiate influencer marketing, grow your brand, and generate revenue. Connect with top influencers, collaborate, and reach your marketing goals.