Do you own a brand and want to immediately increase your outreach and sales by marketing on Instagram? Then create a campaign on the Ainfluencer marketplace ASAP!
To start with Ainfluencer as a brand and grow your business via influencers on Instagram, register your account on Ainfluencer for free and then create a campaign. After all, there will be no promotion if there is no campaign.
Stay tuned on how to create campaigns with Ainfluencer and how the Ainfluencer campaign marketplace will elevate your marketing strategy.
Here is the video:
And here is the step-by-step guide to it:
To begin with, sign up for free on Ainfluencer. It will only take a few seconds to enter your name and email, create a password, and register as a brand.
Then, you will see five tabs on your Ainfluencer account. Select "campaigns" and click on "Create a New campaign."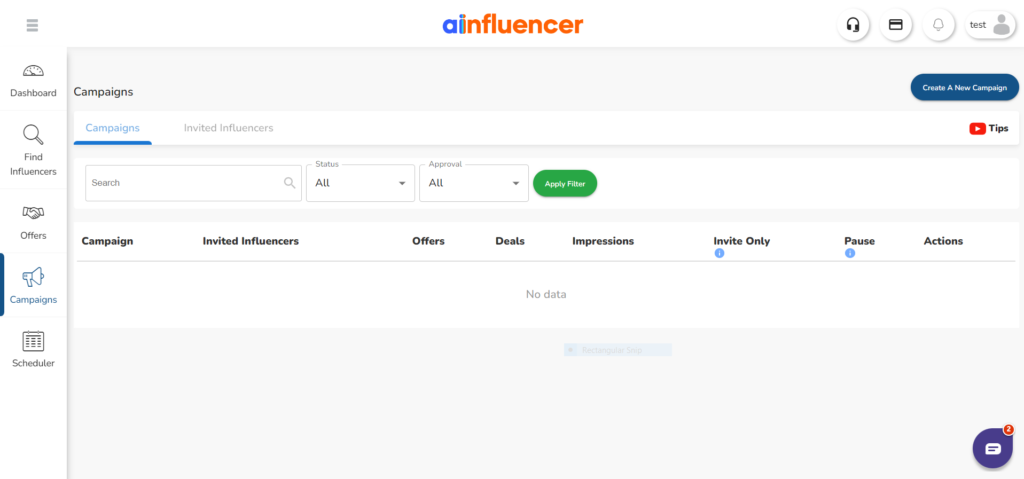 Then, you will go through the 5-step creating campaigns process on Ainfluencer. Step number 1 is, first and foremost, setting your objectives. Here are the primary goals you can expect to achieve on Ainfluencer.
Full Content Production: Influencers create different types of content for your brand, including stories, images, and/or videos. May involve gifting in order to create content.
Gifted Products: Gift an influencer a product to generate content and promote on their channel. Influencers may request compensation on top of gifted product.
Sponsored Content: Collaboration where Influencers post existing marketing materials such as videos on their accounts to promote your brand.
Barter: Send product to influencers in exchange for promoting your products or services. Influencers may request a fee as well.
You need to select at least one objective so that Ainluencer can serve your campaign to relevant influencers.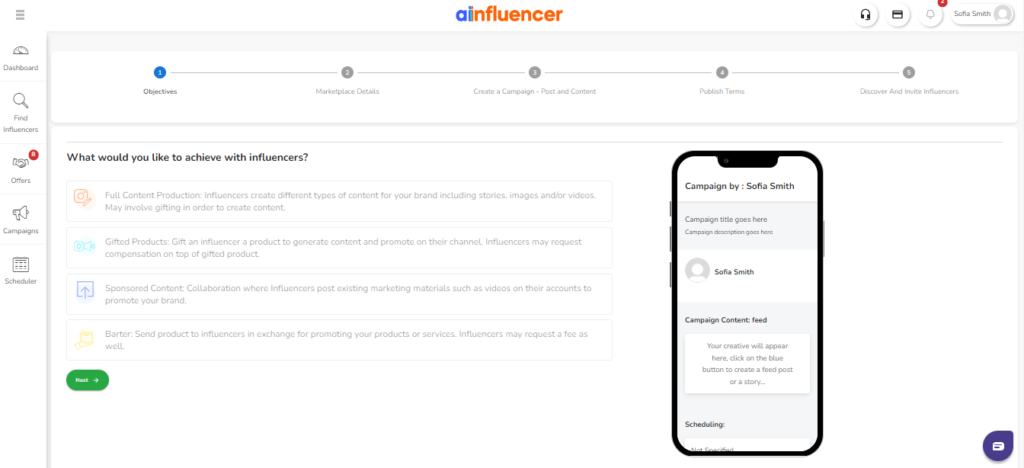 After hitting the "Next" button, you should write a title and a detailed description for your campaign. Remember that your campaign title and description serve as a campaign brief presented to influencers whenever they connect with you.
The better you explain here, the fewer confusions influencers will have in collaborating with you. They will also be the first two features that appear on your campaign in the Ainfluencer marketplace that are visible to influencers who may be willing to make you an offer.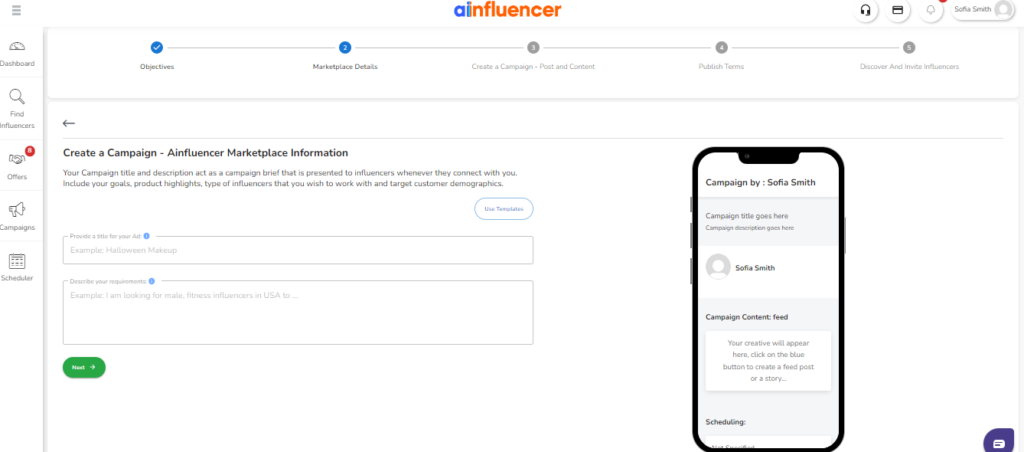 The third step is to create your campaign. By this, we mean you should select the type of your post-feed posts, Stories, or reels.
If you select feed posts, you can upload up to 10 images and videos so that your selected influencer will publish your post as an Instagram carousel.
On the other hand, you may have decided your influencer to create content for you as one of your primary goals in the first step. So, you can share some visual samples and digital assets here to help the influencer get a better idea of your brand and branding aesthetics.
Finally, if your post requires a caption, make sure to write it as you expect it to appear on the influencer's page.
Do not forget to add relevant and trending hashtags to the caption.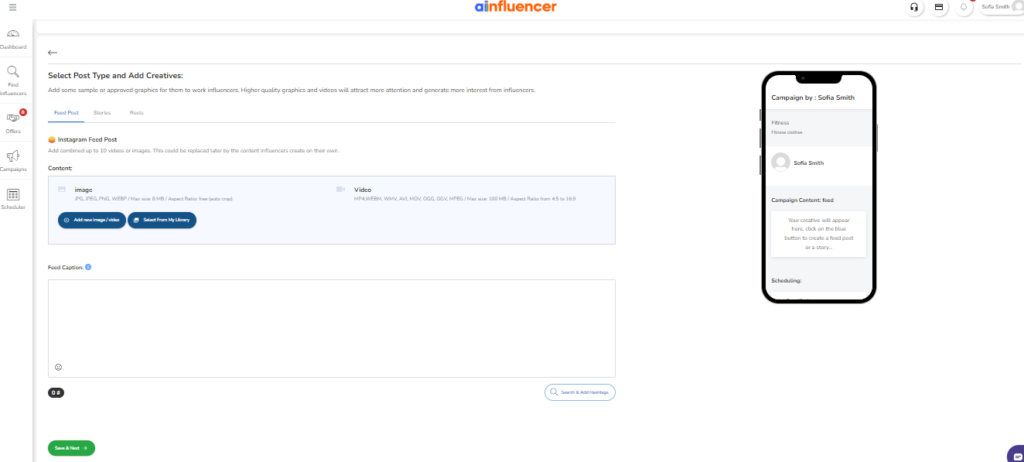 Turning to step 4, you should define the terms and conditions of your contract explicitly. Finalize creating your campaign with 3 three detailed considerations:
Campaign publication date: Decide if you have any limitations on when influencers can post, or set a date range for when you want the content to be published.
Time span: Choose one of the options – negotiate, permanent, or set a specific date – to indicate how long you want your campaign to remain on the influencers' page.
Bio link: If you want to add a link to the influencer's bio, select "Yes" and copy your link in the box that pops up.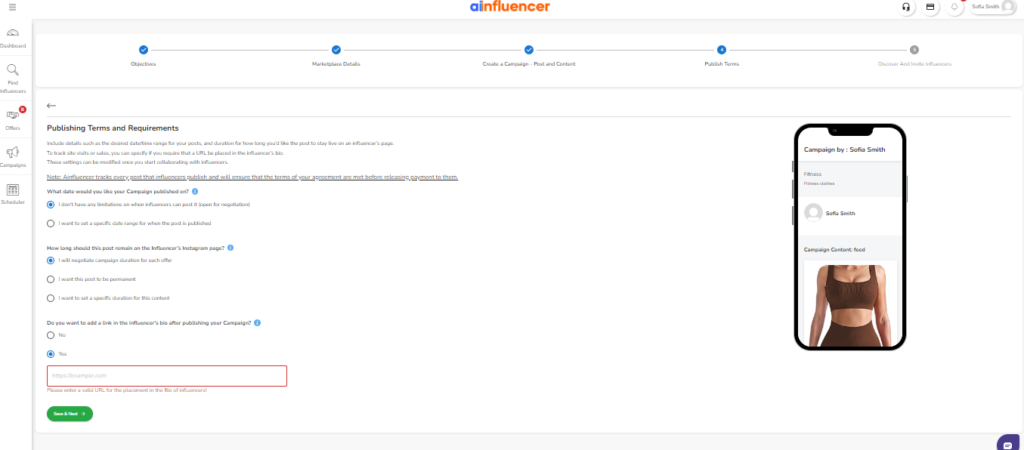 Once you have finalized your campaign, it needs the admin's approval. In the meanwhile, you can move to step 5, finding the right influencers for your campaign.
Also, you can click on the "edit" button to make any changes to the previous steps.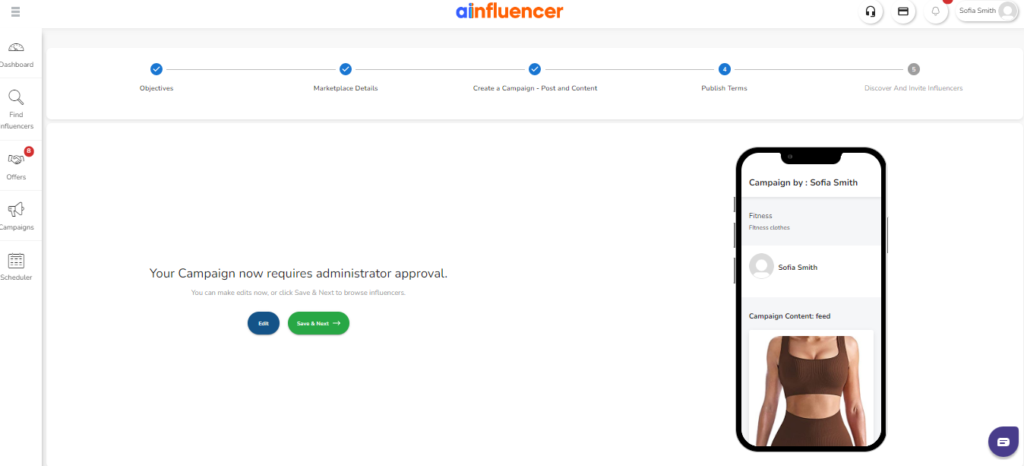 Last but not least, you should enter a few hashtags to get Ainfluencer's AI to help you start discovering the right influencers for your campaign.

However, it is only one of many other filters to add to your search before connecting with an influencer. Going further, you can also choose the influencers' gender and location.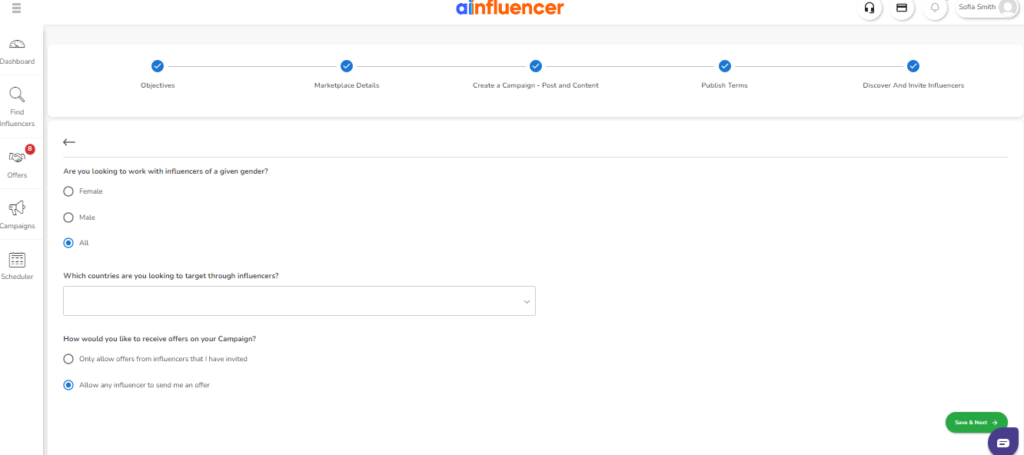 Explore and Invite Targeted, Relevant Instagram Influencers
Now that you've created your campaign, it's time to invite influencers to collaborate with. You can manually search, or let the Ainfluencer search engine find appropriate influencers for you.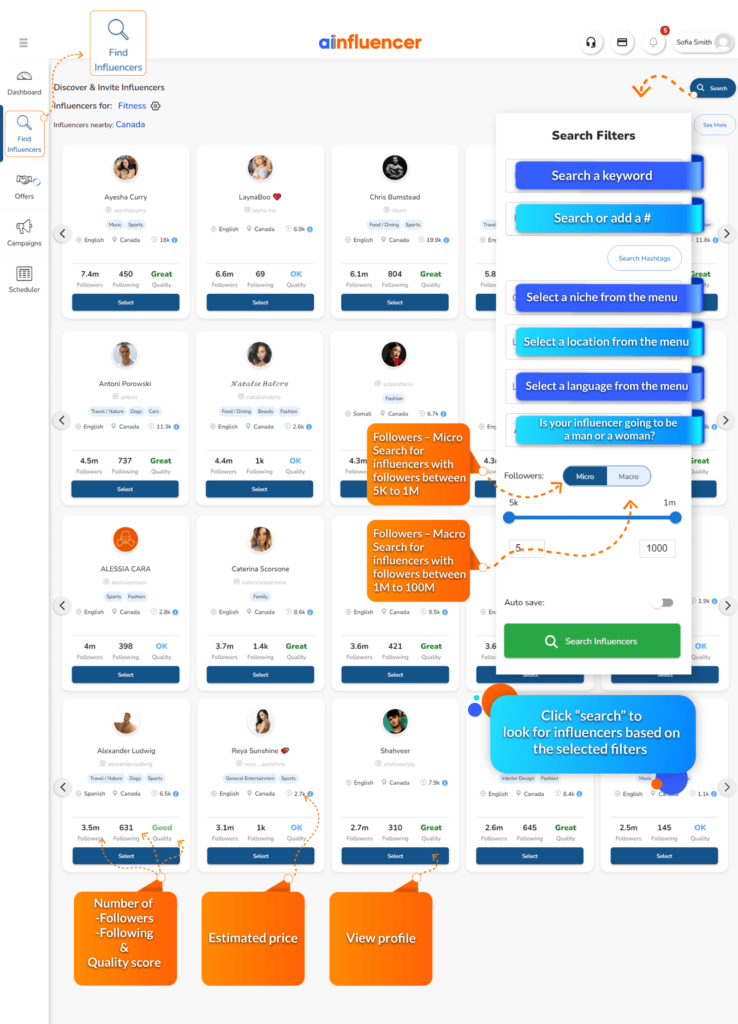 You can also wait for influencers to discover your campaign and make offers to you.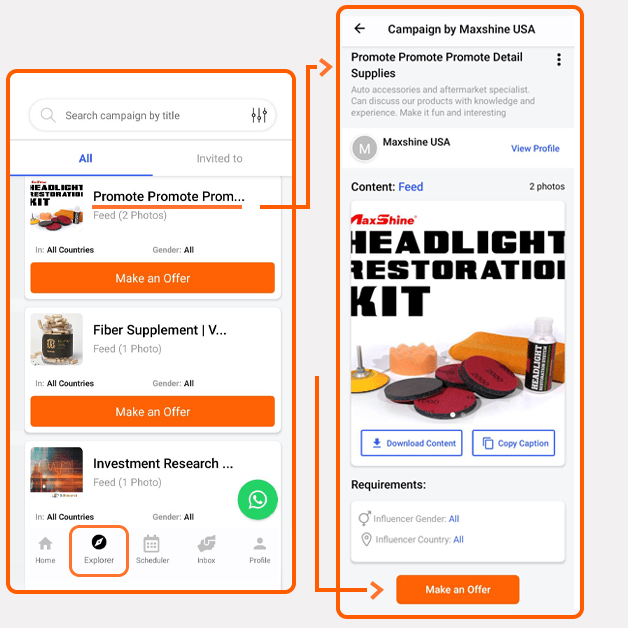 Chat with Influencers Using Ainfluencer's Built-In Chat Feature
Once an influencer makes an offer on your campaign, use Ainfluencer's built-in chat feature to connect, negotiate and collaborate. View your offer details, make a counter-offer, set publishing dates, and make a deal. It's safe, secure, and easy!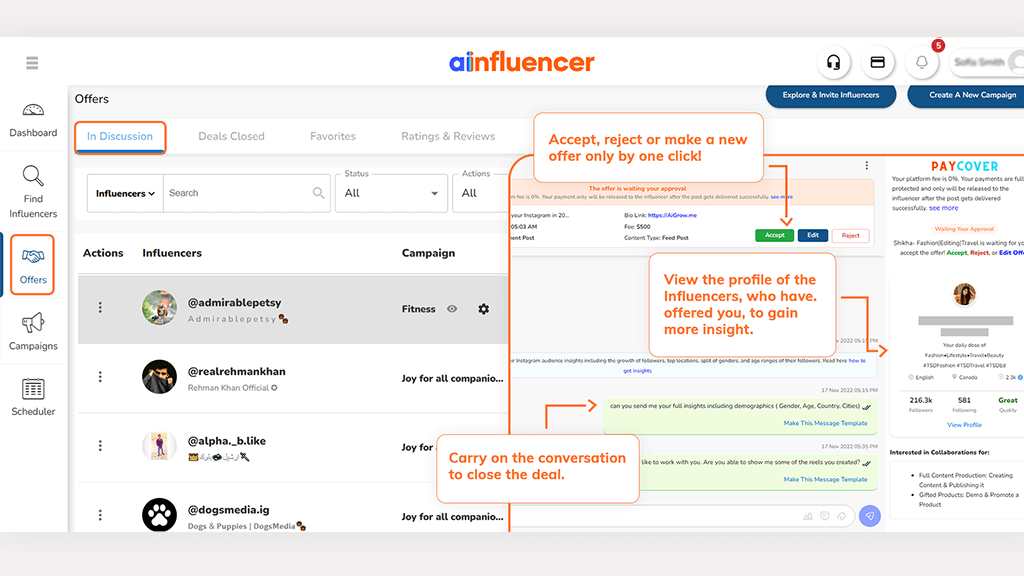 Manage Payments and Verify the Post
Ainfluencer's automated AI system monitors your campaign to ensure that your post is published according to your deal with the influencer. Ainfluencer will only release your payment to the influencer after verifying that the influencer you are working with has successfully published your post according to the agreed terms.
Track Your Performance from Beginning to End
On Ainfluencer, you can also get real-time analytics on posts, including likes, comments, clicks (if applicable), and more.
Tips to Create Perfect campaigns on the Ainfluencer Marketplace
Here are a few expert tips for creating high-performing and effective campaigns on the campaign Marketplace to attract the right influencers.
1. Set Your Goal
Setting a goal for your influencer marketing campaign is the first step before creating a campaign. Your goals will guide your marketing strategy and purpose, and help you attract the right influencer for the job. Here are a few things to think about:
Do you want to promote a product/service?
Make a limited-time offer?
Increase brand awareness?
2. Look Your Best
Choose high-quality and compelling images for your campaign to attract attention. Influencers can post campaigns to Instagram in two formats: feed or story posts. Keep these formats in mind when selecting images. Eye-catching visuals will help attract attention to your campaign and make the most of your influencer marketing efforts. Here are a few tips:
Convey your brand message through your image
Pick a high-quality image
Evoke a feeling in your audience that leaves an impression
3. Add CTAs and Headlines
Make sure your campaign includes CTAs and a solid headline. This will help draw eyes, guide audience interactions, and ensure that you get higher-quality leads.
4. Be clear in Your Descriptions
Be clear in your descriptions. Craft a caption that explains what your business does, what you're offering, and what you want people to do. Your description should reflect your campaign objective and convey your brand's voice to the influencer.
Use simple language
Stand out– be inspirational, funny, or informative
Know your audience
Follow your brand's voice
Consider length
Write eye-catching words at the beginning of the caption
Pose a question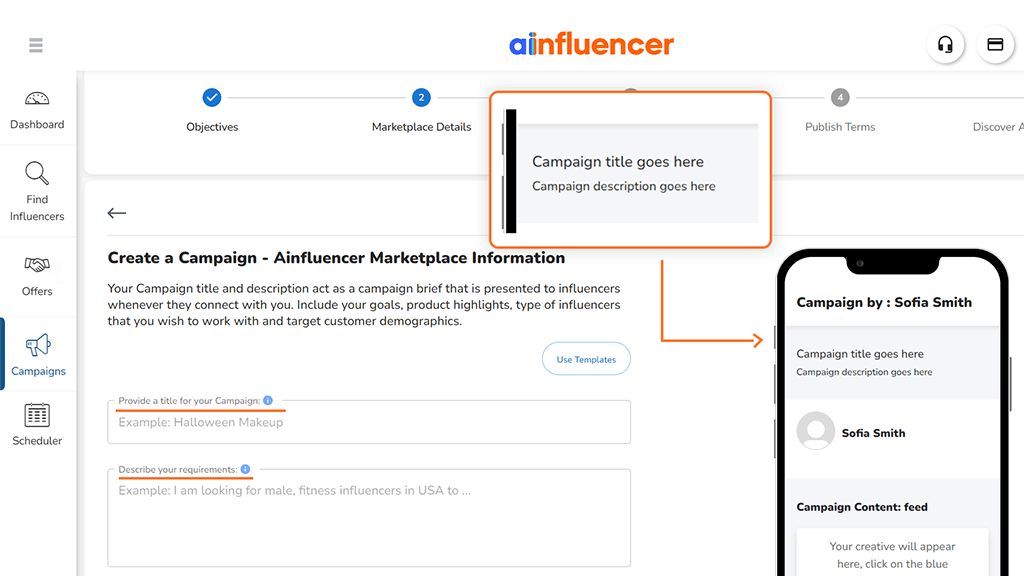 5. Set a Publish Date
You can include a specific date and time in your campaign and specify how long your post should remain on the influencer's Instagram page. This lets influencers know what to expect, and reduces the back and forth needed to reach a deal.
Conclusion
Ainfluencer offers a state-of-the-art approach to discovering and contacting influencers who best suit your marketing strategy. The first step involves creating a campaign on the Ainfluencer marketplace.
Create your campaign within a couple of easy steps and use AI-powered filters to search for influencers, close the deal, and voila! You have just experienced an influencer marketing strategy at its best.